At DC bar scene, Comey's testimony becomes Super Bowl-like event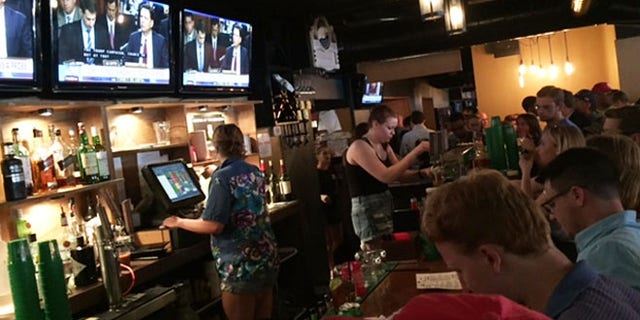 NEWYou can now listen to Fox News articles!
Fifty people already have lined up outside Union Pub in downtown Washington, and it's not even 9:30 a.m.
While the crowd chats outside, the staff is scrambling. At last, the doors open – and the dozens of eager day drinkers surge inside for the show.
This was the scene at just one of several Beltway bars Thursday where James Comey's testimony was transformed – and aggressively marketed – into a Super Bowl-like event.
At Union Pub just steps from the Senate hearing room where the former FBI director was speaking, manager Ashley Saunders made the shrewd decision to open early and dangle an attractive drink special: Free rounds of beer every time President Trump tweets.
"We wanted to go above and beyond," Saunders said Thursday morning, as the bar opened. "I would be disappointed if [Trump] didn't tweet at least once, we want to show everyone here a good time, I want to give them at least one round on the house."
As it turned out, Trump didn't tweet. But it didn't matter.
Comey-watching, beer-swilling patrons filled the inside bars and outdoor patio. After opening at 9:30 a.m. ET, the pub reached capacity by noon.
'This ... combines three of the things that young professionals in D.C. love to do anyway, which is get together, talk about politics, and drink craft IPAs.'
Most patrons skipped work to witness (on wall-mounted televisions) what many described as a historic moment. The pub aired Fox News' live coverage of the hearing on 18 TVs inside the bar/restaurant, and on three TVs and two projectors outside.
Union Pub also set up a monitor that exclusively showed Trump's Twitter feed, which turned out to be uncharacteristically inactive.
"I'm still waiting for Trump to tweet for these free beverages," said Thomas Casey, a 22-year-old Maryland resident who had heard the bar was offering free beer per-tweet.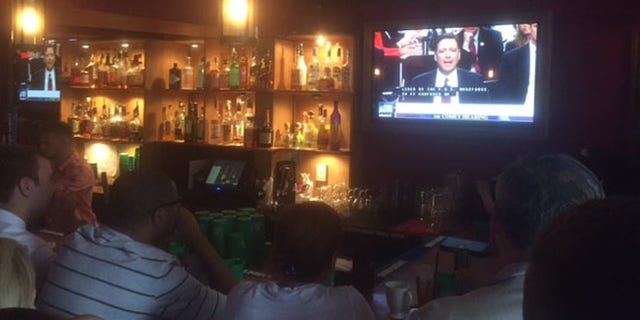 Still, he said, "It's always fun to see Comey testify and talk before the Senate. He has really great composure as well as truthful demeanor."
The crowd watched intently and reacted with laughs, awes, and boos—particularly when Comey rebuffed senators' questions by saying he could not discuss classified information.
People wagered bets on Comey's responses with alcohol. Budweiser was the most popular beverage of choice.
A "D.C. game—a sporting event," is how 34-year-old D.C. resident Ryan Rhodes described the scene.
The full house – before lunchtime even hit – presented its challenges.
At 10:48 a.m., the Pinot Grigio was tapped.
Then, the bar experienced a shortage of water glasses.
But the show went on, and political opinions ran over even if the Pinot didn't.
"It's an opportunity to drink and watch the [Comey] testimony," said Matt Gang, 22. "It's looking pretty rough for the president today. There's a lot of smoke -- the question is if there is fire. The smoke is the asking for loyalty… The fire would be obstruction of justice."
Geoff Snowman, 55, took the day off to enjoy drinks and watch the testimony with a crowd.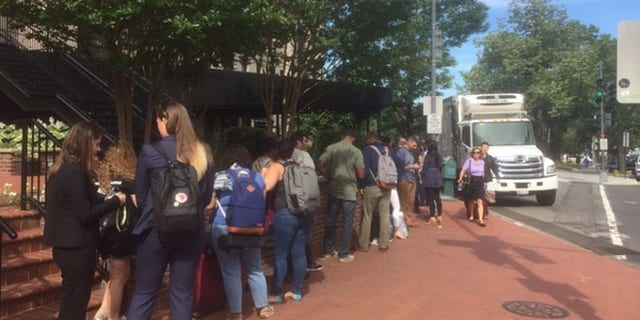 "I'm optimistic we will eventually get this terrible president out of here," Snowman said, a beer in hand. "But I don't think we're going to see the smoking gun today."
On the other side, D.C. resident Joseph Cortese said he thinks Comey helped clear Trump's name.
"It just goes to show that President Trump's done nothing wrong. The media doesn't like to say this but Trump was never under investigation, so I just think it goes to show that the media wanted the hype this up, blow a lot of smoke where there's really nothing there – no obstruction of justice," he said.
James Faeh, a 31-year-old who previously worked for the Obama administration, was pleasantly surprised by the lively scene, in the bar he usually heads to for a relaxing brew after work.
"This is exactly what I would expect from D.C. in the best kind of way. It combines three of the things that young professionals in D.C. love to do anyway, which is get together, talk about politics, and drink craft IPAs," he said.
Despite Trump's Twitter silence throughout the hearing, the bar took mercy.
At the end of testimony, Union Pub handed out free shots on the house.