As Trump vs. Clinton race heats up, Latin America watches with intense interest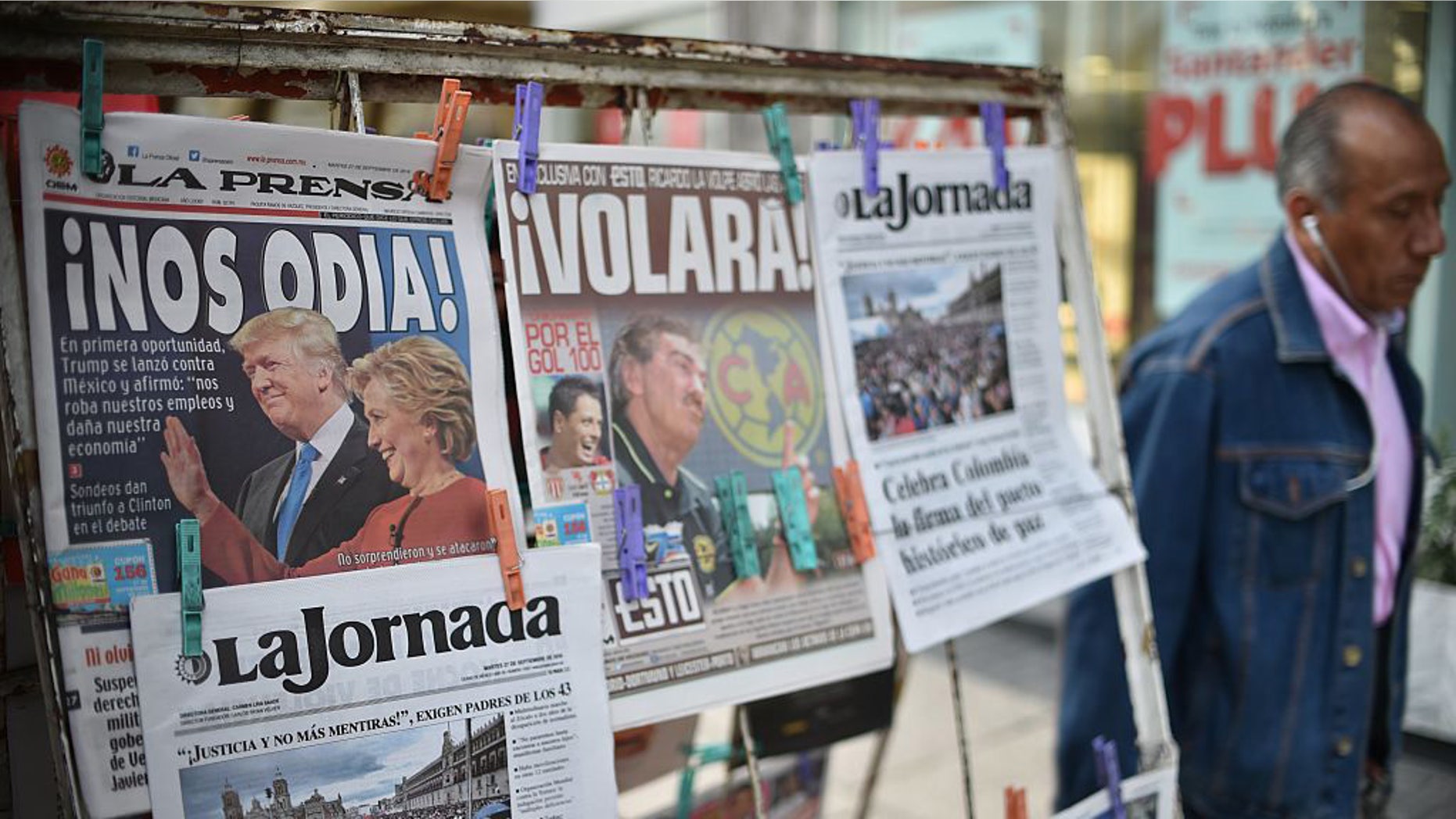 As voters in the United States prepare for the final contentious weeks of this season's presidential campaign, there is a major push to get Latinos to show up to the polls on Election Day.
And some of that push is coming from Latin America.
Lawmakers, political organizers and even family members from Mexico to Argentina have stepped up the pressure on those living in the U.S. to make sure Latinos head to the ballot box on November 8 — saying that this election could be the most important one ever for Hispanic voters.
Noticing how much interest the Hillary Clinton vs. Donald Trump battle was generating throughout the continent, a group of Latin Americans launched a campaign to encourage their relatives in the U.S. to head out to the ballot box.
On a self-funded budget of just over $26,000, "Diles que Voten," or "Tell them to Vote" was started by a group of marketers and advertisers throughout Latin America who noticed the important role the Latino vote was poised to play this election season and how the results of the U.S. election affect the global community.
"The U.S. elections are becoming an internal affair in Mexico and other countries," Roberto Trad, a political strategist from Mexico and one of the campaign's organizers, told FNL. "The U.S. election has really become local news in other parts of the world."
Videos produced by the campaign and aimed at the Internet audience use the links of U.S. Latino voters with relatives and friends in Latin America to ask them to register and go to the polls in races that have repercussions beyond the U.S. border. While it has its largest reach in Mexico, the campaign has also been making inroads in Argentina, Colombia, the Dominican Republic, Ecuador and Honduras, organizers said.
"Because of the content of the (Trump and Clinton) campaigns, now there is a subject of conversation at the tables of Latin American families," Trad said, adding that while Trump's rhetoric toward Mexican immigrants may not be the most friendly there is a way to look at it in a positive light.
"Trump's rhetoric – and his visit to Mexico – really drove up the number of people looking at what we do," Trad said.
"The fact that the Latino community has become a major issue in one of the campaigns is going to wake up the sleeping giant," he added. "He may be waking the giant for the wrong reason but he is waking it up nonetheless."
The power of the Latino vote has been touted for years but of the eligible 24 million eligible Latino voters in 2012, less than half (48 percent) showed up to vote — a figure that has remained relatively unchanged over the last four presidential elections.
In 2016, there is a record 27 million eligible Latino voters, but how many of those will register and vote in November is still very speculative.
Members of "Dilen que Voten said that voter campaigns have been effective, Latinos are more inclined to listen to their own family members than strangers with pamphlets.
"Latinos are greatly emotional citizens. When they vote, they don't only do it for rational things like Social Security, health care, education - the typical offers that politicians make. That is not enough for them. You might win their minds with a rational offer, but not their hearts," Israel Navarro, a Mexico-based consultant, said during a recent press conference. "Their main drive is their family and the well-being of their relatives. Therefore, despite the borders, we believe that we can motivate U.S.-Latin voters to vote through their relatives abroad."
While lawmakers and political organizers in Latin America have been careful not to openly pick sides in the U.S. presidential race, there is a great deal of concern in the region over how a Trump administration would impact U.S.-Latin America relations.
"There is a complete rejection of Trump's unilateral, belligerent policy toward Latin America and the anti-trade, isolationist tone is deeply worrisome to many throughout the region," Cynthia Arnson, the director of the Latin American Program at the Woodrow Wilson International Center for Scholar, told Fox News Latino.
Campaigns like "Diles que Voten" may on the surface to be trying to stay non-partisan, but that is not the case when it comes to many heads of state in Latin America.
Given the contentious rhetoric that Trump has taken toward issues like immigration and free trade, responses to questions about the possibility of a Trump presidency posed to Latin American leaders – from Mexico's Enrique Peña Nieto to Argentina's Mauricio Macri – have ranged from a preference for Clinton to openly lambasting the billionaire businessman.
Despite the concern for Trump and his stance on foreign policy and trade appearing to be prime pulpit fodder for leftist Latin American leaders like Venezuela's Nicolás Maduro and Bolivia's Evo Morales, it is actually the more conservative heads of state in the region that have been the most vocal opponents of the real estate mogul.
Argentina's Macri – seen as one of the region's new wave of conservative leaders and someone who has promised to fuel the Southern Cone nation's economic revival – said back in August that while he plans to "work a lot with whoever wins the U.S. presidential race," he'd prefer to see Clinton in the White House.
"I believe in relationships, in networks — we are, in fact, speaking with the world through a network — not in building walls," Macri told BuzzFeed in reference to Trump's proposal to build a massive wall along the U.S.'s southern border with Mexico. "It would be hard to work with someone who would want to build walls."
Former Mexican leaders Vicente Fox and Felipe Calderón have been outspoken critics of Trump and, despite meeting with Trump and holding a public press conference alongside him, the current Mexican president lashed out at the GOP nominee for doubling down on his strict immigration stance.
"His policy stances could represent a huge threat to Mexico, and I am not prepared to keep my arms crossed and do nothing," Peña Nieto said after enduring criticism from opposition politicians who suggested that he had done just that during Trump's visit.
But it's not just Mexico talking about the presidential race.
In dinner tables, at bars, even in taxis, people in Latin America have been talking about the presidential race in America in a way that has never been seen before, experts said. Usually, it's U.S. Latinos getting involved in elections in their home country – influencing their family members to become involved and urging them to vote.
Now, experts are seeing the opposite – Latin Americans are asking their relatives about the race north of the border. And in a way that may never have been seen before.
"[In Latin America], there is a lot more interest this year…and it's not just from the media, but from the audience," Trad said. "The audience is much more interested in this year's election than in previous years…and when asked why they say it is because of Trump. Everybody wants to know about Trump."