As Roy Moore battles accusations, wife Kayla emerges as top defender
Roy Moore's wife isn't just standing by his side as the Republican Senate candidate faces sexual misconduct allegations -- she's out in front leading the charge against his critics.
"He has always been an officer and a gentleman," Kayla Moore said Friday at a "Women for Moore" press conference held outside the Alabama state capitol. "He is a loving father and grandfather and most important he is a Christian."
Kayla Moore has emerged as one of the Alabama Senate candidate's most ardent defenders, as he battles allegations of pursuing and making unwanted advances toward teenagers -- and even sexual assault -- when he was a young prosecutor.
Friday's press conference featured supportive remarks from several women who know and have worked with the GOP nominee.
Kayla Moore said the stories about her husband were fabricated by the media, claiming The Washington Post -- which published the initial accusations -- "prints whatever anyone says without checking to see if it's correct."
"To the people of Alabama, thank you for being smarter than they think you are," she said.
She concluded by saying her husband will remain in the race.
"So let me set the record straight even after all the attacks against me, attacks against my family, attacks against the foundation and now against my husband, he will not step down," Kayla Moore said to loud applause.
The wives of political men accused of sexual misconduct aren't always so vocal. But Kayla Moore has been actively defending her husband ever since The Washington Post reported last week on allegations he pursued sexual relationships with women in their teens when he was in his 30s.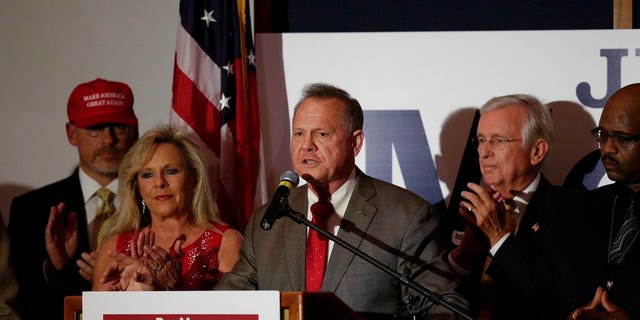 On Monday, a new accuser, Beverly Young Nelson, came forward alleging that Roy Moore sexually assaulted her when she was a teenager.
In response, Kayla Moore defended her husband as "gentle" and "godly."
She also has been active for days on her personal Facebook page, sharing dozens of articles, videos and statements defending her husband.
"Enough is enough of this political assassination!" she wrote in one post in which she shared interviews refuting the claims.
"Would have been nice if the press would find out the truth first before they run with gossip," she wrote in another.
She also shared a controversial letter signed by over 50 pastors expressing support for her husband. Since the post, at least four have asked to have their names removed, Al.com reports.
In Washington, Republicans and Democrats alike have called for Moore to step aside, with Senate Majority Leader Mitch McConnell, R-Ky., saying he's "not fit" to serve in the chamber.
But the nominee has refused to leave the race, in turn saying McConnell should resign.
Kayla and Roy Moore have been married for 32 years, and have four children and five grandchildren.
Roy Moore reportedly met Kayla Kisor at a church Christmas party when he was 37 and she was 23, and they married a year later. She was divorced with a young daughter at the time.
Kayla Moore has been an active supporter of her husband's Senate campaign, appearing at many of his campaign events. She also is the president of his nonprofit organization "The Foundation for Moral Law."