As Rahm Eyes Run for Chicago Mayor, Potential Successors Line Up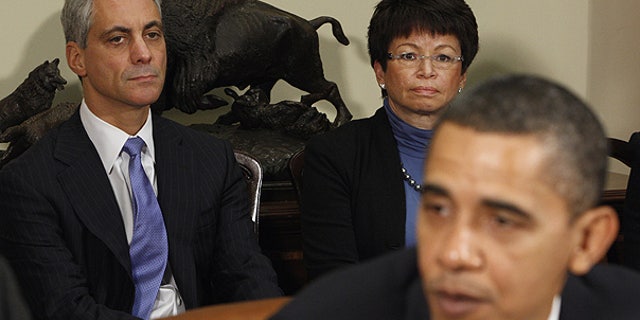 Although Rahm Emanuel hasn't yet said whether he's leaving the White House to run for mayor of Chicago, speculation has been swirling in recent weeks over who will succeed him as President Obama's chief of staff.
Conventional wisdom suggests that there's no way Emanuel will pass up an opportunity to chase his dream job after Mayor Richard Daley announced earlier this month he would not seek re-election. And Emanuel's expected departure could give Obama a chance to signal a new policy direction as Democrats are likely to take a beating in the midterm elections in November.
Pete Rouse, a senior advisor to Obama, would likely serve as interim chief of staff if Emanuel departs, several administration officials have said.
At the top of the list of likely successors are deputy national security adviser Tom Donilon, legislative affairs director Phil Schiliro and Ron Klain, Vice President Biden's chief of staff.
Also in the mix is senior adviser and longtime Obama friend Valerie Jarrett.
But Donilon is seen as the front-runner for the job. He's been on the political scene since the 1970s, when he worked on the Carter-Mondale campaign. He's also served as the first assistant secretary of State for public affairs in the Clinton administration. His wife, Cathy Russell, is chief of staff to Jill Biden.
Klain's political experience goes back to the Supreme Court nomination of Clarence Thomas when Klain served as chief counsel to the Senate Judiciary Committee. He also worked on both of Bill Clinton's presidential campaigns and was Al Gore's chief of staff in the vice presidential office for several years.
Klain later had a senior role in Gore's 2000 campaign, including the Florida recount and Supreme Court standoff that ultimately tipped the election to George W. Bush. Actor Kevin Spacey played Klain in the 2008 HBO film "Recount."
Schiliro has been working in Washington for decades but he has managed to keep a low profile. His 25 years of experience on Capitol Hill includes stints as chief of staff to Rep. Henry Waxman, D-Calif., and the House Oversight Committee and as a policy director for former Sen. Tom Daschle.
As Obama's top legislative aide, Schiliro's most notable accomplishment was pushing Congress to quickly pass Obama's massive stimulus package.
Among the likely successors, Jarrett has the closest relationship with the president. Jarrett's friendship with the Obamas began before they were married, when she was deputy chief of staff for Daley and she hired Michelle to work as an assistant to the mayor.
The president has said he completely trusts Jarrett as she has helped guide Obama's entire political career and brings blunt assessments only a longtime friend can provide. Jarrett is known to be cool under pressure, an invaluable quality for a position that is a lightning rod for criticism.