As Dems focus on big state-level wins, GOP's Hogan mounts impressive reelection bid in Maryland
NEWYou can now listen to Fox News articles!
Maryland Democrats were shocked in 2014 that Republican Larry Hogan had won the governorship in their deep-blue state and have since been determined to deny him a second term.
But the notably-resilient Hogan is running strong in 2018 -- leading by double-digits against his closest Democrat challengers and amassing a war chest bigger than the combined total of the entire Democratic primary field.
The Hogan reelection campaign this week announced raising $1.2 million from April 10 to May 15 and having roughly $9 million in cash -- more than twice the total of his seven major Democratic challengers.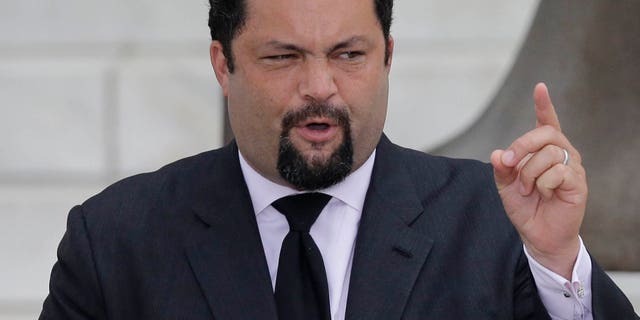 Even Hogan admitted that he pulled off a "nearly impossible" win four years ago -- becoming only the second Republican governor in the state in nearly five decades. And a Hogan win in November would mark the first time since 1954 and only the second time in Maryland history that a Republican was reelected governor.
Maryland Democrats seemed ready in 2014 to extent their dominance in state-wide politics, with White House-seeking Gov. Martin O'Malley poised to hand off the governorship to Lt. Gov. Anthony Brown. But voters thought differently. Weary of increasing taxes and fees under O'Malley and uninspired by Brown's campaign, they elected the pro-business Hogan.
"O'Malley's political ambitions coupled with Maryland's economic environment really did create an opening for Hogan," Todd Eberly, a St. Mary's College of Maryland politics professor, told Fox News on Wednesday. "Hogan's message was Maryland is business-friendly. And he made clear that the state had to dial back some regulations."
Shortly after Hogan's upset win, Democrats began lining up to defeat him.
And they seem to have become more energized along the way by the liberal opposition to President Trump.
Even before the official 2018 election cycle started, Maryland Democrats had a full slate of high-profile and experienced candidates -- including former NAACP leader Ben Jealous and Rushern Baker, the former county executive for Prince George's County, one of the state's biggest Democratic voting blocs.
However, Hogan now leads all seven Democratic candidates by double digits in essentially every poll. And he will have much of his $9 million in cash for the general election, considering he has no primary challenger.
Voters and political experts like Eberly argue that such a large field of Democrats -- swept into the race by the favorable political climate -- has handicapped the party's chances of defeating Hogan. However, they expect the governor's lead will narrow after state's June 26 primary.
"The race will tighten when Democrats pick their nominee," Lou Jacobson, who handicaps gubernatorial races for Governing magazine, said Wednesday. "As the race sharpens, Democrats will come home. Hogan is certainly in good shape, especially in Maryland. But it's going to be a close contest."
Among the underlying indicators, Jacobson argues, are the polls' high percentages of undecided voters and Hogan yet to cross the 50 percent threshold with likely voters, despite having a plus-60-percent approval rating.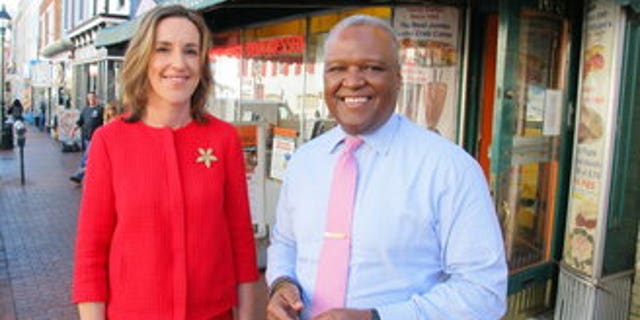 "That means they might like what he's doing, but they're not necessarily going to vote for him," Jacobson said.
Polls show Hogan with at least a 13-point advantage over Baker. He is followed in the primary polls by Jealous, state Sen. Rich Madaleno, former Obama White House official Krishanti Vignarajah, lawyer Jim Shea and tech entrepreneur Alec Ross.
Baltimore County Executive Kevin Kamenetz was in second place until he died on May 10 of heart attack. His campaign has since been taken over by running-mate Valerie Ervin.
Jealous emerged as an early favorite, in large part because of his national name recognition and an endorsement from Vermont Sen. Bernie Sander. Yet, Baker has in numerous candidate forums so far shown himself as an experienced legislator. A win would make Baker the state's first black governor.
Reported fundraising totals released this week show Shea having raised nearly $700,000 over the past three months, with $1.4 million in cash. He's followed by Jealous, who raised about $1 million, much of that from outside the state, and with about $660,000 in available cash. Baker, third in fundraising, reportedly took in just $543,000, with $577,000 cash on hand.
Jacobson and Eberly attribute Hogan's favorable position headed into the general election largely to him governed like the moderate he vowed to be -- focusing on the economy, avoiding divisive social issues like abortion and gay marriage and swiftly addressing the state's opioid crisis.
Hogan's has also worked well with the Democrat-controlled legislature.
"He's different in both style and substance from what voters see in Washington with its partisan infighting and gridlock," campaign manager Jim Barnett said Friday.
Hogan has also continued to distance himself from President Trump, whose 2016 presidential campaign he did not support, though Democrats repeatedly try to tie Hogan to the president, who remains unpopular in liberal-leaning states.
Earlier this week, they seized upon state Republican party Chairman and Hogan campaign legal adviser, Dirk Haire, saying that Trump has been "successful" in his roughly first 14 months in office.
"The only thing Donald Trump has done for Maryland is raise health insurance premiums and increase taxes for middle class families," said state Democratic Party Chairwoman Kathleen Matthews. "Maryland voters now know that Governor Hogan will defend and enable Donald Trump's destructive policies, if elected to a second term."
Maryland Democratic Party spokesman Fabion Seaton said Saturday that the group has been organizing in Maryland for more than a year.
"When Kathleen Matthews became chair of the party, she made clear there would be no more off-election years in Maryland," he said.
Seaton also touted a grassroots operation that he says has contacted more than 100,000 potential voters and has reached beyond the historically Democratic strongholds of Baltimore City and Montgomery and Prince George's County to include parts of western Maryland.
"It's unprecedented, way beyond the point you'd expect by now," he said. "We're competing in every single county."
The 62-year-old Hogan has shown incredible resilience in the face of challenge -- having been diagnosed in 2015 with cancer that is now in remission.
However, he'll have to overcome several other hurdles to win reelection -- including some daunting math.
Democrats have a 2-to-1 advantage over Republicans in registered voters in Maryland. In addition, the GOP hasn't controlled the General Assembly since the early 1900s and the state's last Republican senator was elected in 1970.
Hogan could also be at the mercy of the national electorate, which has the potential to create a wave election that could give Democrats control of the U.S. House, a handful of state legislatures across the country and the Maryland governorship.
"I feel like we're well positioned, but we're still working hard. You can't count your chickens before they hatch in a state like Maryland and in a year like this," Barnett also said.
Republicans' control of 33 governorships and roughly two-thirds of state legislatures.
"The person Hogan really has to beat is Trump," Eberly said. "If it's a referendum on Hogan, he wins. If it's a referendum on Trump, he a one-timer."