As Deadline Nears, Debt Reduction Panel Weighs Undoing Its Own Rules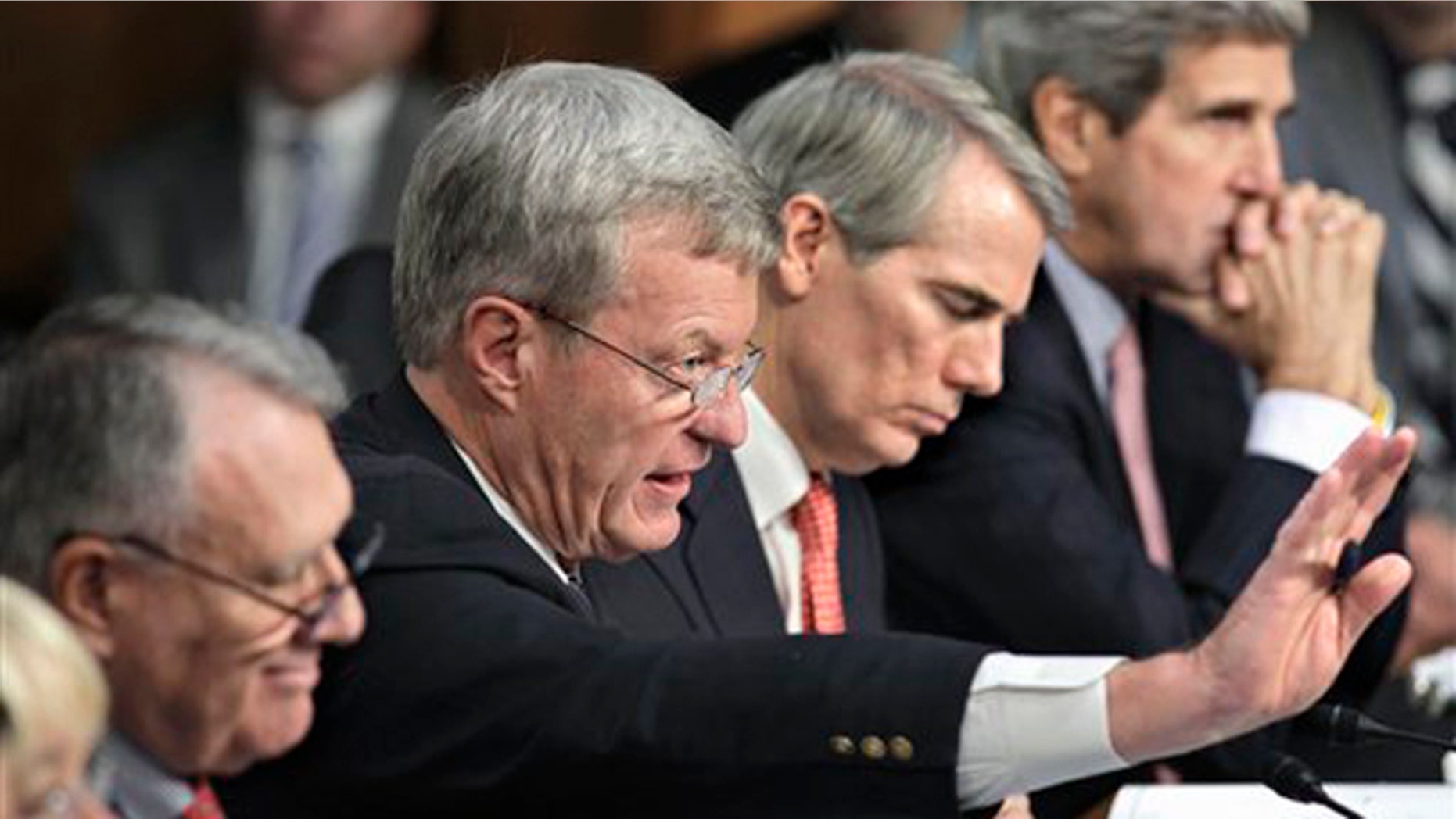 With 10 days left until an automatic trigger for debt reduction, the Super Committee tasked with finding a plan to get rid of $1.2 trillion in impending debt over the next 10 years may have to punt.
Six Democrats and six Republicans appointed to the panel -- itself a source of contention among colleagues and transparency advocates --  have until Nov. 23 to find the balance that will get past Congress by Dec. 23 and onto President Obama's desk. Without a deal by Thanksgiving, automatic across-the-board cuts divided between defense and domestic programs, also known as "sequestration," kick in.
"I am not giving up on getting something done. I think we still can and I am going to do everything to achieve that," said Sen. Pat Toomey, R-Pa., one of the Super Committee members.
"In the very unfortunate event that we don't, I think it is very likely Congress will reconsider configuration of that sequestration and consider if this is the best way to do it. I think it will be a lively debate that will occur and the nature of those cuts. If the cuts have to occur they might occur in a different fashion."
Toomey, a tax hawk who formerly ran the fiscally conservative Club for Growth, acknowledged that "the clock is running out."
"But it hasn't run out yet. We still have time, but we have no time to waste," Toomey told "Fox News Sunday."
Rep. James Clyburn, D-S.C., also a member of the panel, said while he was hopeful for a deal, "I am not as certain as I was 10 days ago, but I think that we can."
That's not what lawmakers or the public were counting on when the trigger was included as part of a deal cut this summer between congressional Republicans and the White House to up the debt ceiling.
The co-chairman of the panel on Sunday called the deliberations a "roller coaster ride." Rep. Jeb Hensarling, R-Texas, who appeared on CNN, also offered no clues about whether a deal could be struck by the deadline.
"We haven't given up hope," he said.
So what's stopping a deal? The amount of taxes to be raised and spending to be cut.
Republicans and Democrats are coming to the table with very different plans. The Republicans have reportedly offered $700 billion in spending cuts and $500 billion in revenue increases. The revenues would come from $250 billion in fewer deductions for top income tax filers. In exchange, the highest tax rates -- now at 35 percent but expected to rise to 39.6 percent in 2013 -- would drop down to 28 percent.
Democrats have offered a one-to-one ratio of spending cuts to revenue increases. It would seem the two, then, are pretty close. And yet, they're still bickering.
Republicans contend closing the loopholes and lowering the rate would create a net gain for the government. But Democrats say it would cost more than the $3 billion that higher tax rates would attract.
Clyburn said allowing billionaires to catch any breaks isn't fair.
"I think it is unfair for us to sit out and say to a person who is making billions of dollars, we're going to allow a tax increase or decrease of another $300,000 a year while we are then going to take away Medicare for people living on fixed income. That is just not fair," he said, adding that those in the top 1 percent have seen their earnings increase by 275 percent over the past 28 years.
"Let's say: come on -- let's tone this down and put you where you were 28 years ago relative to the rest of the country," he said.
Clyburn said he wants to do "some surgical fixes to entitlements" but that requires going to a bigger deal.
"I am a $4 trillion guy," Clyburn said. "I do believe we can do this."
If the automatic trigger does threaten to kick in, Obama, who's traveling in Hawaii and then is headed to the Asian-Pacific -- and who doesn't have an executive branch representative sitting at the Super Committee table, has said he will veto any measure that tries to change the terms of sequestration.
Toomey said, however, that Congress is "very likely" to reconsider the triggers, and that would involve "a lively debate" but ultimately cuts would occur, however, in some fashion. Without that, the dysfunction in Congress will be laid bare both at home and abroad.
"There will be further erosion of what little confidence remains of our federal government," Toomey said.
But Clyburn suggested any claims that a deal won't get struck are pessimistic.
"About two-thirds of what Pat Toomey has put on the table I am for, I'll tell you. And that may shock you," he said.