Army Welcomes Delta Policy Shift on Extra Baggage Fees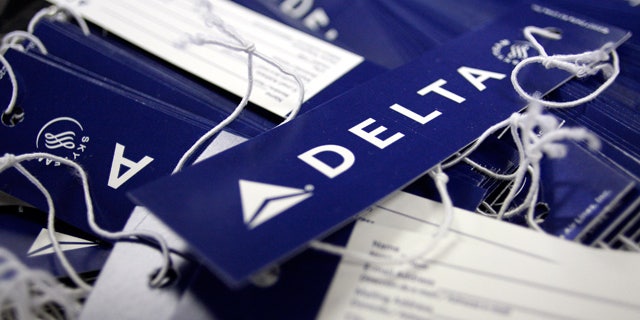 NEWYou can now listen to Fox News articles!
The U.S. Army on Thursday welcomed Delta Air Line's decision to allow soldiers to check an extra bag on its planes free of charge, after a unit returning from Afghanistan was charged thousands of dollars in baggage fees.
"We're pleased Delta is taking positive action on this to support the soldiers," Army spokesman Gary Tallman said. "The commercial airlines have been an efficient and critical (partner) for decades in providing additional capability to move hundreds of thousands of troops around the world."
Delta's policy shift came just one day after two soldiers, Staff Sgts. Fred Hilliker and Robert O'Hair, filmed a video onboard Flight 1625 and posted it on YouTube. They criticized Delta for the additional charges, complaining that the 34 soldiers were charged as much as $2,800 in baggage fees.
"We were frustrated with the situation," O'Hair told Fox News Radio. "Honestly, we were just trying to get home."
Afterward, Delta released a statement publicly apologizing "for any miscommunication regarding our current policies as well as any inconvenience we may have caused."
The airline said it was reviewing the situation, and afterward decided Delta would allow American troops to check four bags free of charge, instead of three.
O'Hair said the trouble started Tuesday during an 18-hour layover in Baltimore. His unit was heading back to Fort Polk, La., after a deployment in Afghanistan.
O'Hair said their military orders stated that each soldier was allowed to check up to four bags free of charge. But the Delta agent told the soldiers they would have to pay for the fourth bag.
"My extra bag was my weapons case," he said. "I had my assault rifle, a grenade launcher and a 9-mm. pistol." He said the baggage fee posed an immediate financial hardship for the soldiers and many of them expressed immediate "irritation, frustration and shock."
"A lot of the guys didn't bring credit cards because, heck, how much do we need credit cards in Afghanistan?" he asked. "It was an unexpected price and the fact they were going against what our military orders stated."
Defense Department spokeswoman Cynthia Smith noted that airlines are in their right to charge for excess baggage, "even for service members." She said Delta had been allowing four free bags for first-class and business flights, and three free bags for active-duty military members flying coach.
"In this instance, they followed their policy and allowed three free bags for these travelers," she said, noting that the Pentagon does not "directly negotiate" with airlines over fees.
But Col. Thomas Collins, a spokesman for the Army, told Fox News Radio the baggage fees "seem to be unusual."
"Historically, the airlines have been gracious in waiving baggage fees for our troops deploying to Iraq and Afghanistan," he said.
Since many of the troops did not have cash to pay the fee, O'Hair said their Lt. Colonel ended up paying hundreds of dollars for the ones who couldn't afford the price.
And while the soldiers are expected to be reimbursed by the military, O'Hair said it could take weeks for them to get that money -- putting a financial hardship on some military families.
"Luckily I was able to pay it and I can wait for my reimbursement," he said.
"But what about a Private coming back home? A lot of these Privates are living paycheck to paycheck. They have kids to support and they need that $200."
FoxNews.com's Todd Starnes and Fox News' Jennifer Griffin contributed to this report.