Army veteran claims Al Franken groped her breast during 2003 USO tour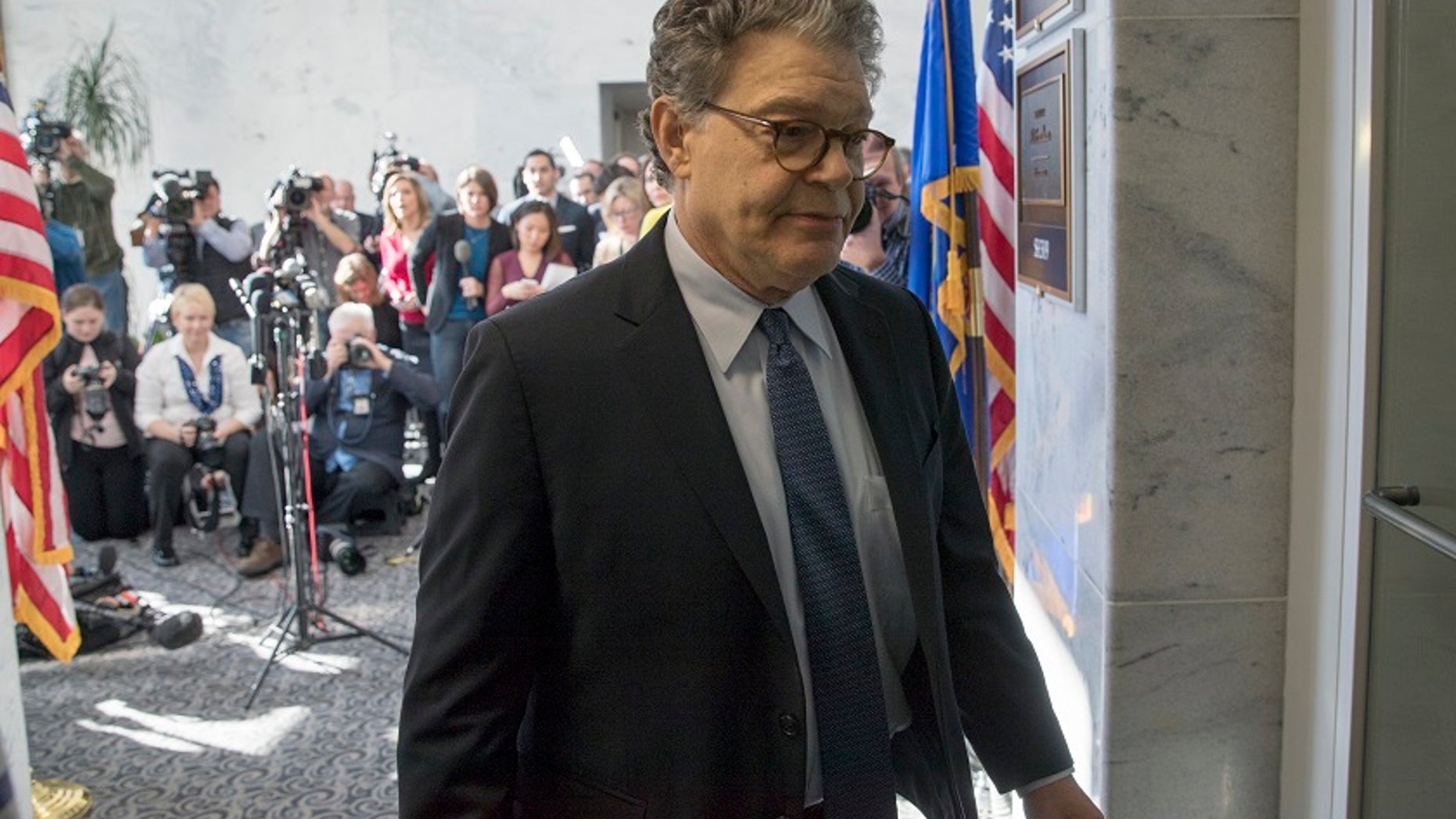 Another woman has come forward to accuse Sen. Al Franken of groping her during a USO tour -- this time, an Army veteran who reportedly claims the Minnesota Democrat cupped her breast while taking a photo in Kuwait in 2003.
Stephanie Kemplin, 41, of Maineville, Ohio, was the fifth woman to accuse the senator of inappropriate behavior, CNN reported. She was also the second person to allege an incident during a USO tour. Three women have come forward publicly and the other two have remained anonymous.
Kemplin told CNN that Franken, who was a writer and comedian at the time, was visiting the soldiers when she waited in line to take a photo with the "Saturday Night Live" alum. During the encounter, Franken allegedly "groped" her breast.
"When he put his arm around me, he groped my right breast. He kept his hand all the way over on my breast," Kemplin told CNN. "I've never had a man put their arm around me and then cup my breast. So he was holding my breast on the side."
FRANKEN WON'T RESIGN: SENATOR APOLOGIZES, SAYS HE WANTS TO GET BACK TO WORK
Kemplin told the media outlet she recalled feeling "embarrassed" and wondered if Franken would move his hand or if it was an accident.
"I remember clenching up and how you just feel yourself flushed," she said. "And I remember thinking -- is he going to move his hand? Was it an accident? Was he going to move his hand? He never moved his hand."
"It was long enough that he should have known if it was an accident. I'm very confident saying that," the veteran added.
Kemplin said the grope lasted about 5 to 10 seconds before she turned away from Franken in order to get his hand off her breast, just before the photograph was snapped.
A spokesperson for Franken told Fox News: "As Sen. Franken made clear this week, he takes thousands of photos and has met tens of thousands of people and he has never intentionally engaged in this kind of conduct. He remains fully committed to cooperating with the ethics investigation."
CNN reported the veteran broke into tears multiple times during the interview while recalling the incident.
"I was in a war zone. ... You were on a USO tour -- are you trying to boost the morale of the troops or are you trying to boost your own?" Kemplin said. "I just feel so sorry for that young girl in that picture."
The veteran said she did not say anything to Franken during the alleged incident and does not remember telling her fellow soldiers about it either.
CLINTON ACCUSERS JUANITA BROADDRICK, KATHLEEN WILLEY BARGE INTO AL FRANKEN'S OFFICE
"You're immediately put on the spot. What are you going to do? What are you going to do? Your mind goes a mile a minute," the veteran said. "Who was I going to tell?"
The woman told CNN she told family members, relatives and an ex-boyfriend of the alleged incident. Amy Muddiman, Kemplin's sister, told CNN she recalled the veteran telling her about Franken groping her.
"I just remember her telling me that he grabbed her breast and that she was so shocked about it," Muddiman said. "My sister is pretty bold and assertive and she said that she didn't know what to do."
The ex-boyfriend, who asked not to be named, reportedly said he could not recall the details but remembered Kemplin telling him, "he went to put his arm around her and copped a feel."
Kemplin said she reached out to Leeann Tweeden, a Los Angeles radio host, who was the first woman to come forward with sexual misconduct allegations against Franken. Tweeden said the senator forcibly kissed her and groped her during a 2006 USO tour, before he was elected to the Senate.
Kemplin said Tweeden's story made her recall the incident between her and Franken. Tweeden and Kemplin spoke and the radio host connected her to a CNN reporter.
Kemplin told CNN she also reported to her platoon sergeant a separate incident in 2003 in which she was "inappropriately touched by a member of their unit." An investigation was initiated.
Documents stated Kemplin was told the alleged incident was "totally inappropriate behavior" but the specialist was "not guilty of indecent assault."
CNN reported Kemplin was honorably discharged in 2008.
Kemplin told CNN she suffered from post-traumatic stress disorder after coming home from her tour in Iraq. She now works as a federal contractor who investigates Medicare fraud.
Franken did his first press conference Monday since the allegations surfaced and said he was "sorry" but hopes to regain the public's trust and confidence by getting "back to work." The Senate Ethics Committee may launch an investigation into Franken, and the senator said he would cooperate.
After Tweeden came forward with her allegations two weeks ago, Lindsey Menz told CNN the senator grabbed her buttocks in 2010 when they posed together for a picture at a Minnesota state fair. Two other women, who remained anonymous, reported such incidents to the Huffington Post. One woman said Franken groped her in 2007 during a photo at the Minnesota Women's Political Caucus. The other said he cupped her backside with his hand in 2008 and suggested that they go to the bathroom together at a Democratic fundraiser in Minneapolis.
Fox News' Chad Pergram, Joseph Weber and The Associated Press contributed to this report.