'Anti-gun stupidity': Honolulu destroys $575G worth of police firearms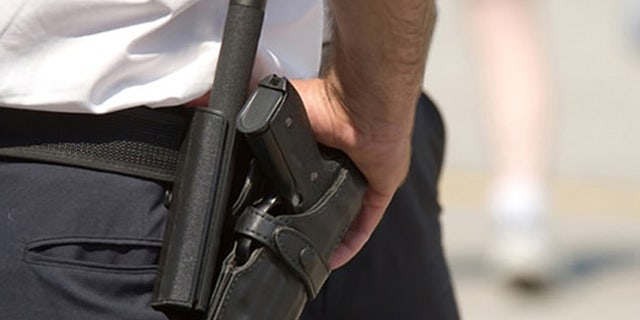 NEWYou can now listen to Fox News articles!
Second Amendment advocates are firing away at a decision by Honolulu officials to destroy $575,000 worth of perfectly good handguns in a move one critic called the "height of anti-gun stupidity."
Some 2,300 Smith & Wesson 9 mm handguns, including at least 200 that are brand-new and in unopened boxes, were issued to the city's police department. But with the 2,200-member force upgrading to lighter and less expensive Glock 17s, the guns were set to be permanently holstered. While it is customary throughout the country for departments to auction the guns to law-abiding citizens, including the police who once carried them, or donate them to another department, Honolulu opted to destroy them.
"Mayor Kirk Caldwell and the Honolulu Police Department agreed that they would not allow the guns to be sold to the general public and end up on the streets of Honolulu," Honolulu Police spokeswoman Michelle Yu told FoxNews.com. "The same goes for selling the individual gun parts that could have been used to assemble a gun."
"These guns in the hands of lawful civilians could provide an important means of self-defense, especially for low income people who can't afford them."
Selling the guns, with mandatory background checks to ensure they were only purchased by legal owners, could have netted the city $575,000, according to Hawaii News Now. Several police officers reportedly were interested in buying old service weapons for personal use, and the department has previously sold phased-out weapons to its staff, but this time opted to melt them down two weeks ago.
Yu said no other police departments were interested in the guns.
"Law enforcement in American Samoa initially expressed interest in acquiring some of the guns, but there was a change in administration and the new administration is no longer interested," she said. "The local sheriff's department recently replaced their guns, and other county police departments (Kauai, Maui and Hawaii) are looking to replace their Smith & Wessons in the future."
A representative for Smith & Wesson declined to comment, stating that the company does not provide any information regarding their customers in law enforcement.
Despite Yu's claims, the Hawaii state sheriffs division – which uses the same gun manufacturer – told Hawaii News Now that no offer for donation was made to them.
Hawaii's Department of Public of Safety recently replaced its Smith & Wesson firearms with different SIG Sauer models and received a credit of more than $150,000 for trading in its old guns. But Yu no trade-in discount was available and insisted "the only remaining option was to destroy the guns so they don't end up on the street."
Destroying working firearms, as well as valuable taxpayer property, was "the height of anti-gun stupidity and will not stop one criminal from getting a weapon," said Alan Gottlieb, founder of the Second Amendment Foundation.
"These guns in the hands of lawful civilians could provide an important means of self-defense, especially for low income people who can't afford them," Gottlieb said. "Or the sale of them could help pay for much needed law enforcement equipment to help keep the public safe."
Any city the size of Honolulu could use $575,000, said Amy Hunter, spokeswoman for the National Rifle Association's Institute for Legislative Action.
"There is no reason why these firearms couldn't be used by law enforcement or sold to law-abiding citizens, the proceeds of which could go to much-needed infrastructure, programs, training, etc," she said.
The Hawaii Rifle Association's President Harvey Gerwig, together with safety training non-profit Lessons in Firearms Education President Bill Richter wrote directly to Caldwell over the issue, emphasizing that "in these times of lean budgets and continual cost cutting to needed city services, to throw away a half a million dollars seems senseless."
"The reason your office and HPD gave for not selling to the public seemed to be a slight on those legal gun owners who would have purchased them and who supported you during your election," the letter continued. "You should be ashamed for suggesting that the good citizens of Hawaii cannot be trusted with buying HPD's surplus guns for fear of them falling into criminal hands when record numbers of firearms have been bought by those same citizens for the last ten years without any such problems."
Over the last 15 years, the number of guns registered in Hawaii increased dramatically. Data released by the Hawaii Attorney General's Office shows that 420,409 firearms were registered from 2000 to 2014, in addition to the already existing one million firearms in a state that has an estimated population of 1.4 million.
Hawaii has one of the lowest gun death rates in the nation, which some attribute to its spike in ownership per capita, while others claim it is a result of its strict gun control laws.
Caldwell's office declined to elaborate on Yu's comments. The Hawaii Police Officers Union, did not respond to requests for comment.
But while the destruction of the guns generated criticism from the gun rights community, others have welcomed it.
"It beats putting those (guns) back on the streets," said Ladd Everitt, spokesman for the Coalition to Stop Gun Violence. "There are so many loopholes in federal law that dangerous people often get guns legally in this country.
"There's a reason that Hawaii has the lowest gun death rate in the country," he added. "They'd rather see guns destroyed than families."