Amnesty International Under Fire for Demanding Bush's Arrest During Trip to Africa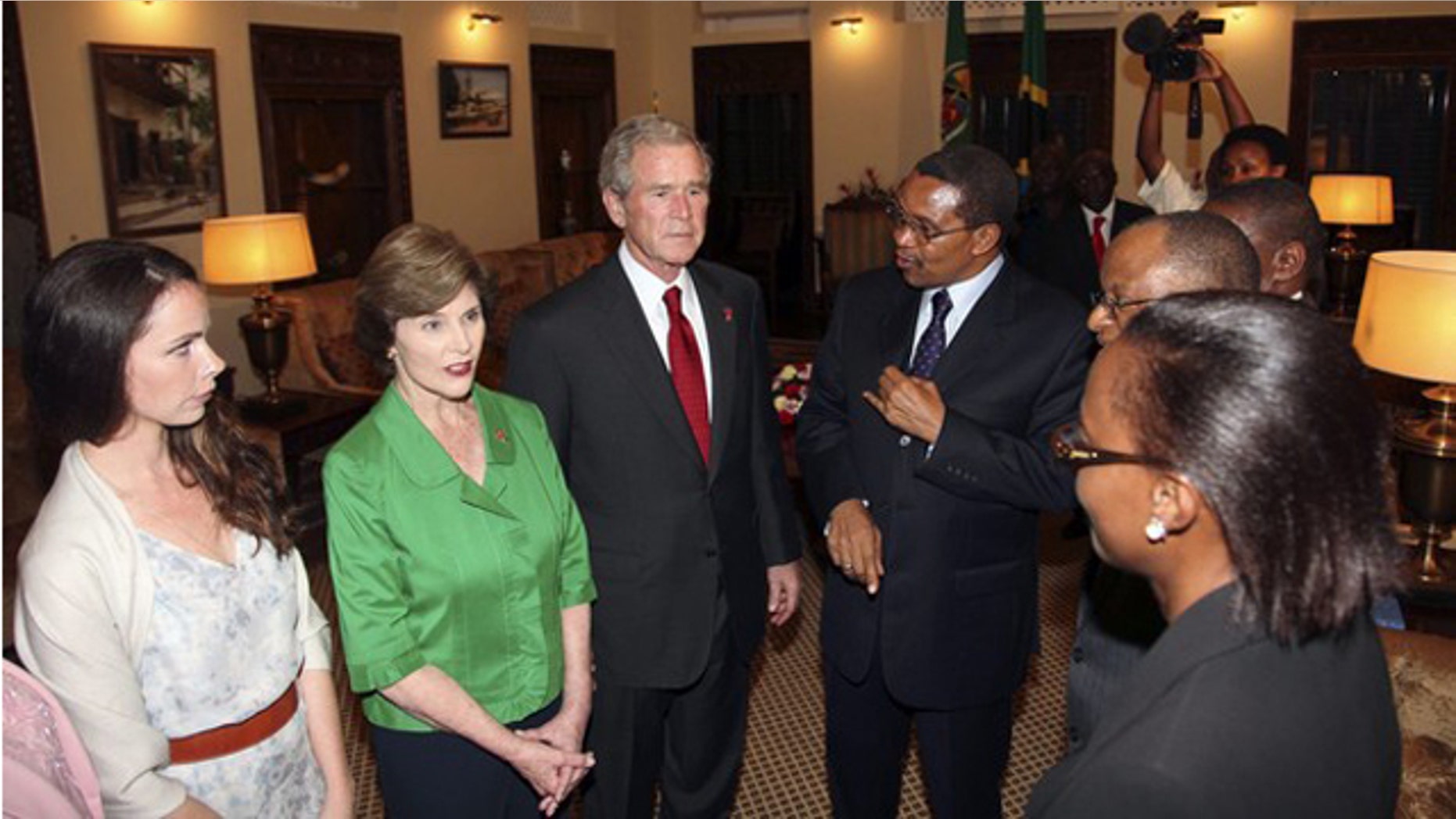 Former members of the George W. Bush administration assailed Amnesty International Thursday for demanding the former president's arrest while he and his family are in Africa calling Amnesty's campaign at best a form of "harassment" and at worst a threat.
The world's largest human rights group said Thursday "there is enough evidence in the public domain" to justify Ethiopia, Tanzania or Zambia arresting the former president during his visit to the region on charges of committing "crimes under international law." The president is traveling in the three nations between Thursday and Monday to promote AIDS and cancer awareness.
"They've been trying to get any country where President Bush and Vice President Cheney visit to harass them wherever they go," former Justice Department attorney John Yoo said of Amnesty's actions.
"It could be taken as a call for violence against the president," said Brad Blakeman, a former Bush adviser who accompanied the former president to Africa in 2003.
Blakeman said Amnesty is just trying to "embarrass" the former president but the sustained campaign could be potentially dangerous.
"I think it's a threat upon ... the former president," he said.
The group said the three nations should investigate Bush's "alleged involvement in and responsibility for torture," referring to the Bush administration's use of waterboarding.
"All countries to which George W. Bush travels have an obligation to bring him to justice for his role in torture," said Matt Pollard, senior legal adviser for the American branch of AI.
But Bush officials said Amnesty's campaign at this point should be categorized as "harassment" -- particularly considering the purpose of Bush's visit.
"It shows how upside-down the human rights world is, where they're going after a president who's trying to save lives -- many, many lives. Why? Because they're upset about the treatment of three al Qaeda leaders in the war on terrorism," Yoo, who wrote memos that provided the legal basis for the CIA's Bush-era interrogation program, told FoxNews.com.
Rep. Peter King, R-N.Y., chairman of the House Homeland Security Committee, also took Amnesty to task for its latest statement. "If Amnesty International had any intellectual honesty, it would give President Bush a medal to honor him for liberating so many oppressed Muslims in Iraq and Afghanistan and for assisting millions of AIDS victims in Africa," King said in a statement.
The group last called for Bush's arrest when he was in Canada in October for an economic summit.
This time, Bush was marking World AIDS Day and going on to emphasize cervical and breast cancer awareness.
During a broadcast Thusrday of the World AIDS Day event, President Obama thanked Bush for his work on expanding access to drugs through the Global Fund that Bush grew during his administration. The president credited Bush for "his bold leadership on the issue."
"I believe that history will record the president's Emergency Plan for AIDS Relief as one of his greatest legacies," Obama said. "That program -- more ambitious than even leading advocates thought was possible at the time -- has saved hundreds of thousands and thousands and thousands of lives, spurred international action, and laid the foundation for a comprehensive global plan that will impact the lives of millions."
Amnesty International's U.S. chapter is backed in part by Bush-basher George Soros' Open Society Foundations, which under its prior name Open Society Institute has donated hundreds of thousands of dollars to the group. OSI donated $500,000 to Amnesty International USA in 2009 for an anti-torture campaign. At least another $250,000 was approved for the same project in 2008.
But while Amnesty's focus on arresting the former president might raise questions about its tax-exempt status in the U.S., Amnesty's critics noted the organization likely has the right to bother Bush.
Charles "Cully" Stimson, a former Defense Department official for detainee affairs who is now a senior legal fellow with the Heritage Foundation, said it appears "they have a profound disagreement about a policy issue that has legal implications, and that would fall under the (nonprofit) status."
He noted that nonprofits cannot cross the line when it pertains to advocating for or against legislation, or for or against political campaigns.
But, Stimson added, calling for the former president's arrest while he's on a humanitarian tour is "regrettable to say the least."
In its statement, Amnesty said the purpose of Bush's visit should not be used as an excuse to let him pass freely through the country.
"Amnesty International recognizes the value of raising awareness about cervical and breast cancer in Africa, the stated aim of the visit, but this cannot lessen the damage to the fight against torture caused by allowing someone who has admitted to authorizing waterboarding to travel without facing the consequences prescribed by law," the group said.
Congress ended the legality of waterboarding during Bush's presidency after complaints, including by former prisoner of war and Arizona Republican Sen. John McCain, that the practice, used on al Qaeda mastermind Khalid Sheikh Mohammad and other terror suspects, defied Geneva Conventions on the treatment of prisoners of war.
But some in the former administration, including Cheney, defend it to this day, and claim that it "probably" played a role in tracking down Usama bin Laden.
"It was a good program. It was a legal program. It was not torture," Cheney told "Fox News Sunday" shortly after bin Laden's capture and killing. "I would strongly recommend we continue it."
Neither Bush nor Cheney's office had a comment about the Amnesty statement Thursday.