Ambassador to U.S. says Mexico would be open to 'modernizing' NAFTA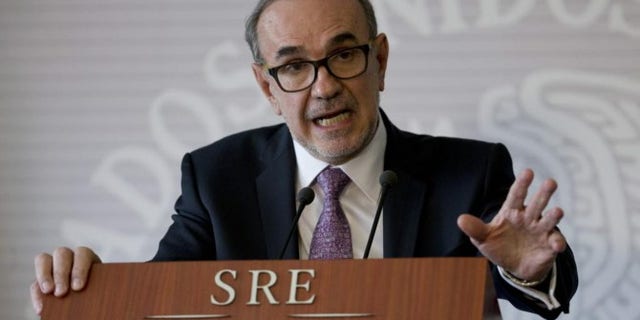 NEWYou can now listen to Fox News articles!
The Mexican ambassador to the United States said that his country would be open to "modernizing" NAFTA, the North American Free Trade Agreement, but he stated flatly, "We are not paying for the wall."
"For us, it is important that [NAFTA] is well-understood … because we think perception does not always correspond to reality," Ambassador Carlos Sada Solana told editors and reporters from the Arizona Republic and La Voz during a two-day visit to Phoenix.
He said that NAFTA has benefited thousands on both sides of the border, creating five to six million jobs in the U.S. and lifting trade between the two countries from $80 to $360 billion.
A recent example he cited was Lucid Motors announcing the construction of a $700 million facility in Casa Grande, Arizona, that will produce electric cars to compete with Tesla.
Some parts for the autos will be manufactured in Sonora, Mexico.
"So [NAFTA] has been a remarkable success from the perspective of how things have been evolving, and this is something we have built together," he said. "We are not just buying and selling, we are producing together."
As for the border wall, he argued that building one would undermine years of cross-border economic activity and would do more harm than good.
"Mexico is not the enemy. It is the partner" of the U.S., Sada told the journalists, referring specifically to policy proposals put forth by President-elect Donald Trump during the election campaign.
Instead of a border wall, Sada would prefer to see immigration reforms passed that would allow Mexicans to enter the U.S. and work here. He believes taking that step would improve border security.
"It is in our interests to have a safe and efficient border," Sada, who was making a two-day trip to the Phoenix area, said.
Beyond that, he noted, a border wall might have unintended consequences.
"We fear that there [will] be consequences regarding environmental issues," he said. "It's also going to be sending a very negative message. What we say is, 'We'd like to build bridges'."
Like us on Facebook
Follow us on Twitter & Instagram