Allies use Trump assassination wish scandal to fundraise for Missouri Dem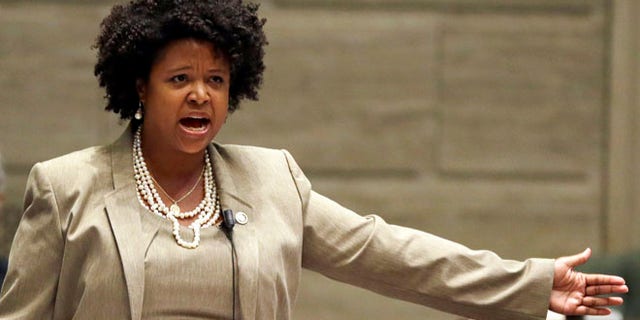 Allies of the state senator in Missouri fighting to keep her seat after saying she hopes President Trump is assassinated set up a website and encouraged people to donate money to the embattled Democrat.
But after Fox News asked questions about the request for donations, the fundraising link disappeared from the site.
State Sen. Maria Chappelle-Nadal told Fox News in a statement on Wednesday she appreciates the "gesture and show of support" from the supporter who set up the site.
The "I stand with Maria" website included a link to Chappelle-Nadal's fundraising page at ActBlue, an online platform used by Democrats to raise money online.
"An enthusiastic supporter started a website - www.istandwithmaria.com - to collect signatures in support of me staying in the Missouri Senate," Chappelle-Nadal said. "They added a link to my Senate ActBlue, which is public. The page is a nice gesture and show of support."
In a subsequent statement, Chappelle-Nadal said she asked that the fundraising link be removed.
"I have requested of my supporter to take the ActBlue tab off their website," she said.
By Wednesday evening, the fundraising button had been removed.
The website includes a petition of supporters who don't think she should resign. The site attempts to rationalize her comments.
"We know that there is a huge difference between saying that someone hopes Donald Trump is assassinated and someone calling for his assassination," the site says.
Trouble started for Chappelle-Nadal after posting on Facebook last week: "I hope Trump is assassinated!"
Chappelle-Nadal eventually deleted the post, but a screenshot was saved and shared on Twitter.
MISSOURI SENATOR WHO URGED TRUMP ASSASSINATION BOOTED FROM COMMITTEES
In interviews, Chapelle-Nadal has said she regrets her words but not her anger at the president. She blamed her outburst on the president's response to the white supremacist violence in Charlottesville.
On Sunday, she offered an apology.
"President Trump, I apologize to you and your family," Chappelle-Nadal said. "I also apologize to all the people in Missouri. And I also apologize to my colleagues in the Missouri legislature for the mistake that I made."
Top Missouri Democrats – including Sen. Claire McCaskill and the chairman of the Missouri Democratic Party – have called on Chapelle-Nadal to resign.
Meanwhile, Chapelle-Nadal has been stripped of committee assignments and Missouri's Republican governor and lieutenant governor have said they will move to expel her from office if she doesn't resign.
But Chappelle-Nadal has said she won't quit.
"There is no way in hell that I'm resigning," she told KMOX Radio last week.