Alabama's Doug Jones facing early pressure to vote with GOP, after upset victory
Democrat Doug Jones' victory in the Alabama Senate race dashed Republicans' hard-fought efforts to keep the open seat and retain their narrow, two-seat majority. But GOP leaders already are angling to convince Jones to back their legislative agenda, hoping he'll be willing to buck his own party to retain support from the state's largely conservative voters.
"I hope Senator-elect Doug Jones will do the right thing and truly represent Alabama by choosing to vote with the Senate Republican majority," said Colorado GOP Sen. Cory Gardner, chairman of the National Republican Senatorial Committee.
Jones' narrow victory over Republican Roy Moore marks the first time in 25 years that Alabama voters have elected a Democratic senator. The Fox News Voter Analysis shows he won with support from black, young and female voters. But Jones was no doubt aided by the sexual misconduct allegations against Republican Roy Moore. And Alabama remains a deep red state; 62 percent of Alabama voters picked Republican President Trump in 2016.
"I think Jones is going to be highly cognizant that he's representing the state of Alabama," Democratic strategist Douglas Smith said Tuesday. "The wildcard is will [Senate Majority Leader] Mitch McConnell find things to bring him on board."
Speaking at a press conference Wednesday afternoon, Jones suggested he'd focus on "kitchen-table issues." Referring to the bruising election fight, he also said now is a "time for healing."
In his victory speech, Jones effectively avoided any talk about how he might operate in Washington.
However, he made clear that he won with bipartisan support. And he urged the GOP-controlled Congress to fund the recently expired Children's Health Insurance Program, or CHIP, before he arrives in January. Congressional Democrats and Republicans support the program but disagree over funding.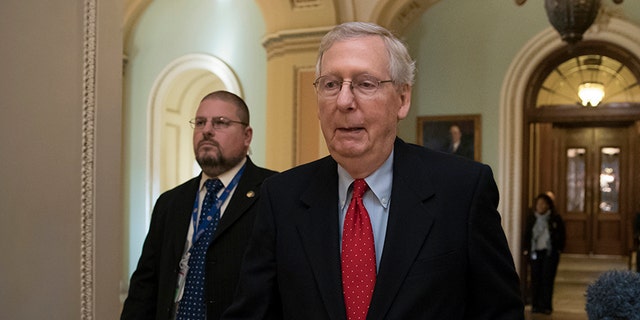 "I have this challenge to my future colleagues in Washington," Jones said. "Take this election where the people of Alabama said we want to get something done: We want you to find common ground, we want you to talk. … Go ahead and fund that CHIP program before I get up there."
Jones and Moore were competing for the seat left open when Republican Jeff Sessions earlier this year was appointed U.S. attorney general.
Republican Luther Strange was appointed to the seat until the special election, which Strange lost to Moore in the primary phase. However, allegations that Moore while in his 30's had inappropriate sexual contact with female teens severely damaged his campaign.
Jones defeated Moore 49.9-48.4 percent.
Trump and McConnell, R-Ky., backed Strange in the GOP primary. And they distanced themselves from Moore, a conservative firebrand, after the allegations surfaced last month. Trump in the closing weeks of the campaign endorsed Moore, while McConnell said Alabama voters should decide who wins the seat.
Smith, a managing partner at Kent Strategies and who worked on Bill Clinton's presidential campaign, thinks McConnell will "throw Jones a bone or two" but ultimately work to retake the seat.
Among the key issues on which Jones will likely vote -- with Republicans now having a 51-49 member Senate majority -- is immigration reform, including a plan to continue to protect young illegal immigrants under the Obama-era Deferred Action for Childhood Arrivals program, which Trump has brought to an end, starting in March.
"Doug Jones will be an outstanding senator who will represent Alabama well," said Senate Minority Leader Chuck Schumer, D-N.Y. "He was a great candidate and will be an even better senator."
On Tuesday, Schumer urged McConnell to "hit pause" on his party's major tax-reform legislation, which is expected to get a final vote in the coming days, until Jones is seated.
Trump already appears to be cozying up to Jones, while distancing himself from Moore's defeat.
"Congratulations to Doug Jones on a hard fought victory," he tweeted Tuesday night. "The people of Alabama are great, and the Republicans will have another shot at this seat in a very short period of time. It never ends!"
He later tweeted: "The reason I originally endorsed Luther Strange … is that I said Roy Moore will not be able to win the General Election. I was right! Roy worked hard but the deck was stacked against him!"
The Alabama Republican Party was more straightforward in post-election comments about its expectations for Jones.
"During this campaign, we heard Mr. Jones repeatedly say he would talk about 'kitchen table issues' and that he would 'reach across the aisle' to work with Republicans," said party Chairman Terry Lathan.
"While these issues weren't discussed and no other Democratic Senator has worked with the Republicans, all eyes will be on his votes. Alabamians will watch the issues he will support or try to stop. We will hold him accountable for his votes."
She also fired a warning shot at Jones -- pointing out that essentially 60 percent of elected offices in Alabama are held by Republicans, which means "a strong slate" of candidates in upcoming elections.
"Alabamians are conservative and have no intentions of moving toward the policies of the Democrat Party," Lathan continued. "If Mr. Jones aligns himself with the liberal Democrats in Washington, Alabama voters will remember his choices in the 2020 U.S. Senate election."