Alabama Senate primary: Moore's popularity shakes GOP establishment
NEWYou can now listen to Fox News articles!
WASHINGTON – In a political year that has blown up conventional wisdom, the special election to fill the Alabama Senate seat vacated by Sen. Jeff Sessions' confirmation to Attorney General, may further upend the status quo.
In an August 15th GOP primary, controversial former Chief Justice of the Alabama Supreme Court, Roy Moore, bested interim Senator Luther Strange by roughly 6 percent, forcing a September 26 run-off. On primary night, Moore touted his maverick reputation.
"I'm running to make a difference in Washington, and those in Washington are scared," he said.
'TEN COMMANDMENTS JUDGE' ROY MOORE'S STAR RISING IN ALABAMA SENATE RUNOFF RACE
In 2003, the Alabama Judicial Inquiry Commission stripped Moore of his chief justice job for refusing to remove a monument to the 10 Commandments at the state judicial building, a monument that Moore himself commissioned. Thirteen years later, after he won re-election to chief justice, the commission suspended him for instructing judges to enforce Alabama's same-sex marriage ban, in defiance of a U.S. Supreme Court ruling.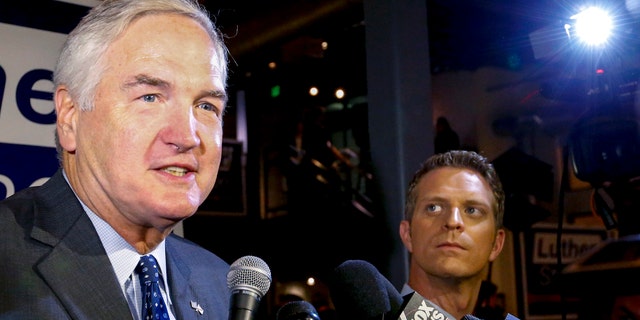 Strange, who was appointed to office last February by then-Gov. Robert Bentley, maintains he has all the social conservative credentials as Moore, but without the baggage.
TRUMP MAKES FINAL PUSH FOR STRANGE IN ALABAMA SENATE RACE
"I have supported a traditional marriage in court and have litigated that for many years – the same thing with the 10 Commandments," he told Fox News. "It's a question whether you respect the rule of law and the Constitution."
Adding to Moore's non-conformist credentials, he is heavily supported by trial lawyers – typically a loyal Democratic Party constituency. They made up almost 20 percent of his campaign contributions when he ran for the Alabama Supreme Court in 2012. He is also supported by Breitbart publisher Steve Bannon, while Bannon's former boss, President Trump, backs Strange.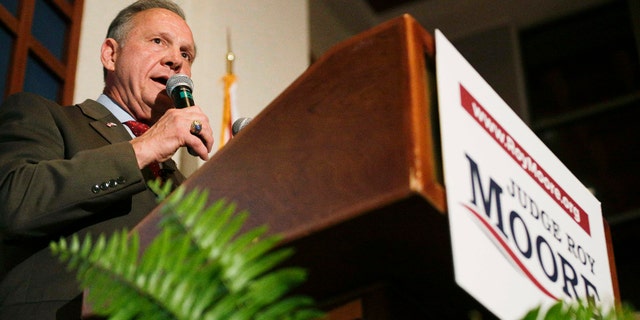 The general election is set for December 12 against Democrat Doug Jones.
"I don't know if it's possible for a Republican to lose the state of Alabama, but if it is, it's with a candidate like Roy Moore," said Josh Holmes, the former Chief of Staff to Senate Majority Leader Mitch McConnell.
Republicans worry that if Moore wins the run-off, trial attorneys may flee him for the formidable Democrat, Jones. They also worry that if Moore wins the general election, Senate Democrats will gain another to vote to block tort reform, which the GOP sees as a key component to lowering the costs of healthcare.