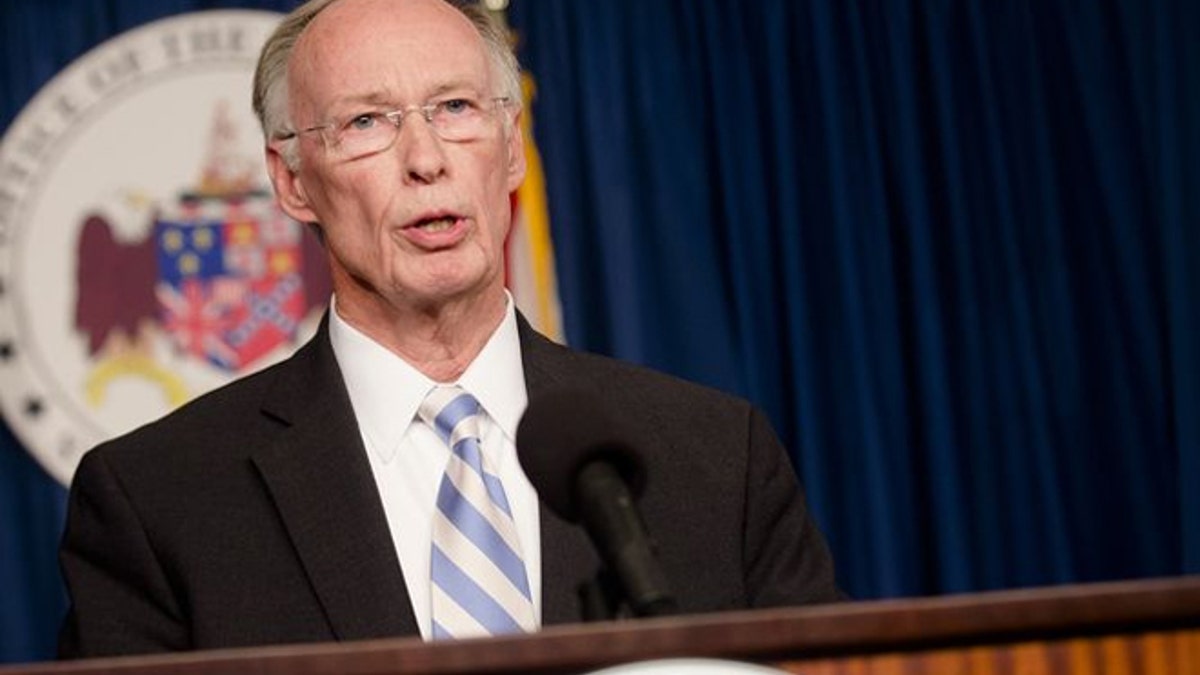 MONTGOMERY, Ala. – Alabama Gov. Robert Bentley admitted Wednesday that he made inappropriate remarks to a top female staffer, but he denied accusations that he had a physical affair.
The governor's admission capped a bizarre political day in which, a day after his firing, his former law enforcement secretary and one-time close friend made public the content of a clandestine recording — made by a family member before Bentley's wife filed for divorce last year — and accused his former boss of having an inappropriate relationship with the staffer.
The two-term Republican governor, a former Baptist deacon, acknowledged in a conciliatory news conference that he said "some inappropriate things" to his senior political adviser, Rebekah Caldwell Mason.
"I made a mistake. Two years ago I made a mistake," Bentley said, adding that he had previously apologized to his family and to Mason and her family. "Today I want to apologize to the people of the state of Alabama and once again, I want to apologize to my family. I am truly sorry and I accept full responsibility."
Former Law Enforcement Secretary Spencer Collier held a news conference Wednesday and said he heard a tape recording in 2014 in which Bentley made romantic and sexually charged comments to a woman he believed to be Mason.
Collier said he listened to the call while members of Bentley's family were present on the phone and then confronted the governor about them the next day. Collier said the Bentley family was trying to do some sort of "intervention" with the governor with the recording.
"Gov. Robert Bentley simply hung his head and asked for advice on how to get out of it," Collier said. Collier and Bentley became close friends when they served together in the Alabama House of Representatives. Collier said Bentley recently told him he was "madly in love" with Mason. However, Collier conceded he had no direct evidence of a physical affair.
Bentley said while he made inappropriate remarks to Mason that he never had a physical affair with her.
Collier also said Mason, who is considered one of Bentley's closest advisers, wields extraordinary influence within the governor's office.
Mason, in a statement, said Collier would have not made that comment a man in a position of influence within the executive branch.
Mason said Collier had "clear, demonstrated gender bias," and said that she was "proud of what I have accomplished in my professional career. And I'm grateful for the opportunity God has given me to serve our state."
Mason's statements did not address Bentley's behavior.
Collier's accusations came a day after Bentley fired him as law enforcement director after an internal investigation into the possible misuse of state funds within the Alabama Law Enforcement Agency. Bentley had placed Collier on medical leave last month to recover from an upcoming surgery.
Collier said Wednesday that he had done nothing wrong. Asked why he was coming forward now, after his firing, Collier said he should have come forward sooner and apologized to the governor's former wife.
Dianne Bentley, the governor's wife of 50 years, filed suddenly for divorce last year saying the marriage had suffered an irreparable breakdown. She did not allege infidelity in the divorce filing.
Bentley said previously that the split caught him by surprise. The governor and former Alabama first lady made their final joint appearance in August with college football mascots. Bentley, who smiled through the photo-op, found out later that his wife filed for divorce about 30 minutes earlier.