After losing support of Philly's Hispanic leaders, Latino mayoral candidate loses his cool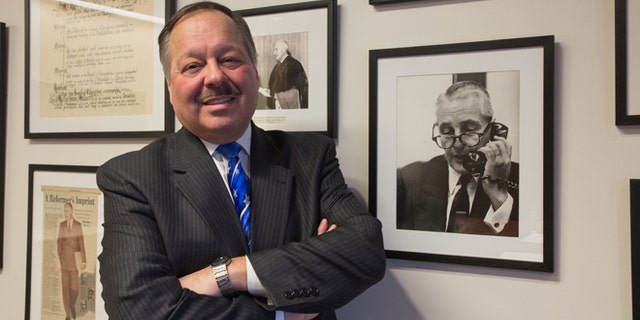 NEWYou can now listen to Fox News articles!
One would think that the first Latino with an actual shot at winning a mayoral race in Philadelphia history would have the backing the city's Hispanic leaders. But for former Judge Nelson Diaz, Latino leaders in the City of Brotherly Love are showing more love for his challenger, former councilman Jim Kenney.
Despite jump-starting his campaign back in January with the full support of Hispanic leaders in Philadelphia, Diaz was snubbed Monday when Latinos United for Political Empowerment (LUPE), a group of elected officials, community and ward leaders in Pennsylvania's largest city, endorsed his opponent.
"Whether it was his work on ending ICE holds or supporting immigrant entrepreneurs, Jim always prioritized issues important to minority communities," state Rep. Leslie Acosta, chairwoman of LUPE and daughter of former state Rep. Ralph Acosta told PoliticsPA. "We look forward to working with Jim to make Philadelphia an even more inclusive city in the years to come."
Less than an hour after it was announced that LUPE was supporting Kenney, Diaz fired back with claims that the former councilman only landed the group's endorsement because he agreed to a joint campaign with controversial city council candidate Manny Morales, according to the Philadelphia Daily News.
"I am profoundly disappointed but not surprised," Diaz said in a statement, according to the Philadelphia Inquirer. "[Kenney] values his own election more than his integrity and more than basic progressive values."
Morales, who is running to unseat Councilwoman María Quiñones-Sánchez in Philadelphia's 7th District, ran into major controversy when a slew of racist, anti-gay and anti-poor posts appeared on his Facebook page. While Morales claimed that his account had been hacked and the material was a forgery, the city's Democratic committee withdrew its support, and Diaz called for him to withdraw from the race.
"I was told in no uncertain terms [by LUPE officials] that unless I was willing to fund and participate in a joint campaign with Manny Morales, this group would drop their endorsement of me and endorse a candidate willing to make that deal," Diaz said in a statement, according to the Philadelphia Inquirer. "I again asked for some evidence Morales hadn't made the hateful statements attributed to him, but wasn't given that evidence, because it does not exist. My integrity is the most important asset I have, and so I said no. If supporting Manny Morales is the price of keeping this endorsement, it is not a price I am willing to pay."
He added, "Apparently Jim Kenney is willing to make that deal."
Kenney's campaign quickly fired back at Diaz's accusations, saying that Kenney was not supporting Morales in his council bid and that Diaz was just upset about losing the endorsement of the city's most influential Hispanic organization.
"We are absolutely not supporting Manny Morales, nor did we make any such deal with LUPE," Kenney's spokesperson Lauren Hitt told the Inquirer. "LUPE has endorsed a number of different candidates for City Council and other municipal offices who aren't supporting Morales either."
She added, "The Diaz campaign is embarrassed over losing the endorsement of a Latino organization who were unimpressed with the campaign they've run and the policies they presented, and the campaign is making offensive, ridiculous accusations to try to excuse it."
Along with Kenney, former Philly District Attorney Lynne Abraham and State Sen. Anthony Williams are considered the front-runners for the Democratic Party nomination in the May 19 primary. Because of the city's overwhelmingly Democratic electorate, whomever emerges victorious will become the favorite in the November general election.
Like us on Facebook
Follow us on Twitter & Instagram