AEHQ - Romney Embracing New Hampshire 'Retail Politics'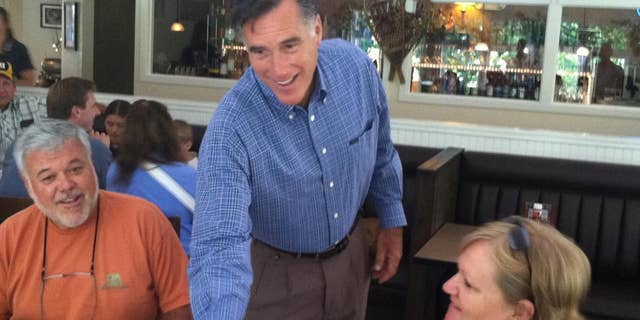 NEWYou can now listen to Fox News articles!
In 1976 a little known governor from Georgia came to New Hampshire and met as many people as possible, shaking hands in a grass roots campaign that ultimately won Jimmy Carter the White House. A lot has changed since then. Now presidential campaigns are managed by seasoned political veterans who carefully craft their candidate's image and produce slick commercials that blanket the airwaves.
New Hampshire, however has not changed that much. Retail politicking is still the key to reaching voters here - most of whom are well informed and likely to ask pointed and incisive questions that put those who seek the nation's highest office on the spot. It's a tradition not lost on GOP front runner Mitt Romney, who seems determined to visit all parts of the Granite State.
Friday the former Massachusetts governor was in Berlin, a small town some three hours north of Manchester. It's not an easy place to get to - but as the largest city in northern New Hampshire it's a must stop in the 'First in the Nation' presidential primary state. Romney made his only campaign appearance of the day at the Northland Restaurant. Sitting at a table with 17 local residents the small gathering was similar to other events he's held across New Hampshire - an effort to connect with voters on a personal level. He began by noting that it was exactly 32 years ago that then President Carter gave a speech in which he said America was in a malaise.
Romney said that speech, given at a time of high national unemployment and soaring inflation led to Carter's defeat and compared it to yesterday's speech by the current president in which Mr. Obama called the country 'stressed.' The governor fielded multiple questions about the economy telling the table "this is too important a time to worry about elections ... It's time to put America right."Leading in the polls, Romney is the focus of increasing negative attention. Friday's Boston Herald featured a full rather uncomplimentary front page photograph of the governor with the headline 'Get A Clue Mitt!'. The accompanying article questioned what the paper described as 'awkwardness on the campaign trail' - pointing to situations where Romney has made jokes or comments that have fallen flat.
Over the past two days the governor has had multiple events but has largely avoided taking questions from reporters, exiting venues quickly and driving away in a waiting SUV. Today he stopped briefly as he climbed into his car saying of the impasse in Washington over raising the debt ceiling, "the president needs to cut federal spending, to cap federal spending and have a balanced budget amendment - that's what we ought to do - it's within his hands."