Accelerating GOP Race Poised to Test Perry's Staying Power, Romney's Obama Strategy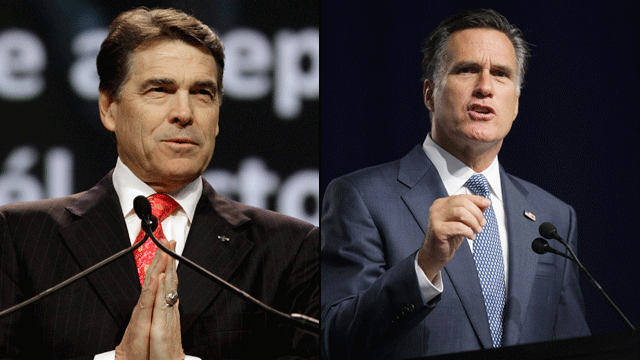 September will likely be a month to remember for a GOP presidential race that is about to shift into high gear.
A series of debates and events this month will test Rick Perry's staying power and Mitt Romney's strategy of focusing on the president instead of his GOP rivals.
September also may settle the field for good, with Sarah Palin perhaps deciding at last whether to run.
Perry, the Texas governor, jolted the party last month by leaping to the top of several national polls within days of joining the race. Now, three scheduled debates in 16 days, the first on Wednesday in California, will show how well he can stand alongside his competitors and field a range of questions.
That opening debate "will be most critical" for Perry because "it will be his first time out," said Terry Nelson, a campaign strategist who had worked for former Minnesota Gov. Tim Pawlenty, now out of the 2012 race.
Perry's entrance has riveted political insiders and led to talk of how Romney, a former Massachusetts governor, should respond. It also siphoned off some of the buzz surrounding Minnesota Rep. Michele Bachmann, a Tea Party favorite previously considered by many observers to be Romney's chief rival.
But GOP strategists warn that it's very early, and polls at this stage are often poor predictors of what's to come in next year's voting to pick a nominee.
"There's movement all over the place," Kevin Madden, an unpaid adviser to Romney and a veteran of several campaigns, said.
At this stage in the 2008 presidential cycle, former New York Mayor Rudy Giuliani topped national Republican polls, followed by ex-Tennessee Sen. Fred Thompson. Both men faded fast.
Barely registering was former Arkansas Gov. Mike Huckabee, who four months later won the Iowa caucus. Arizona Sen. John McCain eventually claimed the nomination.
For all that, party insiders say Perry can be a potent and resilient contender if he avoids major missteps. They say that polls and anecdotal evidence suggest he can appeal to a crucial swath of Republican activists: deeply conservative voters who place a somewhat greater emphasis on the economy, especially jobs, than on social matters, such as gay marriage.
Unlike Bachmann, a three-term House member, Perry can point to a record of robust job creation as governor. Unlike Romney, Perry espouses a long-held anti-Washington, anti-regulation philosophy that doesn't leave hardcore conservatives wondering whether he's a soul mate.
Romney's response to the Perry surge has been calm and measured. He still points nearly all his criticisms at President Obama.
Romney did, however, adjust his Labor Day weekend schedule to add a Tea Party event in New Hampshire and an appearance with Sen. Jim DeMint, R-S.C. DeMint, a Tea Party favorite whose endorsement could be valuable, also is hosting Perry, Bachmann, Texas Rep. Ron Paul and others at a forum Monday in Columbia, S.C.
Romney's closest swipe at Perry was a brief jab last week at "career politicians" during a speech in San Antonio.
Danny Diaz, who has advised several Republican campaigns, says Romney is playing it smart.
"I don't think there's any reason for the Romney team to deviate from what they've been doing," Diaz said. "Looking at national polls, you can read into them almost anything you like."
But Michael Dennehy, a GOP veteran of New Hampshire campaigns, said Romney's team "is crazy not to respond" to Perry right away. "If they don't," Dennehy said, "he's going to be on top of them in no time."
In addition to Wednesday's debate, the Republican contenders will face each other at Florida forums Sept. 12 and Sept. 22.
Romney plans a major speech Tuesday on jobs. Palin scheduled holiday weekend stops in Iowa and New Hampshire. But many don't expect Palin, the former Alaska governor and the 2008 vice presidential nominee to announce a decision about running for president until late September.
For now, most eyes are on Perry. If he survives the three debates largely unharmed, Romney and the others will have to decide when and how to start exploiting his faults. They might have several options.
Perry has called Social Security "a Ponzi scheme," "a failure," and perhaps unconstitutional. Journalists and some nonprofit groups are digging into his record of withholding various details of spending and other actions as governor, including the awarding of state contracts to financial supporters.
Of course, the other contenders have vulnerabilities too. Critiques of Perry's record could trigger counter punches at Romney's record as governor on jobs and health care.
Iowa will start the nominating process with its mid-winter caucus, followed by New Hampshire's first-in-the-nation primary. South Carolina's primary will come later.
Five of the eight Republican presidential races since 1980 have been competitive, and the eventual nominee always captured South Carolina, plus either Iowa or New Hampshire.
The Associated Press contributed to this report.