A Former Political Prisoner, a First Thanksgiving in Freedom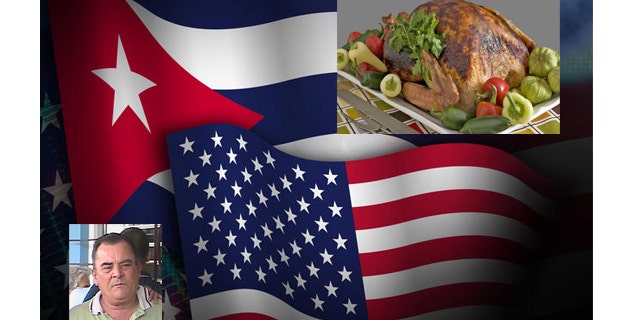 At the home of Amado and Elia Ruiz Moreno, Thanksgiving started last week.
Elia, 53, has said prayers of thanks each day. Amado, 66, has been telling anyone who will listen that he is blessed, that life can take wonderful turns, plucking a person out of the darkness and into sudden luster.
The Morenos will be celebrating their first Thanksgiving in freedom.
They arrived on U.S. shores from Cuba on Nov. 18, and in New Jersey the next day.
Exile has brought an end to the persecution that Amado Ruiz Moreno, one of the latest Cuban dissidents to arrive in the United States, describes enduring for 16 years, since 1994, when he started fighting against the Communist regime.
"It is remarkable to live a life where you are not always bracing for a visit from a government security official, where you are not constantly being harassed, threatened and intimidated," Moreno said.
But Moreno says his joy is tempered by the frustration over the continued imprisonment of other dissidents.
Some of the political prisoners, according to reports, have been offered the chance of release if they leave Cuba and go to Spain, which has agreed to receive them. But several have refused, saying they will not be deported from their own homeland. And, so, their release is uncertain at this point.
"You cannot be a Cuban and arrive at a land of freedom and not still grieve for those you have left behind," Moreno said.
"You cannot imagine the misery and hunger people suffer through every day in Cuba," he said, before staying silent for a few minutes.
"I'm sorry," he said, crying. "It just weighs so heavily on one's heart."
Moreno said he led a rather uneventful life until 1994, when he met several dissidents and became transfixed by their views of Cuba's restrictive policies and their courage.
He founded a chapter of the dissident group Partido Democrático 30 de Noviembre in Central Cuba, and became a key target of the Cuban government.
"He suffered a lot because he was a true leader in the opposition movement in Cuba," said Luis Israel Abreu, a former political prisoner who lives in New Jersey and belongs to various Cuban exile organizations. "He put himself at risk for liberty."
Moreno said he suffered beatings – "four especially brutal ones" – by Cuban security police. His daughter, who is 19 and will arrive in the United States in December, was ostracized by classmates since she was In elementary school, he said.
He was jailed for three years, and was held in detention "hundreds, perhaps thousands, of times," he said.
He took thick black markers and scrawled messages—in huge letters outside the façade of the small home where he lived -- about loving freedom and detesting the oppression in Cuba.
Health problems slowed him down, and played a major role, he said, in his decision to leave Cuba.
"I was just debilitated, though I kept standing up to them," Moreno said. "They told me to shut up, that they'd let me leave Cuba if I'd stop making noise about the government. I said no. I told them they'd never silenced me before, I wasn't going to start caving in at my old age."
Where will he spend Thanksgiving?
"We have a slew of invitations," he said, sounding amazed and moved. "Elia and I are humbled and truly overwhelmed by all the love we have received in this country in the short week we have been here."
"I don't know which invitation we'll take, but I wish all the people who have helped us so far would all be there," he said. "I'm told I have to eat turkey on this day. So we'll have turkey, and what the heck, I think I'll have three or four beers, too."
Follow us on twitter.com/foxnewslatino
Like us at facebook.com/foxnewslatino