A burden beyond the presidency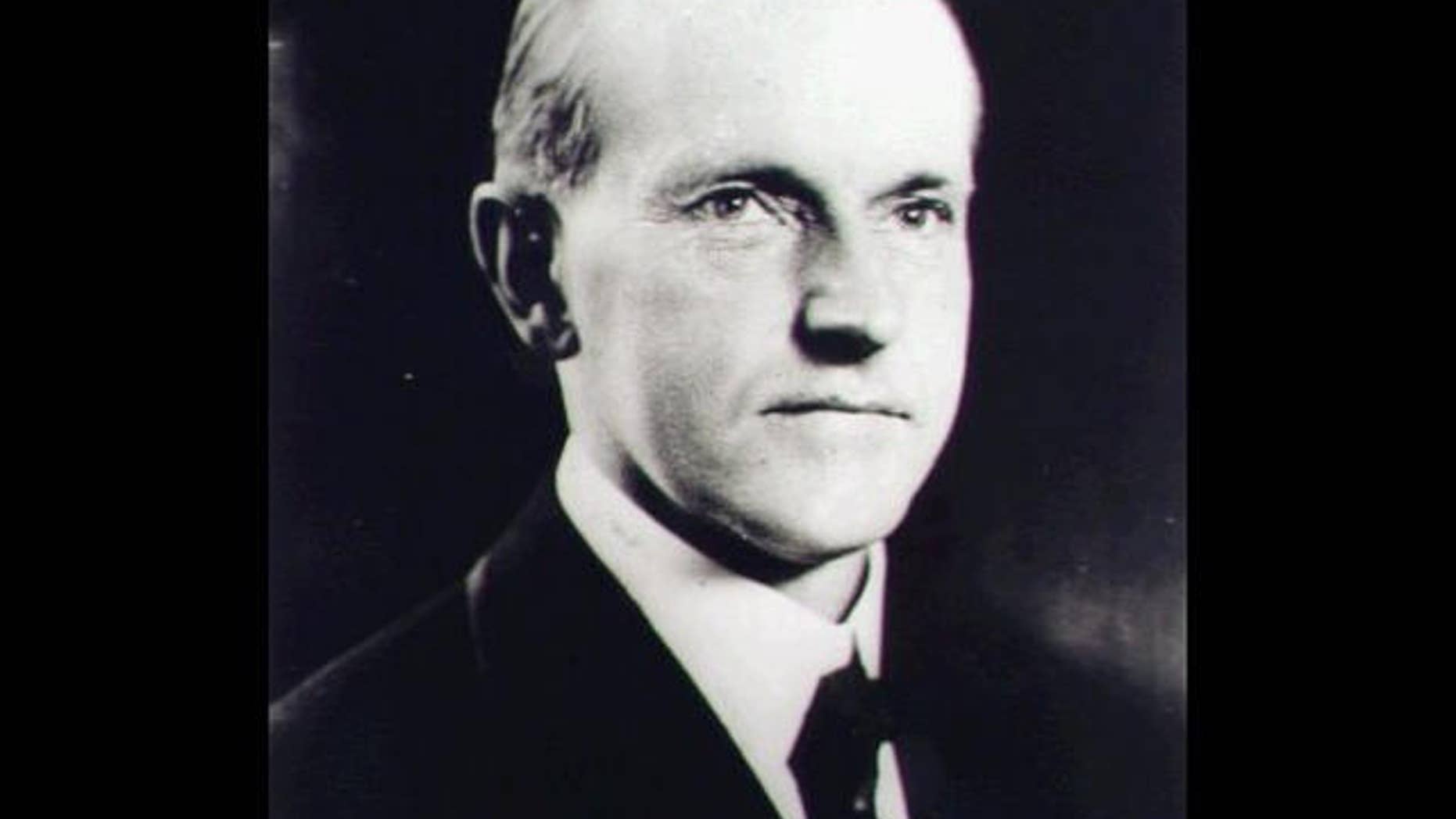 **Want FOX News Halftime Report in your inbox every day? Sign up here.**
On the roster: A burden beyond the presidency - Manafort ordered to jail, bail revoked - Trump kills house Republican's immigration bill - DCCC adds more challengers to red to blue program - Duck and cover!!

A BURDEN BEYOND THE PRESIDENCY 
On the last day of June, 1924, President Calvin Coolidge, his wife, Grace, their teenaged sons, John and Calvin Jr., and, of course, the favorite family pet, a white collie named Rob Roy, posed for pictures at the White House.   

The photos seem quite somber by our standards today, but by the measure of the time and allowing for the stoicism of a Vermont country boy, Coolidge looks like a happy man. He indulges himself in a modest smile.

Coolidge had good reason to be cheerful. They needed the new pictures because his party had just nominated him to serve a full term.

Coolidge had assumed the presidency the summer of the year before when President Warren Harding died suddenly of a heart attack on a tour of the West. And despite Coolidge rousting many of the crooked cronies who had gathered themselves to feast on the spoils of the dissolute Harding's presidency, Republicans were quite pleased with Coolidge. The 51-year-old former governor of Massachusetts won the nomination without even having to tip his straw boater hat.

With the 20s roaring and the country at peace, voters liked Coolidge, too. "Keep Cool with Coolidge," went the slogan. And in a landslide vote that fall, they would do so in droves. 

Stuffed into a wool suit on that sweltering summer day, Calvin Jr. looks far less happy. Already taller at age 16 than his father, young Calvin delivers a look that any modern parent would know — "Ugh. Are we done yet?"

But we think you would have liked young Cal. He had his father's dutiful nature and also his father's arid wit.

Our favorite story about the Coolidge's youngest child is about how he learned of his father's ascent to power the summer before while working as a field hand on a New England tobacco farm. Honest work in the fresh air was considered a needful thing by the family, which was still very much connected to its middle-class roots. There would be no fake resume-padding jobs or summers spent lolling on sailboats or golf links.
The story goes that when young Cal opted to stay cutting tobacco, one of his co-workers was incredulous that he was staying despite his elevated status. "If my father was president, I wouldn't work in a tobacco field," the other boy said.

Calvin responded, "If my father were your father, you would."

The vivacious, impish boy, less than two years younger than his more sober-sided older brother, was well loved, indeed. And none loved him better than his father. Both Grace and John would freely allow that young Calvin was his father's favorite. The president delighted in both of his sons, but had a special connection with his irrepressible youngest boy. 

As soon as the photos were through, young Calvin and John ditched their wool suits and made a bee line straight to the White House tennis courts for a long, intense tennis match. 

But young Calvin didn't put socks on with his tennis shoes and got a bad blister on his toe. The next day the blister was an angry red — a blood infection was setting in. And in those days before antibiotics, it was serious business.

By the 4th of July, Calvin Sr.'s birthday, the boy was at Walter Reed Army Hospital fighting for his life. On July 7, he was dead. 

"It is commonly stated that President Coolidge is 'cold as ice,'" Dr. John Kolmer, the attending physician, would later write, "but I had the opportunity of seeing him in his hour of grief and to know quite otherwise. Indeed, it was the most touching and heart-rending experience of my whole professional career."

The president was not alone in his grief.

Up in New York, the Democrats were in the midst of their angry and contentious convention — it would take two weeks of balloting to settle on Rep. John Davis of West Virginia. But when young Calvin's death was announced, the NYT described it as a "low, prolonged moan, almost a sob... filled Madison Square Garden... Rancor ceased and a wave of common sympathy swept over the vast audience."

The funeral saw the stoic Coolidge weep openly, unable to conceal his grief. While his wife and he would regain themselves to a sufficient degree to see the election and the term through — duty first, as always — the president's light had gone out.

As Coolidge himself would write of his son, "When he went, the power and the glory of the Presidency went with him." Coolidge blamed himself for the tragedy, saying that if he hadn't become president, the tennis match never would have occurred. The administration that looked like a blessing on June 30 had become a curse to him, just a week later.

The world remembers Coolidge's presidency for his silence and his love of limited government, but to the man himself, it was simply the context for sorrow. Coolidge refused calls to seek another term in 1928 and returned to his home in Western Massachusetts. He died broken-hearted at age 60, just four years after leaving office. 

Such is the power of a father's love for his child. 

THE RULEBOOK: BETTER TOGETHER
"But if we should be disunited … our liberties would be a prey to the means of defending ourselves against the ambition and jealousy of each other." – Alexander Hamilton, Federalist No. 8

TIME OUT: NO PRICE TAG ON HISTORY
Fox News: "An original Society of the Cincinnati gold eagle medal, deemed one of the 'most important objects from the nation's founding,' is set to go on display at Fort Ticonderoga in New York. The 'priceless' medal, one of just two surviving examples produced in Paris in 1783, was available for purchase by officers of the Continental Army, the group of soldiers led by General George Washington, formed by the Second Continental Congress to fight against Great Britain in the Revolutionary War. 'The value of the medal is not only in its extreme rarity, but in its cultural and historical significance to the founding principles of the United States of America,' said Beth Hill, Fort Ticonderoga President and CEO, in a statement. … The Society of the Cincinnati, the country's oldest patriotic organization, was founded by officers of the Continental Army in 1783. To show that one was a member, medals were commissioned by Pierre Charles L'Enfant. Just 140 of them were made by jewelers Duval and Francastel in Paris and were sold to members of the society of Cincinnati."

Flag on the play? - Email us at
HALFTIMEREPORT@FOXNEWS.COM with your tips, comments or questions.

SCOREBOARD
Trump job performance 
Average approval: 43.2 percent 
Average disapproval: 51 percent 
Net Score: -7.8 points
Change from one week ago: up 4 points 
[Average includes: Monmouth University: 45% approve - 46% disapprove; Gallup: 42% approve - 54% disapprove; Fox News: 45% approve - 51% disapprove; NBC/WSJ: 44% approve - 53% disapprove; Quinnipiac University: 40% approve - 51% disapprove.]

Control of House
Republican average: 40 percent
Democratic average: 48.4 percent
Advantage: Democrats plus 8.4 points
Change from one week ago: no change 
[Average includes: Fox News: 48% Dems - 39% GOP; NBC/WSJ: 50% Dems - 40% GOP; Quinnipiac University: 47% Dems - 40% GOP; IBD: 47% Dems - 40% GOP; CBS News: 50% Dems - 41% GOP.]

MANAFORT ORDERED TO JAIL, BAIL REVOKED
Fox News: "Former Trump campaign chairman Paul Manafort was jailed Friday after a federal judge revoked his $10 million bail based on new witness tampering charges brought by Special Counsel Robert Mueller. Washington, D.C., Federal District Judge Amy Berman Jackson sent the onetime power player to jail pending trial moments after he pleaded not guilty to the charges, brought against him and his associate, Konstantin Kilimnik of Moscow. Mueller accused the pair of obstructing justice in the investigation into Russian meddling and potential collusion with Trump campaign associates in 2016. Kilimnik was not in court on Friday. He is reportedly in Moscow. Manafort's trial before Jackson is expected to take place in September. He is also facing charges brought by Mueller in another federal court, and will appear for that case in August. It is unclear, at this point, which jail Manafort will be taken to. The filings last week, signed by Mueller, alleged that Manafort and Kilimnik 'knowingly and intentionally attempted to corruptly persuade another person…with intent to influence, delay, and prevent the testimony of any person in an official proceeding.'"

FBI braces for next internal probe - Fox News: "The country is still digesting Justice Department Inspector General Michael Horowitz's scathing report on the FBI and the DOJ's handling of the Hillary Clinton email investigation, but more bombshells could be looming from the same team of investigators. Horowitz, a former federal prosecutor, announced in March that he is probing allegations of government surveillance abuse … as part of its Russia investigation. Attorney General Jeff Sessions has also said U.S. Attorney John Huber is investigating claims of FBI and DOJ misconduct related to these actions… Horowitz's review found 'no evidence that the conclusions by the prosecutors were affected by bias or other improper considerations.' But the report made clear it was only speaking to the Clinton investigation. Most of the officials criticized in Thursday's report also played significant roles in the early days of the Russia probe, which is looking at whether anyone on the Trump campaign coordinated with Russia during the 2016 election."

Cohen willing to cooperate with federal investigators - NY Daily News: "President Trump's fixer and former personal attorney, Michael Cohen, has told those close to him that he is open to cooperating with federal investigators. A source familiar with the matter told CNN Cohen has grown frustrated over the treatment he's received from the President — who has gone out of his way to distance himself from his ex-lawyer since the FBI raided his home, Manhattan office and hotel room in April. Federal agents seized more than a dozen electronic devices and several boxes of documents for their criminal investigation into Cohen's personal financial dealings…"

TRUMP KILLS HOUSE REPUBLICAN'S IMMIGRATION BILL
WaPo: "President Trump said Friday that he would oppose a compromise immigration bill cobbled together by House Republicans — dealing a significant blow to GOP leaders who signaled they may abandon plans to vote on the legislation. House Republican leaders had teed up action for next week on two immigration measures: a hard-line draft written by House Judiciary Committee Chairman Bob Goodlatte (R-Va.) and legislation billed as a compromise between the moderate and conservative factions of the GOP conference. 'I'm looking at both of them,' Trump said during a wide-ranging interview Friday morning on 'Fox and Friends.' … Still, several Republican lawmakers and aides said they expected the White House to express some support for the bill later Friday, at least partially walking back Trump's remarks. … Trump's opposition is significant, particularly because House Republican leaders said they had been working closely with administration officials on the compromise to ensure it was something the president would sign. House Speaker Paul D. Ryan (R-Wis.) told his members earlier this week that he had briefed Trump on the legislative strategy and that the president was on board."

Sessions defends separating migrant families - NBC News: "Attorney General Jeff Sessions on Thursday offered a full-throated defense of the Trump administration's policy of separating children from their parents at the border, saying that having kids does not give migrants immunity from prosecution — and found justification for his policies in the Bible. Sessions — who last month announced a 'zero tolerance policy' to criminally prosecute people crossing the border illegally — made his latest remarks in a speech to law enforcement officers in Fort Wayne, Indiana, telling the group that the migrant families were to blame for their own break-ups and that his department's separation of families was not 'unusual or unjustified.' … 'Having children does not give you immunity from arrest and prosecution.' 'However, we are not sending children to jail with their parents,' he said, adding that the policy 'can result in short-term separation.'"

DCCC ADDS MORE CHALLENGERS TO RED TO BLUE PROGRAM
Roll Call: "The Democratic Congressional Campaign Committee added 10 more challengers Friday to its Red to Blue program for strong recruits. The eighth round of additions brings the total number of challengers on Red to Blue to 53. Many of the new additions have only recently won primaries. Candidates have to surpass goals for fundraising, grass-roots engagement, local support and campaign organization to be included on Red to Blue. As part of the program, they will receive organizational and fundraising support and guidance from the DCCC. 'Candidates have always been our greatest asset and there are now over 50 top-notch campaigns on this battle-tested program,' DCCC Chairman Ben Ray Luján said in a statement. 'We will continue to empower these next generation leaders as we fight to take back the House.' … The latest additions are: Josh Harder (CA-10) … Katie Hill (CA-25) … Katie Porter (CA-45) … Mike Levin (CA-49) … Cindy Axne (IA-03) … Scott Wallace (PA-01) … Susan Wild (PA-07) … Abigail Spanberger (VA-07) … Jennifer Wexton (VA-10) … Dan Kohl (WI-06)."

Dems' battleground map looking more in their favor - Politico: "The Senate battleground map has shrunk dramatically in recent weeks — a net plus for Democrats but not enough to change their status as heavy underdogs to win the chamber in November. Democratic incumbents look increasingly safe in four Rust Belt states President Trump carried in 2016 — Ohio, Michigan, Pennsylvania and Wisconsin, where Republicans are locked in a bitter primary until August. Both parties agree a core universe of states are truly in play: Republicans are targeting Democratic incumbents in Missouri, Indiana, Florida and North Dakota, while Democrats are contesting GOP-held seats in Nevada, Arizona and Tennessee. There is disagreement on how competitive West Virginia and Montana are. Democrats headed into the election cycle facing a nightmarish map, with 10 incumbents trying to hang on in states that Trump won. While the party is still mostly on defense, the narrower field improves an otherwise grim outlook."

McConnell keeps his home fires burning - Politico: "For 90 minutes, [Mitch McConnell], his chief of staff Phil Maxson, state director Terry Carmack, and political adviser Josh Holmes talked about the political landscape back home in Kentucky and gamed out how the campaign would be staffed and structured. The early discussions, which were detailed by more than a half-dozen of McConnell's closest advisers and allies, reflects the leader's long-held penchant for intensive — some would say obsessive — preparedness and planning. Yet it also underscores a stark reality confronting the Kentucky Republican. … Polling has shown the leader's approval ratings lagging in his home state, and there is the ongoing threat of a primary challenge."

A different kind of candidate in West Virginia - AP: "Richard Ojeda is a retired Army paratrooper with combat medals, 26 tattoos and a 300-pound bench press — no ordinary candidate for Congress. But 2018 is no ordinary political year, and that has some Democrats thinking he's right for the moment… But Democrats still outnumber Republicans in West Virginia's 3rd District, leaving party leaders optimistic that the unconventional candidate could deal a damaging blow to the president's political fortunes. Elected to the state Senate in 2016, the high-idling, fast-talking Ojeda became a friend to teachers during their fight for better pay and benefits. He also took up the cause of medical marijuana, successfully sponsoring legislation to make it legal. Now Ojeda is pursuing the seat vacated by Republican Rep. Evan Jenkins' failed U.S. Senate campaign…"

CT Republican channels Trump in run for governor - Fox News: "After years of Democratic rule and high taxes in Connecticut, a corporate executive running for governor on a Trumpian economic platform is vowing to bring fiscal stability - and big business - back to the Nutmeg State. Connecticut native Bob Stefanowski, with an assist from legendary former Reagan administration adviser Arthur Laffer, has crafted an economic plan the pair believes will reverse the state's fiscal crisis. 'I firmly support Trump's economic policy and the way he's re-cutting deals and streamlining government, and we desperately need some of that leadership in Connecticut,' Stefanowski, a former chief executive officer of multiple divisions at General Electric and former chief financial officer at UBS Investment Bank, told Fox News. Connecticut has seen an exodus of major corporations in the last several years under the leadership of Democratic Gov. Dannel Malloy…"

DNC announces convention dates - The Hill: "The Democratic National Committee on Friday announced it will host the 2020 nominating convention in mid-July, before the start of the 2020 Summer Olympics. 'The Democratic Party is committed to organizing everywhere, and holding the convention in mid-July allows us to continue our work doing exactly that,' Chairman Tom Perez said in a statement. 'My priority is to ensure that the 2020 nominating process is the most open, fair, transparent and inclusive in our party's history. That is exactly why the DNC has started this process early and before we have a full slate of candidates running for president.' The 2020 Olympics are slated to begin in Tokyo, Japan on July 24. The committee said it has yet to pick a location for the convention. The 2016 nominating convention took place in Philadelphia, Pa. from July 25 through 28."

PLAY-BY-PLAY
Trump moves forward with tariffs on Chinese technology imports - Politico

Fox News Poll: Political correctness has gone too far - Fox News

After Singapore, Trump wants to plan a Putin summit next - New Yorker

Senate Appropriations Committee approves bill markup to pay interns - Roll Call

Marc Short plans to leave White House position ASAP - WSJ

AUDIBLE: FEAR OF THE UNKNOWN
"[The Democrats] need someone new, who would be more threatening to us. They've got to hit us with a surprise. The unknown frightens me more than Elizabeth Warren or [Joe] Biden." – The president's lead lawyer, Rudy Giuliani, discussing the president's re-election prospects in an interview with HuffPo.

ANY GIVEN SUNDAY
This Sunday Chris Wallace will sit down with Rep. Trey Gowdy, R-S.C. Panelists include Karl Rove, Gillian Turner, former Rep. Jane Harman, D-Calif. and Chris Stirewalt. Watch "Fox News Sunday with Chris Wallace." The show will air at 2 pm and 7 pm ET on the Fox News Channel.

#mediabuzz - Host Howard Kurtz has the latest take on the week's media coverage. Watch #mediabuzz Sundays at 11 am ET.

FROM THE BLEACHERS
"Chris and Brianna, I so enjoy your work. A person can take a walk in the woods, and see many interesting things. But take that walk with a capable guide, and interesting becomes deeply informative. Being led to discovery is different than being told. Our Scout camp director would ask the Scouts to return to their tents after the big campfire without using their flashlights. He didn't say why, but even brief artificial light ends night vision, and those who did as suggested, reported boldly that they saw something glowing in the woods. Foxfire is only seen by those willing to use their ability to see in the dark. Thanks for guiding our understanding of the complex ways we choose our leaders in this republic." – Don McGaffey, Redford, Mich.

[Ed. note: I'm glad I'm working from New York today so that Brianna cannot see me blushing, Mr. McGaffey! Thank you for your very kind words. We will aspire to live up to them.]

Share your color commentary: Email us at 
HALFTIMEREPORT@FOXNEWS.COM and please make sure to include your name and hometown.

DUCK AND COVER!!
UPI: "Video taken by a man in Commerce City, Colo. captures a pair of portable toilets being lifted up into the air by a strong wind. The clip, posted onto the man's Facebook page, features residents at the park enjoying a sunny day out until a sudden gust of wind begins to ravage their outdoor fun and party tent. The portable toilets are seen being carried across a sidewalk and then slamming into parked cars before one takes off into the sky. Fluids from the portable toilet also appear to leak out as it continues its upward journey before it eventually crashes back down. Park-goers shielded their children from flying debris during the incident with no one appearing to be seriously injured."

AND NOW, A WORD FROM CHARLES…
"But as you walk the streets of Washington, it is harder to discount America's quiet homage to foreign liberators… [Their statues] have but one thing in common: They share America's devotion to liberty. Liberty not just here but everywhere. Indeed, liberty for its own sake." – Charles Krauthammer writing in the Washington Post, Nov. 25, 2005.

Chris Stirewalt is the politics editor for Fox News. Brianna McClelland contributed to this report. Want FOX News Halftime Report in your inbox every day? Sign up here.