83 Days to Decide: Democrats Seek to Paint Tea Party-Backed Candidates as Radical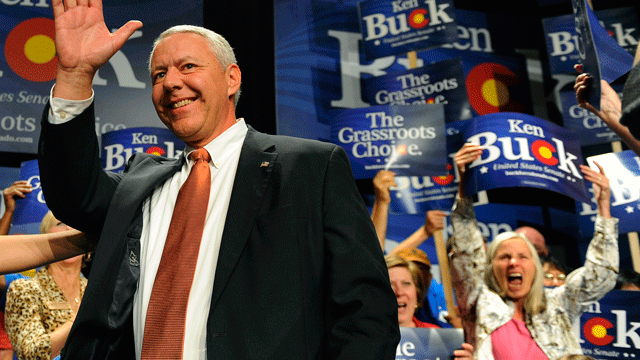 Ignoring the Tea Party didn't work. Now Senate Democrats, facing uphill re-election battles, are trying to use the grassroots conservative movement to portray Republican candidates as too extreme and radical.
Democratic leaders didn't waste any time this week pouncing on Republican voters choosing Tea Party-backed Ken Buck in Colorado to face Sen. Michael Bennet in November's general election. Buck, a county prosecutor who talks about eliminating the Education Department, joins Sharron Angle in Nevada and Rand Paul in Kentucky on a list of prominent Tea Party favorites whose rough edges, blunt talk and occasional gaffes have given Democrats hope for fending off a Republican takeover in November.
Paul has drawn criticism for suggesting private businesses should be allowed to discriminate and for defending BP in the Gulf disaster, and Angle has limited her interaction with the media after she ignited a political firestorm with her support for privatizing Social Security and her comments on opposing abortion and church-state separation.
"Whatever folks say about the general atmospherics, the Tea Party takeover of the Republican Party is really producing real millstones for them," Democratic Party Chairman Tim Kaine said in an interview Wednesday. He called Buck, Paul and Angle "wacky" with "ideas about the role of government that are way outside of the mainstream, that are just going to be offensive to people."
Sen. Robert Menendez of New Jersey, who leads the Senate Democrats' campaign effort, called Buck an "extremist candidate" who joins the ranks of those "more concerned with imposing a strict social doctrine than with growing the economy."
Democrats argue their experienced candidates have the upper hand in general election match-ups with these untested candidates.
But Republican leaders aren't convinced.
"Democrats just don't get it," Brian Walsh, a spokesman for the GOP Senate campaign committee, told FoxNews.com. "They learned nothing from their loss in Massachusetts in January," he said, referring to Scott Brown's improbable victory to capture the Senate seat long held by the late Ted Kennedy. He noted that Bennet had been running behind Buck in polls.
"While they're attacking Republican candidates as extreme, voters across the country are saying what they consider extreme are the $13 trillion debt, a government takeover of health care and the prospect of the largest tax increase in history," he said. "Those are extreme policies."
Doug Heye, a spokesman for the Republican National Committee, told FoxNews.com that Democrats are trying to deflect attention away from drops in Obama's job approval ratings but that the strategy of attacking a movement that is popular among voters will backfire.
"It's not a recipe for success," he said. When a strategy doesn't work, you get out of the way and let them continue with a strategy that won't work."
But neither political party appears to have an edge as an anti-establishment fervor sweeps the country. In a June Associated Press-GfK poll, only a little over a third said they'd like to re-elect their own congressman, while more than half said they want someone else. Just a quarter of the public approved of the Democratic-controlled Congress. Other surveys show support in the teens.
But out-of-power Republicans seem to have enthusiasm on their side, fueled in part by Tea Party activists. On Tuesday, for example, 406,588 Republicans voted in Colorado's Senate primary while 338,184 Democrats cast ballots in their contest, sobering numbers for Democrats looking ahead to November when turnout will be critical.
Bennet, who was appointed to the Senate and is seeking his first full term, was noncommittal to bringing Obama back to Colorado to campaign for him in the fall.
"We'll have to see," Bennet told ABC News. "We'll obviously do what's right for the campaign. He's been a huge help and I appreciate his endorsement. And we'll see what happens between now and November."
Democrats insist that because of the candidates the Republicans are nominating, Obama's party now has an excellent chance to hold on to or, in the case of GOP-held Kentucky, pick up seats that were considered in jeopardy or out of reach at the start of the year.
But polls in Kentucky show Paul comfortably leading state Attorney General Jack Conway, the Democrat, less than three months before the election to succeed retiring GOP Sen. Jim Bunning.
And surveys show hotly contested races in Colorado and Nevada, where Senate Majority Leader Harry Reid is unpopular and trying to fend off the upstart Angle.
The Associated Press contributed to this report.