56 Days to Decide: Voters Sour Toward Dems, Odds Improve for GOP House Takeover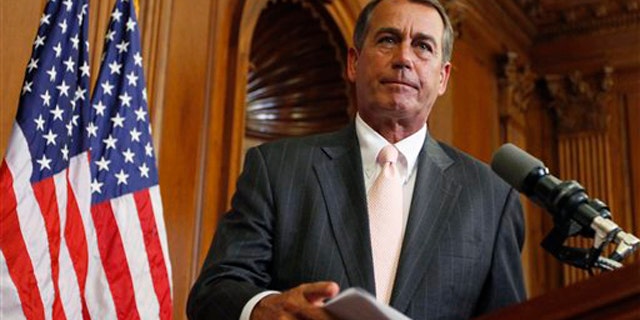 NEWYou can now listen to Fox News articles!
Nearly 20 years ago, Bill Clinton rode into office on the mantra of, "It's the economy, stupid."
But what goes around comes around. Republicans are using the same theme to mount a comeback that could rival their 1994 "Republican Revolution." A new wave of polls and projections capping the Labor Day weekend shows voters are souring, perhaps irreversibly, toward the idea of giving Democrats another chance at shaping the agenda in Washington.
Virtually every set of numbers portends a bad November for the majority party. More voters think the country and the economy are on the wrong track. More voters are losing faith in Democrats' ability to fix it. More voters want Republicans to provide a congressional counterweight to President Obama.
Republicans still have their work cut out for them to pull off a repeat of 1994, when the party won control of both chambers. Most projections show Republicans falling a few seats short of the 10 pickups needed to seize control of the Senate.
But in the House, The Rothenberg Political Report put out new projections this week showing likely Republican gains of between 37 and 42 seats, with a 55-seat pickup "possible." Republicans need 39 to win back control of the House. The new projection from one of the top Washington prognosticators reflects an increase of nearly 10 seats.
Local polling that shows voters turning increasingly toward GOP candidates reflects national polling that shows voters losing confidence in the leadership and direction in Washington.
A Wall Street Journal/NBC News survey out Tuesday showed only 26 percent of those polled think the economy will improve in a year -- down from 47 percent a year ago. Sixty-one percent think the country is on the wrong track.
Voters aren't necessarily confident Republicans will fix all these problems. They were split evenly, 43-43 percent, over which party should control Congress. But when factoring in those most likely to vote, Republicans appear likely to benefit -- from that subset, the poll showed Republicans holding a 9-point lead.
A Washington Post/ABC News poll out Tuesday showed a more dramatic split. Among those most likely to vote in November, Republicans enjoyed a 13-point advantage. Even more thought it was important to put Republicans back in charge if only to provide a check to Obama's agenda. According to the Post/ABC poll, 55 percent of those surveyed said they want Republicans in control; just 39 percent said they want Democrats in charge to assist Obama's policies.
The Democratic Congressional Campaign Committee is fighting back against the perception that its representatives are in a losing battle. The Democratic campaign arm released several new local polls Tuesday showing select incumbents faring better against their challengers in districts Republicans are looking to for pickups. One poll showed New York Rep. Mike Arcuri leading GOP candidate Richard Hanna by 13 points; another showed Rep. Tom Perriello within 2 points of GOP state Sen. Robert Hurt. The Rothenberg Political Report had listed both of those races as "tilt Republican" in its calculations.
However, far more Democratic-held seats are in play this year than Republican seats. A slew of newcomer Republican candidates are poised to play off an anti-incumbent mood, as in 1994 when Newt Gingrich helped his party seize control of the House for the first time in 40 years.
The numbers are getting worse for Democrats amid a darkening economic picture. The unemployment rate ticked up to 9.6 percent in August, and Obama is in the middle of unrolling a set of new economic proposals aimed at fueling job growth for an expanding labor pool.
He continues to cast Republicans as resistant to every economic proposal he's put on the table.
"When it comes to just about everything we've done to strengthen our middle class, to rebuild our economy, almost every Republican in Congress says, no," Obama said in Milwaukee Monday.
"Even on things we usually agree on, they say, no. If I said the sky was blue, they'd say, no. If I said fish live in the sea, they'd say, no."
But Republican strategist Brad Blakeman, former adviser to George W. Bush, suggested Republicans cannot be blamed for failed policies.
"Desperate people do desperate things. This president's policies have not been working," he said. "The American people understand that in 2008, they gave them the keys to the kingdom. They gave them the House, the Senate and the White House -- with high majorities. There's not much that the Republicans could have done."
The Wall Street Journal/NBC News poll of 1,000 adults was taken Aug. 26-30. It had a margin of error of 3.1 percentage points.
The Washington Post/ABC News poll of 1,002 adults was taken Aug. 30-Sept. 2. It had a margin of error of 3.5 percentage points.