14 Female U.S. Senators Urge Saudi King to Overturn Driving Ban on Women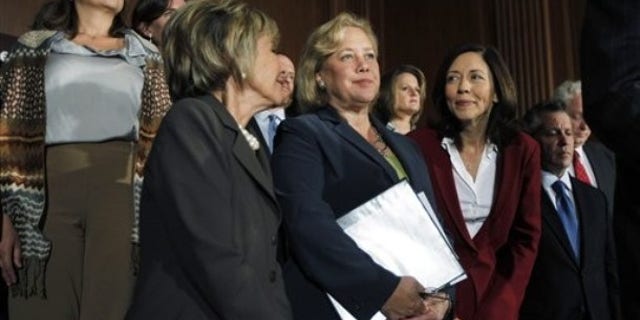 NEWYou can now listen to Fox News articles!
A bipartisan group of 14 female senators are urging the king of Saudi Arabia to lift the country's ban on women driving amid an international outcry after a woman was detained for posting a video of herself driving.
The group, led by Sens. Barbara Boxer, D-Calif., and Mary Landrieu, D-La., sent a letter Tuesday that included two Republican women – Olympia Snowe and Susan Collins, both of Maine – though no men.
In the letter, the senators wrote, "We strongly believe it is time to abolish the prohibition on women driving once and for all, especially in light of Saudi Arabia's role as a newly elected member of the board of U.N. Women – an entity dedicated to achieving gender equality and the empowerment of women worldwide.
"We strongly urge you to reconsider this ban and take an important step toward affording Saudi women the rights they deserve."
In May, authorities detained a 32-year-old Saudi woman, Manal al-Sherif, after she launched a campaign against the driving ban for women in the ultraconservative kingdom. She posted video of herself behind the wheel on Facebook and YouTube to encourage others to copy her.
She was released 10 days later after reportedly signing a pledge that she would not drive again or speak publicly.
Her case, however, sparked an outcry from international rights groups and brought direct appeals to the Saudi rulers to lift the driving ban.
Saudi Arabia is the only country in the world to ban women — both Saudi and foreign — from driving. The prohibition forces families to hire live-in drivers, and women who cannot afford the $300 to $400 a month for a driver must rely on male relatives to drive them to work, school, shopping or the doctor.
Women are also barred from voting, except for chamber of commerce elections in two cities in recent years, and no woman can sit on the kingdom's Cabinet. Women also cannot travel without permission from a male guardian and shouldn't mingle with males who are not their husbands or brothers.
Saudi King Abdullah has promised some social reforms, but he depends on the clerics to support his ruling family and is unlikely to take steps that would bring backlash from the religious establishment.
The Associated Press contributed to this report