Why Vladimir Putin's bad month is good news for US security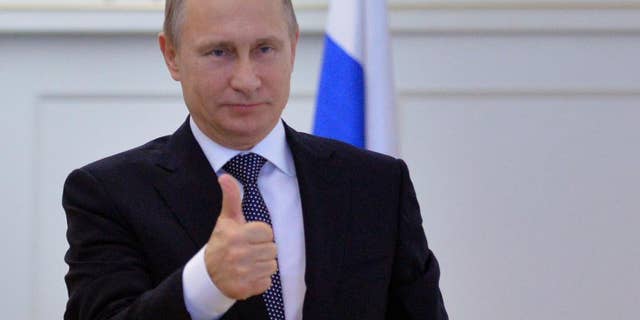 NEWYou can now listen to Fox News articles!
Russia's strongman is finally feeling some heat. In just the last month several Russian spies and agents have been arrested or sentenced by the U.S. and NATO governments in response to President Putin's hybrid warfare on the West.
For years the Kremlin has been using every possible asset to undermine NATO, from propaganda, to the threat of invasion, to co-opting government officials of NATO nations. National security analysts, especially those with defense intelligence backgrounds, have been sounding the alarm on Capitol Hill and throughout Washington about Putin's activities, and it appears that the alarm bell has now been heard.
A recent study by the Army War College recommended that, "the United States and its allies must employ a coordinated, whole-of-government effort to address capabilities beyond the scope of the military, such as law enforcement, that are critical to addressing an ambiguous threat" coming from Russia.
That recommendation is already beginning to be followed and it could signal a long-needed shift in strategy to counter Putin's Russia.
In May, Italian and Portuguese authorities arrested Frederico Carvalhao, an officer in the Portuguese intelligence services, for passing NATO secret documents to a Russian spy. In a rare occurrence, Carvalhao's handler from Russia's Foreign Intelligence Service (SVR) also was arrested, since he had been working without the usual diplomatic cover.
On May 25, Russian banker Evgeny Buryakov was sentenced by U.S. federal authorities to 30 months in prison, fined, and ordered deported after serving his sentence, for using his position with Russian bank VEB, which has offices in New York to spy for the Kremlin for a number of years.
Manhattan U.S. Attorney Preet Bharara said: "Evgeny Buryakov, in the guise of being a legitimate banker, gathered intelligence as an agent of the Russian Federation in New York. He traded coded messages with one of his Russian spy co-defendants, who sent the clandestinely collected information back to Moscow." Buryakov's position working under non-official cover (NOC) distinguishes him as a high-value intelligence asset for the SVR. His two SVR colleagues were also charged, but their official cover afforded them diplomatic immunity and they have left the country.
Also in May, Polish authorities arrested the leader of a pro-Kremlin political party on charges of spying for Russia. Mateusz Piskorski, head of the Zmiana party, was the second Polish citizen arrested that month on charges of espionage for Russia. Days later, a Polish court sentenced Col. J. Zbigniew to six years in prison for his role in spying for Russia. Zbigniew had been arrested in 2014, but was only convicted and sentenced last month. An attorney arrested with him has yet to stand trial.
In these examples, authorities had direct evidence of spying for Russia. In other cases, admissible evidence of Russian influence is harder to come by and a more creative approach was necessary.
Recent moves in the Czech Republic are also worth noting. Earlier this year, officials from the pro-Moscow ANO Party managed to release a Hezbollah terrorist with Russian connections, in defiance of a U.S. extradition request. The Czech government, embarrassed by the release of Ali Fayyad and the strong condemnation by the U.S. government, is now purging those who act against NATO interests.
The first casualty is Col. Robert Slachta, head of an elite police force who was involved in Fayyad's release and has just been forced to resign as a result of an announced reorganization. This is a positive first step by the Czechs to show that they are independent of Moscow and will not tolerate its meddling in their security affairs.
In a recent floor speech, Congressman Chris Stewart, a member of the Intelligence Committee, shrewdly noted, "More than anything, we need the president to get off the sidelines and show that he is serious about countering Putin. That could start with a serious effort to determine who cooperated with Russia in releasing Mr. Fayyad, and then issue targeted sanctions on those officials. Mr. Fayyad is likely to continue plotting to harm the U.S., and his release isn't a simple oversight that we should ignore."
The administration finally is taking steps in the right direction, led by the military and the Congress. It is encouraging to see that our Eastern European allies are undertaking similar steps as well. For the sake of U.S. and NATO security, aggressive counter espionage tactics within NATO nations must continue.
With strong international cooperation Putin's bad month can be the new normal for a regime that has long been an unchecked, destabilizing force in the region.