Why Obama's open mic slip could seriously hurt his reelection hopes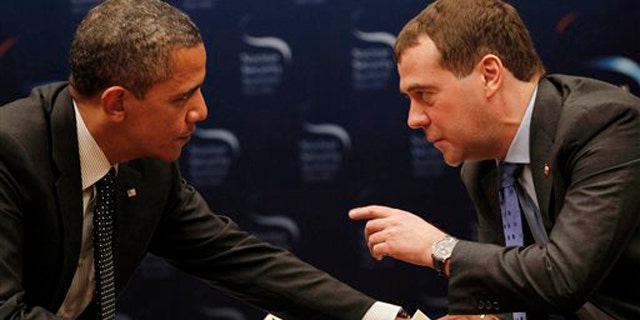 NEWYou can now listen to Fox News articles!
President Obama: "On all these issues, but particularly missile defense, this, this can be solved but it's important for him to give me space."
President Medvedev: "Yeah, I understand. I understand your message about space. Space for you…"
President Obama: "This is my last election. After my election I have more flexibility."
President Medvedev: "I understand. I will transmit this information to Vladimir."
Captured by open microphones, President Barack Obama's private conversation with Russian President Dmitry Medvedev on Monday in Seoul could have a big negative impact on Mr. Obama's re-election.
By telling Mr. Medvedev and his patron, the once-and-future Russian President Vladimir Putin, that he will have "flexibility" after the American election on Russian demands opposing a US missile defense for Europe, Mr. Obama is in effect saying he is ready to do something the Russians will like but that the American people won't.
Mr. Obama has shown Russian leaders, and now the entire world, weakness.
He's willing to bend to the demands of America's international rivals as long as his appeasement becomes public only after he's safely back in the White House for a second term. But he is apparently unwilling to share with the American people his "flexibility" with the Russians, perhaps concerned about the criticism such concessions to Moscow might draw from America's European allies.
The effects of Mr. Obama's remarks in Seoul go beyond foreign affairs. If the president believes it is important to his reelection to conceal from Americans his response to Russians demands to halt development of a missile defense for Europe, voters have every right to ask: What other surprises does he plan to spring on us if he's reelected?
Just as Senator John Kerry's explanation in 2004 that "I actually did vote for the $87 billion before I voted against it" exposed the Massachusetts Senator as a pandering flip-flopper, so may Mr. Obama's private-turned-public remarks confirm doubts that he's not shooting straight with the American people. It may also contribute to a belief that he holds voters in thinly disguised contempt.
Is Mr. Obama also concealing unpopular domestic policies he'll spring on the country in a second term? What the president calls "flexibility" with Russian autocrats, Americans voters will likely view as a lack of candor with them. If that's the case, it could seriously undermine the president's chances for reelection.
This won't all happen by itself. To make the most of Mr. Obama's statement, Republicans will need to raise it again and again in speeches, ads, videos and debates. After all, Mr. Kerry's March 2004 remark became an issue only when repeated endlessly in ads and on the stump by the GOP's surrogates. Then and only then did it become the "a-ha!" moment that shaped perceptions of the Democratic nominee and helped bring about his defeat.
Karl Rove is a former senior adviser and deputy chief of staff to President George W. Bush. He is a Fox News contributor and author of "Courage and Consequence" (Threshold Editions, 2010).