Why marathon winner Shalane Flanagan is a great role model for women
NEWYou can now listen to Fox News articles!
Shalane Flanagan was virtually unknown outside of the elite running world until she won the New York City Marathon on Sunday, the first American to do so in the women's competition since the 1977. And she did it by running a minute faster than the second-place finisher, Kenyan Mary Keitany.
If that doesn't mean anything to you, a minute faster in the racing world is incredible. To beat an opponent by even 15 seconds is an eternity, but to beat a seasoned racer by an entire minute is almost unheard of today.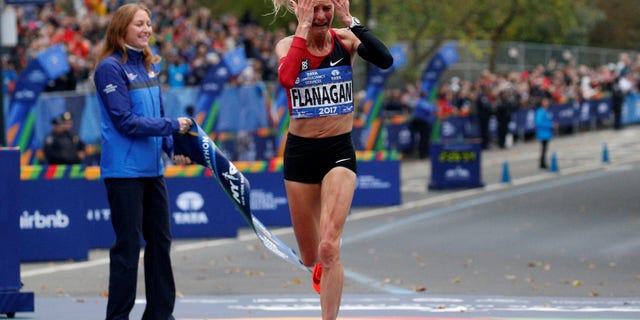 Flanagan is an interesting woman. She has won medals in the Olympics and set records at world competitions. She and her husband are foster parents as well, providing a home for teenage twins. She also took time off after a back injury in late winter of last year and was unable to run the Boston Marathon.
She told ESPN in April that she was able to take her first vacation in seven years with her husband and foster children and that "when given lemons, you make lemonade – let's celebrate the fact that I have time to do this with them. It's one of the best vacations I've ever taken."
As a wife, foster mother and professional athlete, Flanagan realized she needed the time to heal and take a break from the insane pace of her life. It's an example of listening to her body, listening to her family, and taking the steps to heal what needed to be healed, instead of continuing to recklessly put pressure on those aspects of life that needed rest. She is working for balance.
As women, we can take so much from Shalane Flanagan's story, without any kind of political angle. She is a much-needed and welcome addition to the world of female role models. As a noncompetitive runner, I have had the thrill to observe the moment in a race in which we see the first "lady runners" sweep by us toward the finish line. It is a moment of great pride in which both men and women yell our affirmation.
As New York struggles to recover from the recent terrorist attack in Manhattan, the city once more rises with great dignity and goes about its life with aplomb. Flanagan is part of that healing. The rest of us are blessed to cheer her success with sustained applause and the shout of "GO Lady Runner!"