Why Lord & Taylor's Fifth Avenue store closing is tragic, especially for this former employee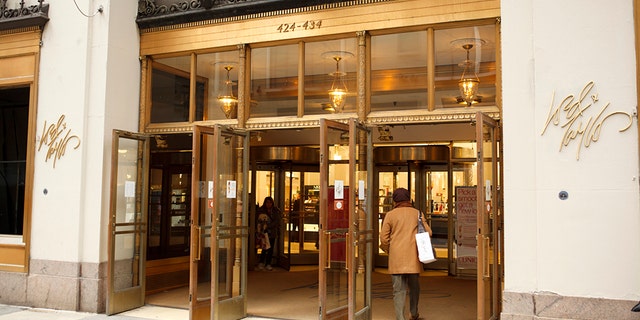 This week's closure of Lord & Taylor's iconic flagship Fifth Avenue store in Manhattan marks the end of the retail giant's remarkable 193-year run in New York City.
Forty-five smaller stores will remain open, primarily along the eastern seaboard. But the 11-story building, which first opened on February 24, 1914, was recently sold for $850 million to WeWork Property Advisors, a real estate investment group.
Retail often provides a snapshot of the moment, a reflection of a nation's need combined with its citizen's passions. The successful retailer doesn't simply sell items – they solve people's problems.
CLICK HERE TO READ 'LORD & TAYLOR TO CLOSE STORIED FLAGSHIP ON FIFTH AVENUE'
According to The New York Times' report the day after Lord & Taylor's Fifth Avenue store's grand opening 105 years ago, nearly 100,000 patrons flooded the 663,000 square foot building those first hours of operation.
What they found was a marvel of the modern age of retail.
CLICK HERE TO GET THE FOX NEWS APP
"Fixtures are of mahogany inlaid with ebony," reported the Times, adding that the layout inside featured innovative, movable floors that could rise and fall depending upon need.
Describing the celebratory atmosphere akin to a "housewarming" party, guided tours were given. The upscale shopping experience included an Italian roof-top garden and a full-service restaurant. There was a children's barber shop on the fourth floor and a men's barber in the mezzanine basement. Music was also a priority. The 7th floor featured a concert hall containing a $75,000 organ.
Employees were also treated like royalty. There was a gymnasium and hospital inside the store, complete with three resident physicians and a team of nurses. Valets were present in the locker rooms, just in case the clerks might want to change out of their work attire into "evening" dress.
I started working part-time for Lord & Taylor as a senior in high school in 1990. It was a thrilling assignment, especially for a teenager who was first introduced to the brand as a young boy. Each Christmas, my father would take us to see the store's opulent window displays, often featuring winter scenes from old New York, complete with movable figures and even falling snow. It was magical.
For middle-class families, Lord & Taylor was accessible elegance. It's funny what you remember – I recall my father lauding their boxes, stiff and sturdy white cardboard with the store's red rose logo on the cover. A product of the Depression, he was nearly manic about saving things. Many of those boxes remain in our storage – some even holding smaller boxes still.
Once on staff, I was schooled in the Lord & Taylor way. The customer was king and deserving of deference and good manners. We were instructed to take anything back that didn't meet expectations, no questions asked. Yes, some people abused the policy, but it generated unprecedented loyalty.
Over the five years I worked there, I forged strong relationships with my customers. It wasn't just about making a sale – it was about providing a service and relating with people on a personal basis. The rhythmic nature of retail often provides a conduit to life's highs and lows and as a representative of the store, we'd celebrate and grieve the losses and gains of those who shopped in the store. Holidays, marriages, divorces, christenings, bar mitzvah's – even helping a distraught customer pick out a suit and tie for a funeral.
It's true that nothing lasts forever, and brick and mortar retail is surely not at its end. But the introduction, evolution and explosion of online retailing is not simply a modern manifestation but a cultural shift that has its consequences, and not all of them are very good.
My last boss at Lord & Taylor was an old bachelor named Sidney. He was a curmudgeon and a character. I sensed he was lonely, and I would listen to his stories between customers. I came in early one day, an hour before the store opened, only to find him slumped motionless in a chair. He was rushed to the hospital, where he died a week or so later.
After the funeral, I received a phone call from an attorney. I was told that I had been named in his last will and testament. School prevented me from attending the reading of the document, but I later found out that he had left me his vinyl record collection – 12 records in total, including his favorite, Saturday Night Fever. The attorney said he left it to me because he had always enjoyed the countless hours of conversation we had about our mutual love of music. I smiled. I had simply listened and asked questions; he was the one who had done all the talking.
Working in retail reminded me of the importance of personal engagement -- listening more, talking less and working to discern the needs of others. It's always more about relationships than anything else. Yes, it's possible to engage online with a store's representative and in pop-up boxes on screens, but when's the last time one of them asked me about my wife and three sons?
This is one of the casualties of the closure of physical stores and why the inevitable demise of an iconic Fifth Avenue masterpiece is not just a loss for retail but a loss for everyone.