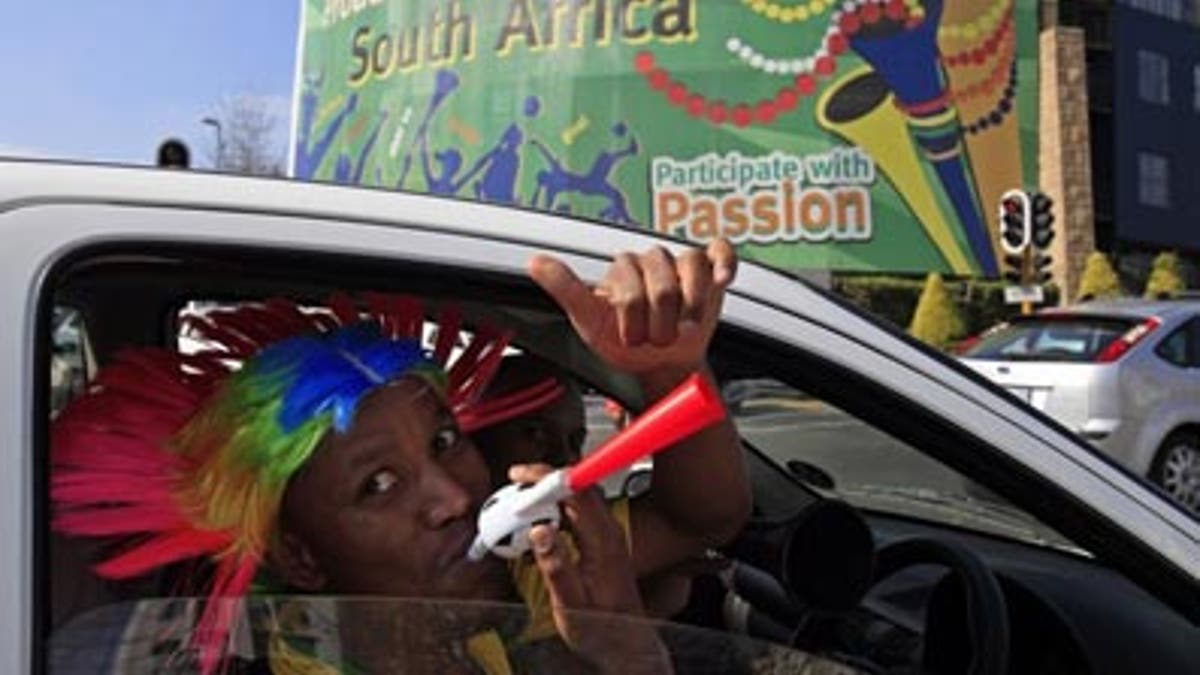 I missed the Super Bowl this year and I still haven't recovered from it. I was at home recuperating from a near fatal road accident. Then the record snowfall in the greater Washington area blew out our local transformers and trapped the entire neighborhood in their houses. Well, that's Global Warming for you. Thank you, Al Gore.
Now, 9,000 miles from home in the heart of Central Asia on business, I find the World Cup in soccer is about to start in South Africa on Friday and I couldn't get away from it even if I wanted to.
All those Starbucks-sipping, Barack Obama-voting Soccer Moms to the contrary, soccer has never caught on in the United States and once you've caught a single NFL game it's easy to see why it never will. But the fact remains, soccer is the Number One Global Game. Nothing, nothing - not NFL football, baseball, cricket, NASCAR, Formula One racing, tennis or basketball come close. I have a cousin and lifelong friend back in Ireland who is, and always has been, a religious fanatic. His religion is Manchester United. And I'm not joking.
I won't waste any time thumbsucking on Why America Is Different. We are. So live with it, world. But I do suggest that the lack of U.S. interest in soccer throws an important light on why we're screwing up in Afghanistan - and why it took us nearly four disastrous years before we started Getting Iraq Right when Defense Secretary Bob Gates and Gen. David Petraeus thankfully took over.
For a no-holds-barred assessment on why we got Iraq wrong in the first place, buy a copy of my 2008 book "The Politically Incorrect Guide to the Middle East" on amazon.com . It doesn't anticipate the success of Gen. Petraeus' policy because I didn't think President Bush would be smart enough to appoint him. But it does accurately predict the key counter-insurgency strategies that Gen. Petraeus successfully employed there.
The fact is that Americans really are the most tolerant, inclusive and generous people in the world -- and that makes us lousy imperialists.
Give Americans a great Global Struggle - whether against Nazi Germany, the Communist Soviet Union or the threat of Global Jihad and we gallantly and magnificently rise to the challenge every time. But as Vietnam, the early years in Iraq after toppling Saddam and the growing fiasco in Afghanistan show, we really don't adapt well to understanding radically different cultures.
Yes, sure we got Germany and Japan right after World War II. But Germany, once it was purged of Hitler's diabolical madness, was a Western European country that had contributed almost as many Americans as England and Ireland did.
And "we" didn't "Get Japan Right." Gen. Douglas MacArthur, our viceroy-proconsul-shogun there from 1945 to 1951 did. MacArthur, like George S. Patton, was the kind of unique, off-the-wall, sui generis genius that any nation is incredibly lucky to get once in a millennium. We got both MacArthur and Patton at the same time, which should have been proof enough that God was indeed On Our Side in The Big One.
So whatever happens over the next few weeks in South Africa, we won't care. The Chicago Blackhawks winning the Stanley Cup will generate far more headlines coast to coast. But since we do maintain the Number One military presence around the world and since we are caught up in a bewildering number of global commitments from North Korea to the Persian Gulf, it really does behoove us to try and catch an occasional sense of what matters to all these peoples and cultures around the world who actually aren't like us at all, however Politically Incorrect it is to say so.
For those who want a Quick Guide for Americans to the great tournament now opening in Cape Town, Johannesburg and Soweto: Everyone agrees Spain are the Team to Beat, and if anyone does manage it, it'll be Brazil. Argentina looks good too. Everyone is writing off the Italians as being too old and past their prime. Those are good enough reasons to love them, if you ask me. Also, their manager, the great Marcello Lippi won them the trophy last time in 2006.
Forget about England, that's just British Broadcasting Corporation boosterism. They'll fizzle the way they always do.
The one game Americans really should watch is Saturday's match when England plays the U.S. We shouldn't have a chance against them. But we humiliated them 60 years ago in the 1950 World Cup: It was the greatest American victory over the Old Empire since Gen. Andy Jackson pulled off the Battle of New Orleans in 1815. The question to ask now is: Are any of the U.S. team from the Gulf Coast? If so, they'll want karmic payback for British Petroleum and the greatest oil spill in history. Keep watching.
That's all you need to know. And if I got it all wrong, don't blame me. After all, I'm an American.
Martin Sieff is a former senior foreign correspondent for The Washington Times and former Managing Editor, International Affairs for United Press International. Mr. Sieff is the author of "The Politically Incorrect Guide to the Middle East" (Regnery, 2008). He has received three Pulitzer Prize nominations for international reporting.
Fox Forum is on Twitter. Follow us @fxnopinion.