What Jeremy Lin can teach us about dating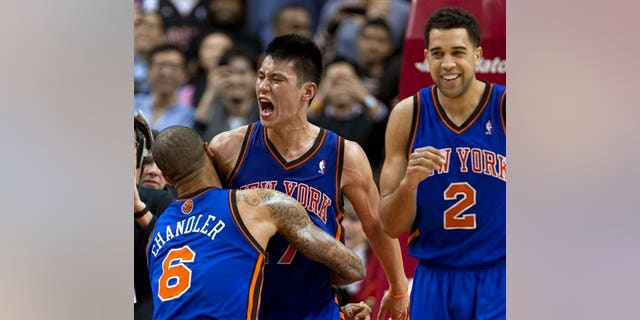 NEWYou can now listen to Fox News articles!
Jeremy Lin has become the NBA's latest phenom after leading the New York Knicks to seven straight wins. The breakout point guard, who just weeks ago was unknown and warming up the bench, is currently striking up "Linsanity," after a three-point, buzzer-beater in Toronto that capped a run averaging 23.5 points and over eight assists every game he has played – the best average for any player in their first five starts in NBA history, according to ESPN.
Fans are splurging for replicas of Lin's jersey, TV ratings for Knicks games have skyrocketed and shares of the Madison Square Garden Co., which owns the NBA franchise, reached an all-time high on Monday. Even President Obama has taken notice.
Lin's personal story of applying perseverance and patience throughout his rise to stardom has inspired a nation, but I believe there are lessons to be learned not only about the game of basketball, but also for singles in their approach to dating.
Unlike his NFL counterpart, Tim Tebow, Lin doesn't have a history of garnering attention for his athletic skills. While a talented sportsman who led Palo Alto High School to a state championship in basketball, Lin failed to grab the attention of college recruiters and was unable to secure athletic scholarships after his secondary school success.
It would have been easy to give up his dream, but instead, Lin attended Harvard University, an institution that would allow him to continue to improve both his grades and his game. Harvard was a perfect match for Lin, giving him the opportunity to grow and develop as a player.
Anyone who has been single and in pursuit of a meaningful relationship can testify the dating world can be difficult to navigate and wrought with rejection.
It's easy to get discouraged and threaten to give up; choosing the life of a singleton, but Lin is a perfect example of how determination can reap big rewards.
He may not have been drafted by a leading college basketball program but he didn't let that stop him from continuing to strive for success.
At Harvard, Lin went on to have a flourishing basketball career, and upon graduation signed with his hometown team, the Golden State Warriors. This offered yet another opportunity to hone his skills and train before becoming a star player.
Society places a lot of pressure on choosing a mate, but just as Lin took time to develop himself as a player, singles should focus on preparing themselves – mentally, socially, physically, financially and spiritually – to become as relationship-ready as possible before pursuing a potential mate.
Lin warmed the bench for the Golden State Warriors – not exactly his childhood dream – but he gained valuable training that led him to future NBA success.
In life, the ball doesn't always bounce our way, resulting in the unexpected, but if handled wisely, these experiences can mold an individual for the better for his or her future spouse.
Lin continued to suffer career setbacks, sitting on the sidelines for the Houston Rockets, and being sent to the D-league by the Knicks. Only after several of his teammates were injured was he inserted into the Knicks' starting lineup, finally providing the opportunity for which he had long trained.
Then the Knicks won seven straight games, with their new point guard leading the way.
Unlike many players who have preceded him, Lin knew the value of timing and patience. He didn't complain or throw in the towel just because he wasn't put in the game.
In the same way, singles must practice patience when it comes to the search for a perfect match. Rushing the process may provide a temporary solution, but won't result in lasting success.
Similar to Lin's basketball career, the best relationships take time to develop, nurture and mature.
So, even when not in a relationship, while sitting on the bench and waiting, singles should be working on themselves, so when their time for a meaningful relationship has come, they're ready to get in the game…for life.
Even though Lin's fame has blossomed overnight, he has remained level-headed with a steady focus.
In a recent post-game interview, he thanked God, quoting Scripture, which says, "God works in all things for the good of those who love Him."
Lin grounded himself in his Christian principles, which gave him the ability to remain true to himself. He also has credited his parents for teaching him to play "godly basketball," which measures success by sportsmanship, not stats.
Singles need to similarly understand their beliefs and surround themselves with those who support their dreams and future goals.
More often than not, Lin was not chosen by the biggest, the best or the most well-known teams or schools.
Similarly in dating, singles often feel like they're waiting for their lives to begin -- always watching and never getting the chance to participate. But just as Lin knew his basketball career required patience, perseverance and hard work; singles should approach dating in a similar fashion; never allowing themselves to settle for anyone but God's match for them.
Jeremy Lin's story is a prime example of how to overcome rejection and accomplish your dreams. When applied to dating, these principles area slam dunk in building a lasting relationship.
Ashley Reccord is the Christian community manager for Spark Networks®, owner and operator of ChristianMingle®, one of the top Christian websites and the largest and fastest growing online community for Christian singles. For more information on ChristianMingle and its offerings, visit http://www.christianmingle.com.