Walt Disney deserves credit for our progress on the Moon and Mars – not just Mickey Mouse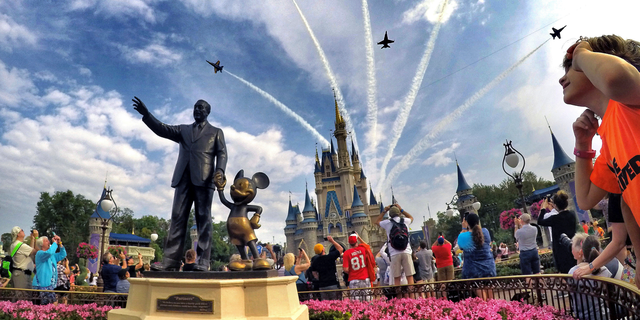 If the creator of Mickey Mouse had never been born, we might not have landed men on the Moon or sent robots to Mars. As a boy, Walt Disney was fascinated with the futuristic tales of Jules Verne and H.G. Wells. As an adult, his passion for the future intensified.
In the early 1950s, as Walt prepared to build Disneyland, he read a series of articles in Collier's magazine on the future of space travel. Contributors to the Collier's series included spaceflight advocates Wernher von Braun and Willy Ley.
Walt hired von Braun and Ley as consultants for an episode of his ABC-TV series "Disneyland." That episode, "Man in Space," depicted future rocket launches and an orbiting space station. It aired March 9, 1955, four months before the Disneyland theme park opened, and was watched by more than 40 million viewers.
CLICK HERE TO GET THE FOX NEWS APP
A sequel, "Man and the Moon," aired December 28, 1955. Another sequel, "Mars and Beyond," aired December 4, 1957. Von Braun served as a consultant and contributor on all three shows. He also helped design the TWA Moonliner rocket that towered over Tomorrowland in Disneyland.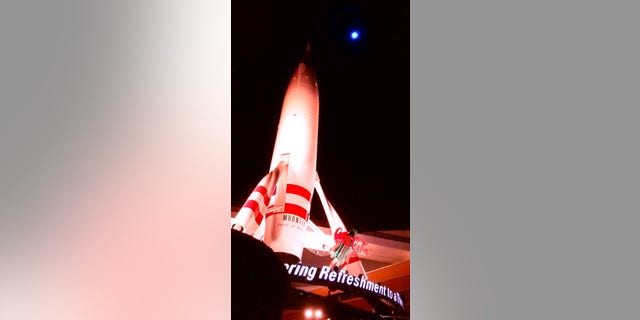 According to Ward Kimball, director of "Man and the Moon," President Dwight Eisenhower called Walt the day after the episode aired to request a copy to show to Pentagon officials. In the pre-NASA era, the Pentagon viewed rockets as a delivery system for weapons, not a transportation system for human beings. Eisenhower wanted to promote the peaceful exploration of space.
On July 29, 1958, three years after "Man in Space," Eisenhower signed the National Aeronautics and Space Act and established NASA as America's civilian space agency. Wernher von Braun was named director of NASA's Marshall Space Flight Center in Alabama.
Was President Eisenhower already a futuristic thinker, or did "Man in Space" convert him to a belief in space exploration? No one knows. But as William I. Hitchcock observed in "The Age of Eisenhower," President Eisenhower "embraced the idea that the country needed a federal agency to lead nonmilitary research on space . . . as a matter of human curiosity rather than warfare."
We don't know if President John F. Kennedy watched "Man in Space." But we do know that, in October 1959, while preparing for his 1960 presidential bid, then-Senator Kennedy hosted a West African leader on a tour of Disneyland in Anaheim. JFK probably rode the new Submarine Voyage and Disneyland Monorail which had just opened alongside the popular Flight to the Moon attraction.
On September 12, 1962, less than three years after his Disneyland visit, President Kennedy went to Houston and declared, "We choose to go to the Moon." For eight years, Walt Disney had been preparing the American public to embrace JFK's daring Moon mission.
In 1965, Walt visited the Marshall Space Flight Center. Wernher von Braun gave him a tour of the facility, and Walt promised von Braun he would use his TV show to "wake people up to the fact that we've got to keep exploring."
Walt's impact on one young Iowa viewer in 1955 might well have saved the Apollo 11 Moon landing from failure. Steve Bales was just 13 in December 1955 when he saw the second episode in the series, "Man and the Moon." Bales recalled, "This show, probably more than anything else, influenced me to study aerospace engineering."
As a 27-year-old NASA guidance officer, Bales was monitoring Apollo 11's descent. Seconds before Neil Armstrong and Buzz Aldrin were to touch down, an alarm sounded. Due to a navigational error, the spacecraft was about to overshoot the landing zone. Bales faced a split-second decision: Proceed or abort? Quickly checking the computer data, Bales elected to proceed. The rest is history.
If not for Walt Disney, Steve Bales might not have been there to make the right decision. He was just one among thousands of young people Walt inspired to reach for the Moon and beyond. Walt Disney deserves credit for Mickey Mouse and Disneyland – and for humanity's bootprints on the Moon and robot tracks on Mars.
Walt Disney was a visionary. We are living his vision today.