Voter revolt: Why the 2016 presidential race is unlike any other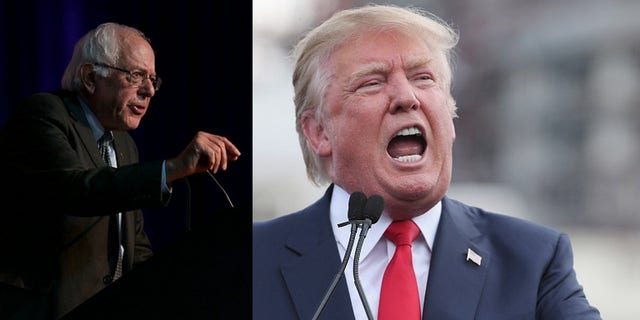 NEWYou can now listen to Fox News articles!
Programming Alert: Hear more on this topic from author and Fox News Contributor Doug Schoen in the new special "Fox News Reporting - Voter Revolt" anchored by Bret Baier. Premiering Friday, Feb. 12, at 10 p.m. ET. With additional airings on Saturday and Sunday at 8 p.m. ET.
Washington is broken and Americans are in revolt. This is the most important thing to understand about politics right now, and it's exactly what the political establishment fails to understand.
The results of the Iowa and New Hampshire primaries make this point.
Donald Trump and Bernie Sanders didn't win in Iowa (though they came very close), but New Hampshire was a markedly different story. The political outsiders have officially taken control, and they've done it with authenticity and strength of message.
We are living in a time when trust in American institutions has collapsed. A recent Pew survey showed that fewer than 20 percent of Americans trust the government always or most of the time. A CNN poll found that 60 percent think the American Dream is unachievable today.
The establishment – on both the right and the left – has failed to fully embrace how much these figures really matter. If it had, we wouldn't have rejected Trump as a clown and a joke for six months. His ideas on illegal immigration and placing a temporary ban on Muslims entering the country ruffled our national feathers, even though a majority of Republican primary voters agreed with him.
Indeed, 46 percent of GOP voters say they feel betrayed by Republican politicians. Trump won 32 percent of that group in New Hampshire.
We also rejected Sanders' longshot candidacy when he began this race more than 50 points behind Hillary Clinton. We said a socialist could never win. And though he may not be able to win a national election, we are seeing an electorate so starved for an honest and trustworthy politician that it will make allowances for ideologies it may not have considered before. Sanders has argued about oligarchy and money in politics throughout his career. He doesn't flip-flop or evolve on his advocacy for the average American.
With that message, Sanders won every significant demographic in the New Hampshire primary. He edged Clinton 55-44 with women, he took independents 72-27 and he proved once again that young Americans feel totally disconnected from the political establishment, bringing in 83 percent of the 18-to-29-year-old vote.
Against this backdrop, where more Americans think the country is moving in the wrong direction, it's no surprise that America is in revolt.
According to voters, honesty and trustworthiness matter more than whether a candidate has experience or can win in November. And the establishment isn't delivering anything that resembles what the American populace desires in its political leaders.
It follows that we should expect to see more surprises in this election. I see a clearer path to the nomination for Trump than for Sanders, but there is no doubt that Americans have spoken and they're done with business as usual.
It's up to the political class to catch on. Time is running out.