Violence on Television: Women's lives matter except in primetime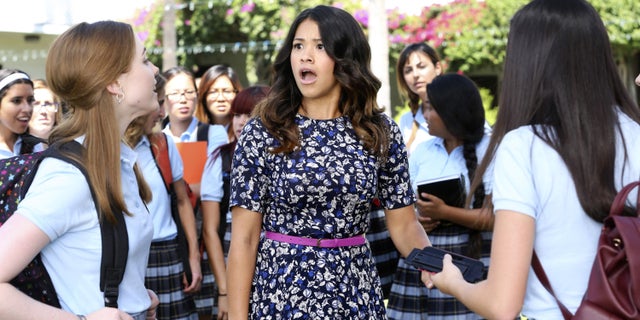 NEWYou can now listen to Fox News articles!
Women don't matter. At least that's what Hollywood shows us every day on TV.
In just one week of prime time television, female characters were violently assaulted 129 times. They were punched, thrown down stairs, run over by cars, stabbed and tortured. Women were hung to death, strapped to tables and used as medical experiments, even graphically tortured through witchcraft where characters' eyes bled. When all the violence was finished, 10 women lay dead.
But it's OK. It's all in the name of "entertainment."
These are the results of Media Research Center's analysis of 56 hours of prime time network television from Feb. 2 thru Feb. 8. Can you imagine how much more graphic violence you'd see in a whole year? How much your children would see?
But Hollywood celebrities still claim they stand for better treatment of women.
But it's OK. It's all in the name of "entertainment."
Celebrities opposed to violence against women number in the hundreds and read like the Who's Who list of Hollywood elite – Oprah, Charlize Theron, Nichole Kidman and Daniel Craig.
But it's OK. It's all in the name of "entertainment."
Entertainment media have been consumed by the issue since former Baltimore Ravens running back Ray Rice was videotaped punching his then-fiancée. Soon after, the NFL and more notable celebrities rolled out the "No More" campaign.
On Feb. 8, the Grammies added one more show of eager support – a presidential PSA.
President Obama came on in the middle of the show to say, "Together we can change our culture for the better by ending violence against women and girls."
Don't believe it for a second. The very same week, women were being victimized across the major TV networks. No one in Hollywood uttered a word about it.
The very worst shows are the ones aimed at younger viewers. CW shows like "The Originals-" and "The 100" tried to match the graphic violence on HBO's "True Blood" with butchery all their own.
One young woman in "The Originals" had her head bashed into a table repeatedly. Another was beaten with a fireplace poker and third was killed gruesomely by a witch who made the victim's eyes bleed. In an episode recap on "The 100," a girl is strapped to a table screaming while a drill goes through the back of her head. During the program, young women were shown trapped in cages to be used for medical experiments.
Sadly, they aren't the only ones. "The Mentalist" introduced a new agent this season just to kill her off and traumatize the lead character, who had lost his wife years before. The ill-fated FBI agent is murdered following a gun battle with three men who later kidnap another woman at gunpoint and drag her into their vehicle.
Even ABC's popular "Scandal" featured a woman's young daughter was being threatened with a knife to her throat, twice, while she lay in bed. Not to be outdone, the network's new "Agent Carter" showed little girls being trained to kill each other, with one girl snapping another's neck.
Violence against women was even delivered as a punchline. CW's "Jane the Virgin" scares viewers with a prank where a woman is kidnapped and her throat is slit, complete with fake blood. Then "acid" is poured on the woman's mother-in-law.
It's not news that watching this kind of violence might be unhealthy. In fact, top medical authorities from the National Institute of Mental Health to the American Medical Association consider televised violence another risk factor that might lead to violence.
Hollywood doesn't care about any of that. They want you to watch. And if they have to build their ratings and their fortunes atop mountains of brutalized and beaten bodies of women and girls, they will do so.