Two Olympic legends say athletes need to show their mettle when Games end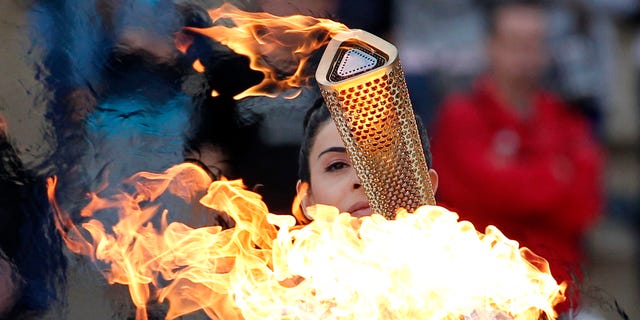 NEWYou can now listen to Fox News articles!
With the Olympics upon us again, millions of Americans will watch in awe the spectacle and amazing feats of the worlds' best athletes. It doesn't matter who you are, your age, the amount of money you make or your political affiliation – every four years, during this two-week event, we put aside our differences and unify behind the American flag, rooting for our favorites and appreciating the greatness of Team USA.
But what happens after the torch is extinguished and the crowds disappear? The life of an athlete is set around goals and achievement. But when your goal is realized and your achievement is complete – what do you do next? How do you redefine yourself in your early 20s or 30s?
We know what that's like. We've been there.
As Olympians and role models, we have a unique opportunity to help solve some of our nation's largest problems. And while many of us sign corporate deals to promote a variety of products, we can also partner with corporate America to address some of our country's greatest challenges.
[pullquote]
For us, as with every athlete, this stage of redefinition was difficult. But in many ways it was easy because we found a problem that we're determined to help solve – childhood obesity.
The rates of childhood obesity have more than tripled in the past 30 years, according to the Centers for Disease Control and Prevention, with recent statistics showing that one-third of American children and teens are obese or overweight.
As kids we dreamed of Olympic gold, but many kids these days see a future significantly less bright with an increased risk for cardiovascular disease and many types of cancer. In short, we are losing an entire generation of our children to obesity.
It is with this in mind that we have once again picked up 'the torch,' to work with Boys & Girls Clubs of America, an organization focused on giving kids great futures — including healthier futures. Triple Play, which is sponsored by Coca-Cola and the WellPoint Foundation, is one of the most comprehensive health and wellness programs developed to improve the overall health of 6- to 18-year olds, not only helping them increase their daily physical activity and teaching good nutrition, but also helping kids develop healthy relationships. It's all about mind, body and soul.
To fuel the Olympic spirit we staged a mini-Olympics in Atlanta's 189-acre Piedmont Park with more than 200 kids earlier this month. And the experience was a memorable one, with kids from Atlanta area Boys & Girls Clubs taking part in gymnastics, boxing, basketball, track and field. While we have had the pleasure of engaging with some of the world's most respected leaders, celebrities and public figures, none of these experiences compare to the immense joy and sense of purpose that came with seeing the smiles, laughter, hope and inspiration on the faces of the kids we met that day.
Now we realize that other athletes may chose different causes -- the environment or helping veterans, among others. There are so many important causes to choose from. But the point is to use our own personal accomplishments to accomplish even more, helping solve some of the nation's most daunting problems.
And so as the applause dies down, and the reporter calls dwindle, our advice to you is this: Ask yourself what – beyond money – matters to you most. What can you do that will really make a difference? Find groups like Boys & Girls Clubs of America – who, with Coca-Cola and the WellPoint Foundation, are working to solve some of these issues. You may not get an award for it – but you feel rewarded for it in the good you have done and, in our case, the lives we are helping to change.
Olympic legends Jackie Joyner-Kersee and Gail Devers each earned three Olympic Gold Medals in Track & Field.