Turkish elections Sunday will create a problem for the world - a re-elected President Erdogan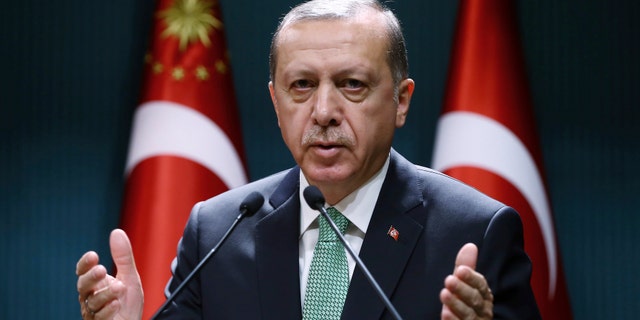 Turkish citizens will go to the polls for snap parliamentary and presidential elections Sunday, putting the world at the doorstep of another decade-long, dangerous problem: a re-elected and empowered Turkish President Recep Tayyip Erdogan.
Some voters have the hope of an opposition victory as the result of Erdogan's lackluster campaign and a spiraling currency crisis. It's more realistic, however, to start thinking about the problem that his victory is bound to cause for the rest of the world, and especially for the U.S.
Pollsters recalculating the probability of a victorious or defeated Erdogan forget one important feature of Turkey's so-called democracy: it isn't one. Erdogan has already stacked the cards for his own success in this election.
After the fixed outcome arrives, Erdogan will lead a Turkey that is more militarily interventionist throughout the broader Middle East and more willing to cooperate with Russian President Vladimir Putin at the cost of the U.S. interests, and those of NATO and the European Union.
Erdogan will also have more authoritarian tools at his disposal. These snap elections trigger the full implementation of constitutional changes passed in a controversial referendum in April 2017. This new system will codify executive powers granted to Erdogan under state of emergency laws, including the issuance of presidential decrees as law. It will also erode what little leverage remains with the Turkish Parliament or the political opposition.
The net result: Erdogan is poised to remain in power until at least 2028, with a deeper megalomaniac desire to expand his regional footprint at others' expense. This will quickly drive deeper wedges into Turkey's partnerships with the U.S. and NATO.
Erdogan will continue, for example, to balance cooperation and competition with Iran, even at the cost of U.S. fines for evading economic sanctions against dealings with Tehran. He has also bristled at the U.S partnership with anti-ISIS fighters affiliated with a Kurdish militant group that he sees as a threat to Turkish sovereignty.
The U.S. has cut tactical deals with Turkey in Syria, but these cannot satiate Erdogan's drive for expanding Turkey's sphere of influence beyond the historic borders of the Ottoman Empire.
The U.S. and Turkey recently agreed on a framework for the status of the mixed Kurdish-Arab city of Manbij, which is contested by Turkey and the U.S. partner force in northwestern Syria. This agreement fails to repair the damage done from years of mutually destabilizing Turkish and U.S. policies, absent a roadmap for broader U.S.-Turkish cooperation in Syria.
Meantime, Erdogan's response has been to deepen Turkish cooperation with Salafi jihadist groups, including Al Qaeda's affiliate in Syria.
Additionally, Erdogan will make good on threats to expand military operations abroad. He abandoned negotiations with the Kurdistan Workers' Party (PKK), a U.S.-designated terrorist organization waging a decades-long insurgency inside of Turkey, and has attacked PKK-affiliated militants in northwest Syria without much consequence. He will likely continue targeting similar fighters elsewhere in Syria and in Iraq.
Erdogan's attempts to silence the pro-Kurdish domestic political voice renders future Turkish-Kurdish negotiations even more difficult to reignite, virtually guaranteeing further instability and violence.
For the likes of Putin, Erdogan's victory will be an opportunity to continue subverting NATO's unity and weakening the alliance's southern flank. Turkey's purchase of the Russian-made S-400 surface-to-air missile system will throw a technical wrench into NATO partners' interoperability.
Russia also enabled Turkey's operations against the U.S. Syrian Kurdish ground partner in Syria, triggering an operational pause to anti-ISIS operations in March. Putin's cultivation of Erdogan will attempt to stymie NATO's effectiveness further from within.
Erdogan's attempts to secure even more absolute rule at home will cause additional international problems. His paranoia on the heels of a failed coup attempt in July, 2016, fuels a vendetta against alleged coup plotter Fethullah Gulen, who resides in Pennsylvania. Erdogan fashions Westerners traveling in Turkey as diplomatic bargaining chips.
American Pastor Andrew Brunson has remained behind bars in Turkish custody for over a year, even as the U.S. State Department has said that Turkey has not presented any credible evidence for detaining him. Worse yet, thousands of Turkish citizens also remain imprisoned – many for the "crime" of voicing political dissent – with uncertain futures.
The pace of Erdogan's post-coup purges outside of Turkey also shows no indication of slowing. Turkey's intelligence agency serves as the expeditionary arm of the Turkish state, reportedly seizing 80 Turkish citizens from 18 countries by March 2018.
One of the biggest weapons for destabilization that Erdogan wields is migration, as he has more than 2.6 million Syrian refugees to host or expel as he pleases. The plight of these migrants will continue to prove useful for Erdogan's diplomatic maneuvering with Europe.
Erdogan habitually threatens the implementation of the Turkey-European Union deal that attempts to stem the flow of migrants to the EU in exchange for an advantage in bilateral economic and political negotiations.
However, the victory of Erdogan's presidential system positions Turkey as far away as ever from the distant dream of EU membership.
In the longer run, phony electoral victories will not save Erdogan from himself. Among other things, he will face mounting pressure to resolve a currency crisis that he created. Turkey will continue to feel the full effects of Erdogan's economic mismanagement after the election as he threatens the Turkish Central Bank's independence.
In sum, Erdogan's post-election grip on power will drive domestic crises, destabilize Turkey's foreign partnerships, and ultimately undermine the very position he is attempting to secure. For everyone else that means more headaches, more violence, and more instability in a part of the world that definitely does not need it.