Tough love and trade: Why we must stand up for US companies in China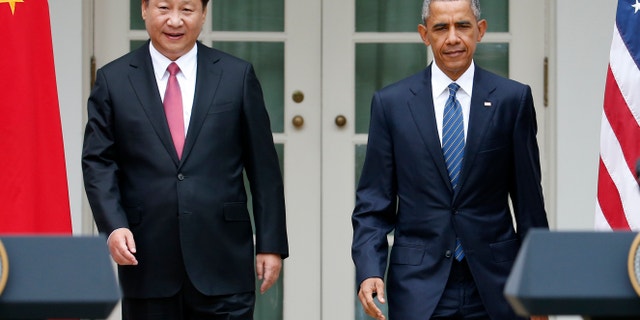 NEWYou can now listen to Fox News articles!
Few doubt that one of the defining factors of the 21s Century will be China's rise and America's reaction to the emergence of a new global power. Two visits capture the tensions in U.S.-China relations today: Last month's trip out to the USS Roosevelt by Defense Secretary Ashton Carter during the carrier's transit of the contested waters of the South China Sea, and next month's first-ever U.S-China cyber-security meetings in Washington, D.C.
Sandwiched between these two was a third official visit that, done right, may in its own way incline the U.S.-China relationship towards cooperation and away from conflict: the trade delegation that traveled to Guangzhou last week, led by U.S. Secretary of Commerce Penny Pritzker and U.S. Trade Representative Michael Froman. On the docket: topics ranging from intellectual property rights, agriculture policy, and information technology protocols, to pharmaceuticals and medical devices, travel and tourism.

Here's hoping the discussion list includes the selective regulation of American companies doing business in China. Within the past eighteen months, Microsoft and Accenture's Chinese offices have been raided under the pretext of enforcing anti-monopoly regulations; Qualcomm was strong-armed into paying a record $975 million earlier this year. Illinois-based OSI Group had its Shanghai plant raided in a coordinated media-regulator takedown last year. The reputational damage has cost the company millions, and six of its employees remain in jail. These headline cases involving global American brands leave other U.S. companies in China wondering if they'll be next.
To be sure, as the signature policy of Chinese President Xi Jinping, Beijing's corruption crackdown can be a powerful weapon in the war on the kick-backs, bribery and strong-arm tactics employed by the "tigers," as Xi calls them. Yet in many cases, the anti-corruption campaign is being conducted by Communist Party organs rather than through the Chinese legal system – raising questions about whether the campaign is about strengthening the rule of law, or using the power of prosecution to settle scores in intra-party quarrels.
Yes, the standoff in the South China Sea and Chinese hacks of the U.S. national security databases are clear and present dangers. But the growing hyperventilation that the U.S. and China are heading to a 21st Century Cold War is not just unhelpful – it's untrue.
Whatever the truth, the selective application of Chinese rules and regulations in the case of American companies is creating a chilling effect on the American side of U.S.-China trade.
According to Deutsche Welle, the recent decline in FDI flow into China is due at least in part to "concerns over official investigations targeting foreign companies doing business in China." To be sure, U.S. companies doing business in China may have to tough it out, but they don't have to expand their China footprint, and American companies considering whether to enter the Chinese market may put their plans on pause, or expand elsewhere.
That's a cost measured not only in lost revenues, but in a lost opportunity to use commerce as a countervailing force against U.S.-Chinese geo-political and strategic tensions.
Here, it's key to learn the right lessons from history. Yes, the standoff in the South China Sea and Chinese hacks of the U.S. national security databases are clear and present dangers. But the growing hyperventilation that the U.S. and China are heading to a 21st Century Cold War is not just unhelpful – it's untrue.
And here's where commerce comes in: Dangerous as it was during the U.S.-Soviet Cold War, there was little to no connectivity between the Soviet and U.S. economies.
In the 1980s, the U.S. exported goods to the USSR, largely wheat, valued at around $1.6 billion per year – less than one-tenth of 1% of U.S. GDP – while Soviet exports to the U.S. never exceeded $800 million.
Adjusting to 2015 real dollars, two-way trade between the U.S. and USSR ran around $4.5 billion a year. That's about as much trade as American and Chinese companies do every three days. In fact, even with an anemic American recovery and the deceleration of Chinese growth, U.S. exports to China totaled a record $120 billion in 2014, a 100 percent increase in just the past five years.
Such significant and growing economic interaction should serve as strong incentive towards cooperation and away from conflict, even as U.S. policymakers remain vigilant about the potential for strategic friction as China's rise to global power rivals America's global presence. Indeed, whereas the Cold War's brittle peace rested on the nuclear doctrine of Mutual Assured Destruction – "he who shoots first dies second," in the mordant definition of MAD offered by German analyst Josef Jaffe -- the U.S. and China may evolve into a far more benign version of the Cold War concept: the economic equivalent of MAD, in which any serious attempt at economic disengagement would harm both countries. In this scenario, we are destined to grow together.
For precisely that reason, U.S. officials should send a strong signal that selective regulation of U.S. businesses operating in China must stop. Dancing around taboo topics like IP theft, cyber-spying and spurious regulations of U.S. companies for fear they will upset the trade talks will hinder, not help, the larger cause of increased economic activity.
In this light, a forceful defense of American companies doing business in China is not a provocation, but rather a first step towards an equitable, stable and predictable commercial climate that benefits both nations.
Here's hoping that's the message U.S. trade officials are taking to Guangzhou.