To Roger Goodell: You're the NFL's CEO. It's time to condemn players who refuse to stand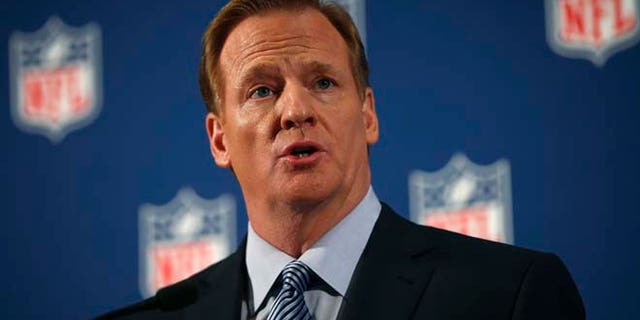 NEWYou can now listen to Fox News articles!
Dear Mr. Goodell,
As the chief executive of the National Football League, I believe it is up to you to outright condemn the players who refuse to stand during our national anthem.
I am sure you can remember the great sports heroes you looked up to as a child. For me it was Ted Williams and Johnny Unitas. They were larger than life.
But as we grow older we realize that while there are men and women in sports who are gifted with incredible athletic abilities, they, like everyone else, are not without flaws.
The NFL's players must be reminded that our flag, our national anthem and the uniform of our brave military are more sacred than the uniforms that they wear on the field.
Just because we want to mimic their performance on the field, does not mean we should strive to be them in every aspect of our lives. For children, that distinction is not as easily understood. And it is for this reason that these professional athletes are held to a higher standard.
Consider the players of high school teams around the country in the last week who have followed their heroes' examples by remaining kneeled or seated during our national anthem.
These kids are too young to recall September 11th and the effect that had on our country.
They are too young to remember Pat Tillman, a safety for the Arizona Cardinals who left his NFL career to join the Army Rangers. As you know, he died in combat.
These kids, some of whom may one day honorably serve in the armed forces, do not yet understand that what they are doing isn't silent protest but rather a slap in the face to the millions of Americans who sacrificed for them.
While their ignorance should be forgiven, we cannot justify the actions of the adult players who know better or the inaction of the league.
America is the greatest country in the world. It is the greatest country partly because of the rights that are guaranteed to us, including the freedom of speech, in our government's founding document. While these players may not have a legal obligation to rise, they have an American duty to do so.
The humble beginnings of many professional athletes – including some of the very ones who refuse to stand for our national anthem – would have prevented them from reaching their current level of success in any other country.
America reveres its professional football players so much that they are paid no less than several hundreds of thousands of dollars every year, with endorsements often increasing their salaries into the millions.
It would be more constructive if sports stars set positive examples for their young fans, which means standing for our national anthem, volunteering in their communities and giving to charitable organizations that support their causes.
While there are still tragic and inexcusable incidents of injustice, racism and bigotry in this country of more than 300 million people, we cannot allow influential members of our society to undermine the monumental progress that has been made in our nation's relatively short history.
These players must be reminded that our flag, our national anthem and the uniform of our brave military are more sacred than the uniforms that they wear on the field.
I urge you, Mr. Commissioner, to discipline these players who have shown such disrespect to a nation that has allowed them to achieve so much.