Tim Tebow will undoubtedly turn tough break into teachable moment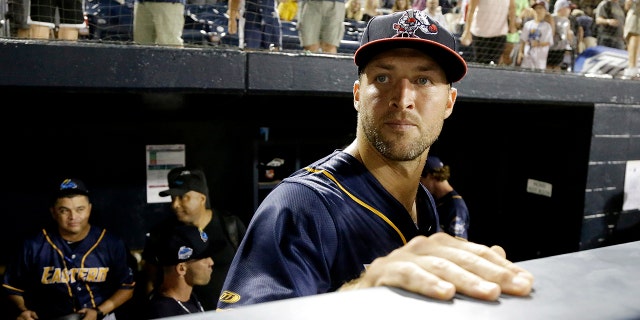 Sometimes dream don't come true – even for Tim Tebow.
At least not yet.
Fans of the former Heisman Trophy winner and NFL Cinderella story standout turned minor league baseball star have been anticipating the New York Mets to call up the 30 year-old up in order to add some punch and pizzazz to an increasingly dismal season.
But now, according to ESPN's Adam Schefter, Tebow broke a bone in his right hand last week. He's expected to have season-ending surgery on Tuesday.
According to experts, the injury couldn't have come at a worse time. With the clock ticking on the star's career viability, Tim Tebow's in the midst of a hot streak for the Binghamton Rumble Ponies, the AA affiliate of the New York Mets. While struggling at the plate early in the season, the Florida native broke out of his slump, even earning a spot in the league's all-star game earlier this month.
Though pundits and pontificators will likely suggest this setback could be the final nail in Tebow's unlikely rise to Major League Baseball, I wouldn't be so sure.
Since infancy, Tim Tebow has been a fighter, a scrapper, the resilient warrior who just won't give in – or give up.
Due to a concerning prenatal diagnostic, his mother was urged to abort him. A strong Christian and believer in the sanctity and worth of every human life, Pam Tebow refused. As a young boy, Tim struggled with dyslexia. He now credits the battle to read with instilling in him qualities that prepared him for professional athletics.
Tim Tebow's been able to consistently get up because he looks up to a God who he loves – and who he knows loves him.
A surprising first-round draft pick in the NFL, Tim Tebow's 2011/2012 season with the Denver Broncos was fantasy-turned-reality, taking his team to the second round of the playoffs. A few months later he was cut, losing out to Peyton Manning. Unsuccessful stints with the New York Jets and New England Patriots followed, leading many to believe his time on the national sports stage was over.
Somebody once said that if you fall in life, fall on your back – because if you can look up, you can get up.
Tim Tebow's been able to consistently get up because he looks up to a God who he loves – and who he knows loves him.
While at the University of Florida, Tim Tebow regularly wore eye black with bible verses embedded in them. One of his favorites was from the apostle Paul, who once advised new Christians:
"Do not be anxious about anything, but in everything by prayer and supplication with thanksgiving let your requests be made known to God. And the peace of God, which surpasses all understanding, will guard your hearts and your minds in Christ Jesus" (Philippians 4:6-7).
That was reassuring advice for early Christians who faced persecution and punishment for believing in a radical carpenter named Jesus from Galilee.
In this age of uncertainty and political upheaval, it's also a good and comforting reminder for all of us.
And it is why Tim Tebow will handle this latest setback with his usual optimism and graciousness. He need not be anxious. After all, he knows baseball is just a game, a platform that is enabling him to point other people to Jesus Christ and life eternal with Him.
In the end, that's the ultimate dream come true.