Three billion to cure all diseases: Paging Mr. Zuckerberg and Dr. Chan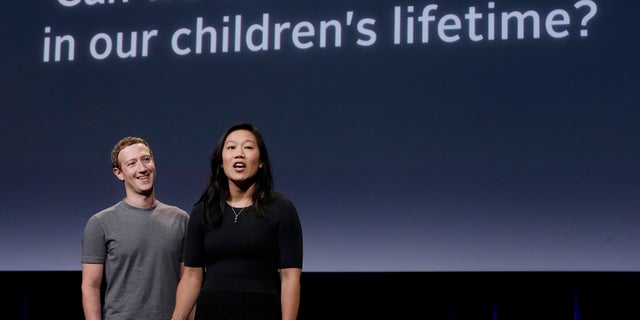 NEWYou can now listen to Fox News articles!
The question, taken at face value, seems preposterous: "Can we cure all diseases in our children's lifetime?"
It takes a very bold thinker to answer, "Yes." And it takes very deep pockets to try to make it happen.
Facebook founder Mark Zuckerberg and his pediatrician wife, Dr. Priscilla Chan, are bold thinkers with deep pockets.
The couple announced this week that the Chan Zuckerberg Initiative, the limited liability company into which they've put their Facebook shares, will invest at least $3 billion over the next 10 years to achieve that lofty goal. They'll start by providing $600 million to build the Biohub, a research lab of engineers and scientists in San Francisco.
The first disease to be wiped off the face of the earth must be ignorance. The health care industry has impeded progress because it has failed miserably in the effective use of available data. It has been the poster boy of ignorance.
Good for them. Ultimately, it will take trillions of dollars — not "just" $3 billion — to eradicate all human diseases. But setting the bar incredibly high ensures that our investment, initiative, enthusiasm and effort will remain focused on pursuing the goal, no matter how long it takes. Compromise will not be an option.
The very idea of curing, preventing or managing all human diseases by the 22nd century now becomes the catalyst for massive investment in areas of technology and research that will fundamentally change the way we think about health and disease.
It's not as crazy as it sounds. Consider that just a decade ago, hardly anyone imagined that human beings across the planet would be able to communicate daily on a common platform, obliterating boundaries that had existed for millennia. But they are — thanks to Zuckerberg, who had the foresight to envision how human relationships would evolve through technology.
Ten years from now, maybe we'll be talking about a different platform, but one thing is for sure: Facebook, like the printing press and the telegraph and the telephone and television and radio, will always hold a position on the list of things that changed the way people connect.
Mindful of that, there are a few lessons to be learned from the way Facebook evolved that scientists, biologists, physicians and educators should keep in mind as we move toward eradicating human disease.
1. Data is key.
I've spent more than 20 years in health care working with data, and I am astounded daily by how poorly the industry uses data.
So, apparently, is Zuckerberg. "We spend 50 times more on health care treating people who are sick than we spend on science research (to cure) diseases so that people don't get sick in the first place," he told the Associated Press.
If you look at companies like Facebook, Google and Amazon on the cellular level, you find that data is the nucleus around which they've built everything. It has unleashed information about consumers' behavior, preferences and consumption patterns, enabling them not only to give customers exactly what they want, but also to make them want more.
Look closely at these Silicon Valley companies and you see that one-third of their employees are data scientists whose sole job is to work on this core resource. But look under the hood of most major health care companies and you find, at best, just a handful of data scientists.
One can only hope that the Chan Zuckerberg Initiative's investment in ending disease will finally persuade the health care industry to allocate massive dollars to data science and technology. No major investor, hedge fund or philanthropist has stepped up to effect such a change. Now the time has come.
2. The power of influence and networking.
Facebook transformed the structure of human relationships by eliminating the global boundaries of communication. Zuckerberg initially had no real business model, other than to create more users and a captive audience, but he understood that a massive worldwide network of people would generate data that would reveal their likes and dislikes. Once Facebook reached a critical mass of users, it set in motion a flywheel of data that created a gold mine of opportunity in understanding human behavior.
The health care industry can leverage the same principals — and the beauty is that it won't require building a new network, because it already exists. Whether you're at the gym, the grocery store, the doctor's office, the emergency room, the pharmacy or your workplace, that information is being captured. But none of it is being used to study how your behavior and decisions affect the biology of disease, which is critical to eradicating it. Using the data that already exists will help scientists develop cures and preventive measures.
3. The importance of education.
As a physician, Chan has more than an observer's interest in wiping out disease. "I've been with families where we've hit the limit of what's possible through medicine and science," she told the AP. "I've had to tell families devastating diagnoses of leukemia, or that we just weren't able to resuscitate their child."
As millennials with a 10-month-old child, Zuckerberg and Chan know they may not live to see their goal accomplished, but their daughter may. And they know that education will be key to developing a new breed of physicians and scientists who have the skill set needed not just to be good clinicians, but also to understand and analyze data far more than their predecessors.
Right now, the health care industry is focused on putting out small fires. What Zuckerberg and Chan envision is an environment where the flame never ignites. Their long-term goal isn't to treat disease. It's to obliterate it.
And here's where it has to start:
The first disease to be wiped off the face of the earth must be ignorance. The health care industry has impeded progress because it has failed miserably in the effective use of available data. It has been the poster boy of ignorance.
What the health care industry needs now is bold thinkers, people like Zuckerberg and Chan, and Bill and Melinda Gates, people with big ideas and deep pockets who want to make the world better for everyone in it.
Eradicating all diseases in our children's lifetime would be a great place to start.