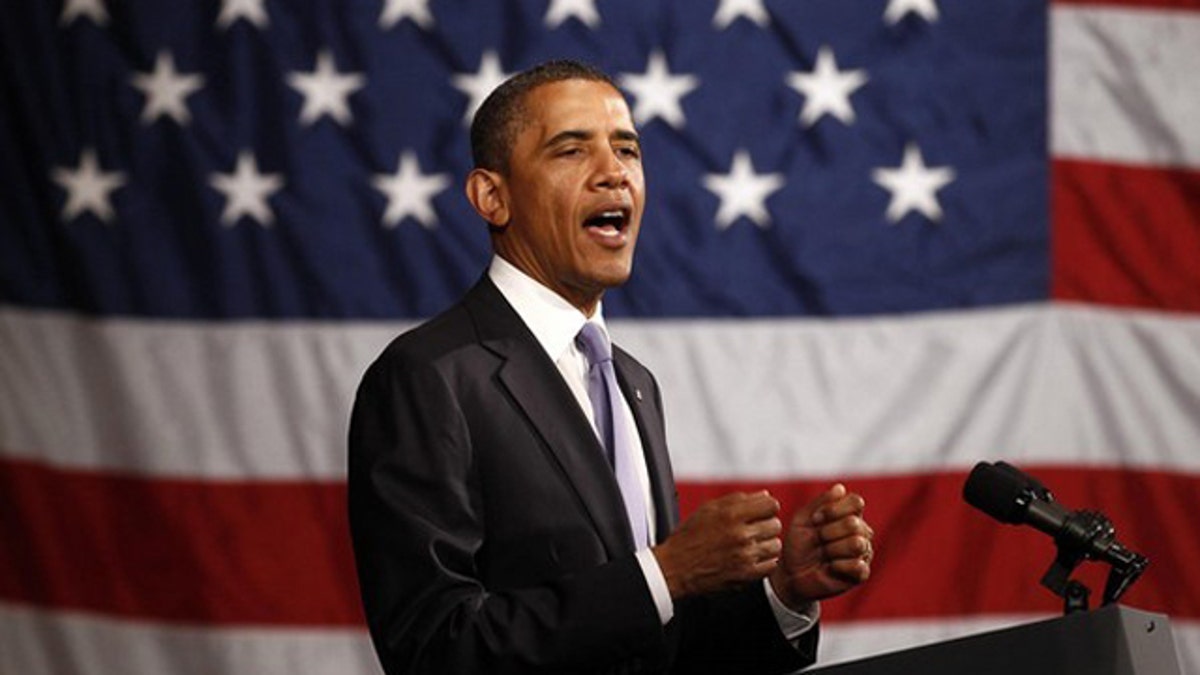 Get ready for this year's "October Surprise" — the news event in the weeks before the presidential election that has the potential to push the remaining undecided voters behind one candidate and decide the outcome.
Here's a sneak peek at the "surprise."
In late October, President Obama announces his campaign is tapped out of money and unable to answer the final round of attack ads from his opponent, Mitt Romney.
This scenario is no longer outside the realm of possibility.
On a recent conference call with potential donors, President Obama said: "If things continue as they have so far, I'll be the first sitting president in modern history to be outspent in his reelection campaign."
The president then asked his donors "to meet or exceed what you did in 2008."
That is a pretty high bar to clear.
In 2008, Obama shattered all campaign fundraising records by bringing in more than $700 million. His GOP opponent, John McCain, raised only $316 million, giving the Democrat a tremendous advantage.
It is a different ball game this time around.
At the moment, President Obama's campaign has $170 million in the bank while his GOP opponent, Mitt Romney, has $144 million.
But the Romney money machine is gaining momentum.
It raised more money than the Obama campaign in May and June. Romney's donors also appear to have more money: Only 17 percent of Romney's donations have been less than $200, compared to 40 percent of Obama's donations that came in at less than $200.
The big money going to Romney also has more ways than ever to avoid limits on donations. Keep in mind this is the first presidential election since the Supreme Court's ruling in Citizens United, which opened the floodgates for unlimited contributions to outside groups and created the super-PACs.
Since January 2011, the GOP super-PACs have collected $228 million while Democratic super-PACs have deposited only $80 million. "Restore Our Future," the super-PAC supporting Romney, now has $21.5 million in cash on hand. The super-PAC supporting the president, "Priorities USA," has only $2.7 million in cash on hand.
So the total dollars behind Romney already exceed the total dollars behind the president. And the money differential is showing up in the television advertising wars.
The DNC has spent $12 million on advertising so far while the RNC has spent $11 million. But as of July 26, the pro-Romney "Restore Our Future" super-PAC has spent roughly $54 million on TV ads. The conservative American Crossroads/Crossroads GPS groups have spent a total of $94 million on TV ads. That is about five times the spending of all Democratic super-PACs combined.
One point of optimism for the Democrats playing in this big money game is that the DNC and Obama campaign are sitting on $135 million in cash, slightly more than the $111.9 million Romney and the RNC have in the bank.
But Obama's campaign is burning through its money at a faster rate than the Romney team.
The Obama campaign spent twice as much as the Republicans in June.
The incumbent's campaign purchased more TV ads, paid more than twice as many employees as Romney and spent millions of dollars on public opinion polls, according to FEC filings.
In May and June combined, the Obama campaign spent 20 percent more than it took in, records show.
The Wall Street Journal reports "some Democrats worry that the overhead built by the Obama camp over the past 15 months will prove impossible to sustain. Unless fundraising picks up, the Obama campaign may enter the season's final stretch confronting hard choices: paring salaries, scaling back advertising or pulling out of swing states in a bid to control costs, these Democrats say."
In an interview with USA Today, Democratic strategist Mark Mellman said 80 percent of advertising dollars are probably wasted, but there is no way to know it is a waste until the campaign is over.
Of course, the Romney campaign is delighting in its fundraising advantage. One incredible fact of this 2012 campaign is that, without spending a dime on ads in swing states, the Romney campaign can still compete because of ads being paid for by pro-Romney super-PACs.
"You don't want to be caught flat-footed and unable to close out a campaign," Romney pollster Neil Newhouse told USA Today. Indeed.
Team Obama is already screaming for help from past donors to stave off any October shock.
But will Democrats who once heard that the president might raise $1 billion for this campaign be convinced he is not playing the Shepherd Boy — who cried wolf so often that people stopped believing his calls for help.
Right now the numbers show there really is a wolf at the Democrats' door in the form of surging GOP money.
An earlier version of this column originally appeared in The Hill newspaper and on TheHill.com.