The staggering cost of silence: child abuse victims and stolen innocence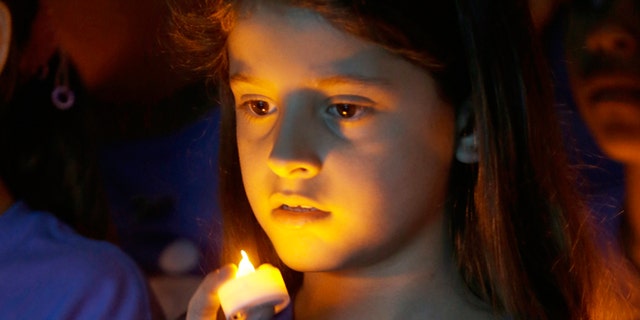 NEWYou can now listen to Fox News articles!
Editor's note: April is National Child Abuse Prevention Month.
The well-groomed neighborhood was lined with a green umbrella of trees that swayed in the warm winds of summer as the last remnants of a long, hard winter faded.
The white house on the corner had seen better days and the front lawn was dotted with bare patches where neglect had invited an invasion of pests.
Opening the front door the morning light illuminates an array of toys and wrapping paper strewn about a well-furnished family room. Just ahead above the dining room table a birthday banner hovered over a half eaten cake and scattered cups and plates. As the quiet of the scene establishes its reign down the hallway covered in brown carpet the muffled cries of a young child could be heard.
[pullquote]
As the door opened to the back bedroom door a man emerged securing a belt around the faded jeans he wore.
A seven-year-old boy emerges his underwear still clinging to his small ankles. The scars and bruises that consume his small body are a roadmap of his vandalized innocence and the suffering he has so horrifically endured.
Tear-stained cheeks and cries that resonate within the tiny soul that has suffered so much soon fill the empty hallway.
"Keep your mouth shut and tell your mother you fell off your bike. This is our secret and if you want your mommy to stay alive you won't say a word," the man says to the young boy.
Just then the front door opens and a young woman enters wearing the green scrubs of an emergency room doctor. "Did you have fun with uncle Phil while mommy was at work?" the woman asks.
The young boy appears wearing a hooded sweatshirt and jeans and as he turns his face away he says, "Yes, mommy can I go out side and play?" "
Sure, sweetie, mommy going to sleep for a while." The woman says but she is already too late as the back door slams and the last whisper of child's innocence is lost forever.
In homes across the United States this is the scene that is unfolding right now and every ten seconds as another child becomes a victim of child abuse.
The CDC estimates that 1 in 4 girls and 1 in 6 boys are sexually abused before the age of 18.
Worldwide 550 million children are survivors of child abuse according to the Center for Advanced Studies in Child Welfare.
The National Center for Missing and Exploited Children reports that there are currently 617,000 registered sex offenders in the United States, and typically 100,000 of those are unaccounted for. Other pedophiles are not on records or in databases.
Pedophiles like Jerry Sandusky walk silently among us, and Sandusky showed us just how well they disguise themselves.
April is National Child Abuse Awareness month and it is an important time for everyone to reacquaint himself or herself with the information that is necessary to recognize the signs of child abuse and stop predators before another child suffers.
Research has shown that an average victim of child sex abuse has to tell at least seven adults before being believed.
According to the Journal for the American Medical Association only 1 in 20 cases of child abuse are reported.
It is critically important that every parent and adult responsible for the care of a child educate and empower themselves with the knowledge to stop predators.
If we work together we can stop the stolen innocence of our children and that of others by spending a few hours educating ourselves.
There is no greater tragedy than to live a life plagued by the shattered hopes and dreams of a vandalized childhood.
I know this because decades ago I was that young boy sexually and physically abused.
Today I fight for those who have no voice and I am transforming a lifetime of pain into a miracle of hope for a tomorrow free of child abuse.
To learn more about the education and prevention of child abuse go to the following websites: Joyful Heart Foundation, Childhelp, Stop Abusing Your Children and Arrow Child and Family Ministries.
It is never to late to save a child's innocence and make sure each and every one has a future anchored in hope filled with the love every child deserves.