The left's obstruction of qualified Trump nominees is yet another front in the war against the president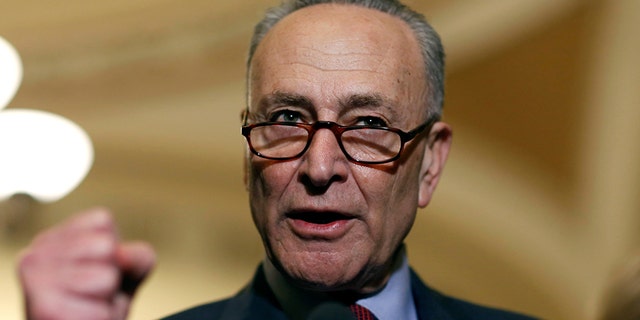 NEWYou can now listen to Fox News articles!
More than a year and a half after the inauguration of Donald Trump's presidency, the left continues to obstruct the confirmation of nominees to critical posts in both the executive and judicial branches. The unprecedented obstructionism denies leadership to executive branch departments and agencies and impedes the fair and swift administration of justice.
It is also an abuse of the Senate's constitutional obligation to provide "Advice and Consent" regarding presidential nominations of judges and key "Officers of the United States."
The Senate has a constitutional right and duty to ensure, through the confirmation process, that nominees have the education and professional experience necessary to qualify them for particular positions. No one questions that. And no one is arguing that the Senate is voting down unqualified nominees (yet).
But the obstruction campaign is a bad faith effort on the part of the left. It is designed solely to make it difficult for Trump to govern.
How bad is it? As of July 17, the Senate had confirmed 515 presidential nominations. That may sound like a lot, but it's nearly 30 percent less than the number confirmed at this point in President Barack Obama's first term.
And it's not that Trump hasn't given the upper chamber plenty of nominations to act on. A whopping 371 nominations are now pending in the Senate, including 90 judicial nominees.
So how is the left delaying votes? The Senate cannot vote on whether to confirm a nomination until it ends debate. Traditionally, the majority and minority parties cooperated on setting time limits for debate and scheduling confirmation votes. No more. And the only other way to end debate is the formal, time-consuming cloture process and requires 60 votes. A filibuster occurs when that attempt to end debate fails.
In 2013, Democrats succeeded in re-interpreting the cloture rule, effectively ending nomination filibusters by reducing the votes needed to end debate to a simple majority. Republicans extended that change to Supreme Court nominees in 2017.
This obstruction campaign is more about the president who is making the nominations than it is about the nominees themselves.
Cloture votes can no longer keep confirmation votes from happening, but they can still be used to drag out the confirmation process for days.
So far during the Trump era, the Senate has been forced to take 106 of these unnecessary cloture votes on executive and judicial branch nominations. At this point in Obama's first term, there had been only 12 cloture votes on nominations. In fact, the Senate had taken a total of only 20 cloture votes on nominations at this point under the last 12 presidents combined.
How do we know that most of these cloture votes have nothing to do with the actual qualifications of nominees? That they are being used solely as an obstruction tactic? Because many of the nominees subjected to cloture votes wound up being easily confirmed—some unanimously. Three quick examples on the executive branch side: the Senate voted 70-23 to confirm Paul Ney, Jr., as general counsel of the Department of Defense; 69-24 to confirm Jelena McWilliams as chairman of the Federal Deposit Insurance Corporation; and 85-12 to confirm Jerome Powell as chairman of the Federal Reserve. Yet "progressive" senators would not allow a confirmation vote on any of these eminently well-qualified nominees without going through the laborious cloture process.
On the judicial branch side, this year alone, 10 judicial nominees who had to go through cloture votes were ultimately confirmed with no opposition at all.
In addition to problems caused by leaving key executive branch and judicial seats empty, this procedural gamesmanship is unfair to good-spirited, patriotic Americans who are willing to serve the public yet have their lives, businesses, and careers put on hold while they wait, and wait, and wait.
For example, President Trump nominated our Heritage Foundation colleague Cully Stimson to be the general counsel of the Navy on June 6, 2017, more than 400 days ago. Cully's credentials are impeccable. He is a former assistant U.S. attorney, deputy assistant secretary of defense, military judge, and Navy JAG captain with 25 years of military service. This delay is unjustified.
The situation at the Justice Department is increasingly desperate. The department has four major divisions that carry out its vital work: the Criminal Division, the Civil Division, the Environment and Natural Resources Division, and the Civil Rights Division. It took more than a year to confirm Brian Benczkowski just recently as Assistant Attorney General for the Criminal Division, even though its work is essential to maintaining law and order. The other three divisions remain without Senate-confirmed leaders, even though nominees for those positions have been languishing for months.
Justice's Civil Rights Division enforces laws against voting discrimination. Yet with Election Day less than four months away, the nomination of Eric Dreiband to head the division remains unconfirmed after more than a year. You couldn't ask for a more qualified nominee than Dreiband, who enforced civil right laws as the general counsel of the U.S. Equal Employment Opportunity Commission and received awards for his service in the U.S. Department of Labor.
The nominees for the Civil Division and the Environment and Natural Resources Division, Jody Hunt and Jeffrey Clark, have also been waiting for months to get a confirmation vote.
It is time for this obstructionism to stop.
This obstruction campaign is more about the president who is making the nominations than it is about the nominees themselves. The government can't function if the Senate is prevented from fulfilling its advice and consent obligation in a timely manner.
Thomas Jipping is a Senior Legal Fellow at The Heritage Foundation.