Teen runner disqualified from state meet -- Was it the Bible verse?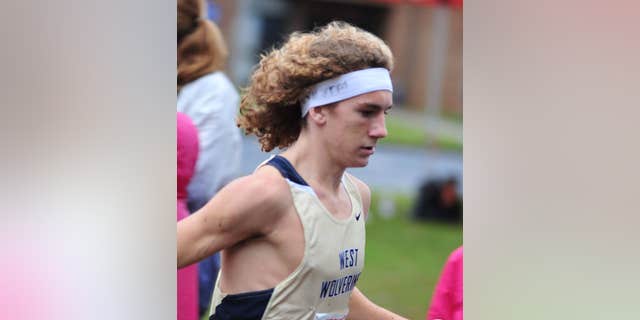 Was a high school cross country runner disqualified from a state championship meet because there was a Bible verse embroidered on his headband?
Georgia Congressman Douglas Collins seems to think so.
"Religious expression being squashed right here in the Ninth District," the Republican lawmaker tweeted. "This is outrageous."
Click here to join Todd's American Dispatch – a must-read for Conservatives!
Collins was referring an incident that occurred on Nov. 7th at the Georgia 5-A cross country state championship.
Third place winner John Green was stripped of his victory just moments after crossing the finish line.
The West Forsyth High School runner was disqualified because of a headband he was wearing – a white headband that was adorned with a Bible verse.
It was embroidered with the words: "Isaiah 40:30-31."
"Even the youths shall faint and be weary, and the young men shall utterly fall, but those who wait on the Lord will renew their strength; they shall mount up with wings like eagles, they shall run and not be weary, they shall walk and not faint."
It was a passage of Scripture that was sure to inspire any athlete – especially a cross country runner.
"It is hard to understand how an unreadable, inside-out Bible verse is something harmful to our sport and worthy of a post-race disqualification of a student athlete," Assistant Coach Scott Griffith said in a prepared statement.
John had worn the headband since the start of the 2015 season. He also wore the headband at region and sectional meets. At no point was he ever told to take it off.
And there's a good reason for that – it turns out there's not a rule banning runners from wearing headbands.
About ten minutes before Saturday's race, a racing official inspected the team and gave them a green light.
However, a few minutes later another race official stopped John and asked to inspect his headband. Coach Griffith said John was ordered to turn the headband inside out because there was writing on it. The runner complied with the order.
Then, moments before the race was to begin, another official ordered John to completely remove the headband.
That presented a significant problem for John – who has long hair. The course conditions were wet and muddy and his coaches feared that posed a safety problem.
"We felt given the race course conditions, that John would not be able to run safely without something to keep his hair out of his face," Coach Griffith said.
Since two of the race officials had already cleared the headband, they told him to turn it inside out and run the race. And when John crossed the finish line he was summarily disqualified – for breaking a rule that wasn't on the books.
"If John did not break a rule, we believe he cannot be disqualified from the race and his individual result and our appropriate team placing must be reinstated," Coach Griffith said.
The Georgia High School Association (GHSA) admits there is no specific rule violating headbands. But they do have a rule that allows referees to make up any rules not covered within the rules.
"The referee has the sole authority for ruling on infractions or irregularities not covered within the rules," reads NFHS Rules Book, page 14, Section 4 REFEREE, Article 6.
And on race day, the referee decided that a headband was in fact just like a beanie, toboggan or ear covers – which is against the rules – unless they are unadorned.
"John was disqualified for a uniform violation that we believe he did not commit," Coach Griffith said.
The GHSA said John's disqualification had nothing to do with what was written on his headband.
"The fact that it was of a religious nature did not enter the decision whatsoever," they wrote in a prepared statement.
The disqualification will stand, they declared.
John Green ran a good race last Saturday. He ran and was not weary. He ran and did not faint. His strength was renewed. He mounted up with wings like an eagle – and he soared across that finish line.
His championship run may have been erased from the record books – but it will never be erased from his heart.