Suddenly less popular than Trump, France's Macron gets schooled
Think President Trump's popularity is falling fast? France's new president, Emmanuel Macron, can't even give an apple to his favorite teacher – who just happens to be his wife.
The same newspapers and magazines who lionized Macron for saving France from the specter of Marine Le Pen, the populist who Macron defeated in May, now mock the 39-year-old as "Jupiter" because of the air of superiority he gives off in public. A poll last week showed his approval rating at 36 percent, lower even than Trump's recent shocking 38 percent of support.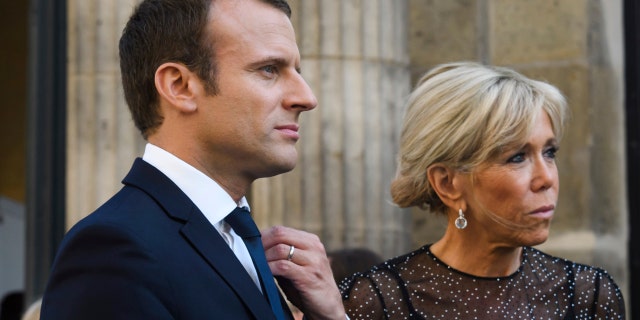 This week, Macron got the latest slap of disapproval from his own government, which rejected his campaign pledge to give the official title of First Lady to his wife, Brigitte, who at age 64, is 24 years his senior. The two met when Macron was a high school student and she was his teacher. Hmmm.
As in the United States, France's constitution makes no mention of the role of a president's spouse. Trying to change that as one of Macron's first presidential actions was bound to rile public opinion. Even the government's spokesman tweeted out, in plain French, so to speak, "No modification of the constitution, no new funding, no salary for Brigitte Macron. Stop the hypocrisy!"
In other words, no apple for the teacher.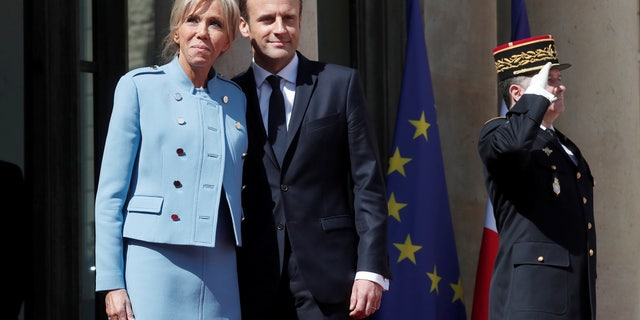 Macron's first three months in office have not gone smoothly. His defense minister, Sylvie Goulard, stepped down in June after being accused of misusing funds to help her party. Twenty-four hours earlier, another minister abruptly quit, under investigation for nepotism.
Macron did himself no favors when he decided not to continue the decades-old tradition of giving a news conference on July 14, Bastille Day, because his thoughts were too complex for journalists to comprehend. That generated the kind of vicious headlines you – but apparently, not Jupiter -- might expect.
Perhaps Macron's most unpopular move has been an effort to reform France's byzantine labor code, which makes it nearly impossible to fire or discipline workers, bypass unions, or modify pensions. Those unions, which supported Macron against Le Pen, reacted with fury when he talked about tinkering with the code that gives them almost unlimited power.
Proof of how seriously the unions take their privileged position: they even got workers to turn out for demonstrations in August, when all of France is on vacation and official Paris comes to a near standstill.
If Macron is forced to back down on his union-busting plan, Jupiter will once again be shown to have feet of clay. Even a high school kid knows better than to mess with organized labor in France. Maybe teenaged Macron was thinking about something else the day that lesson was taught.