School says Air Force logo violates dress code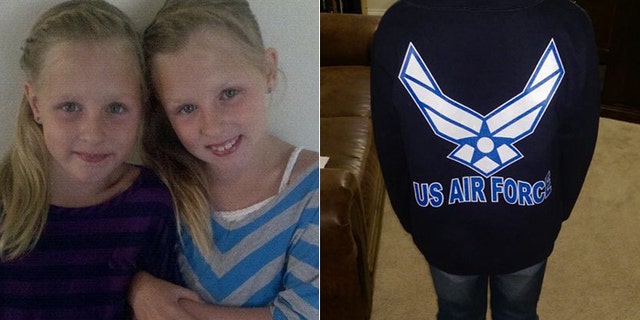 A Texas school district threatened to punish two patriotic sisters who refused to remove hoodie-style jackets emblazoned with the U.S. Air Force logo.
"It's political correctness run amuck," said Phillip Rolen.
CLICK HERE TO JOIN TODD'S AMERICAN DISPATCH – A MUST-READ FOR CONSERVATIVES!
His twin daughters were told that the Air Force logo violated the dress code policy of the Aubrey Independent School District. The 11-year-old girls were told they could face disciplinary action if they wore the jackets on school property.
"These girls were born on an Air Force base so you can imagine my reaction," Mr. Rolen told me. "It's absurd."
Mr. Rolen and his wife are Air Force veterans who raised their daughters in a "pro-military environment."
"I'm patriotic," he said. "Military tradition is rich in our family.
I reached out to the school to get their side of the story, but no one returned my telephone calls.
In a statement to the NBC television affiliate in Dallas the school district defended itself against accusations they were being unpatriotic.
"Aubrey ISD has a student dress code to follow, just as our military personnel are expected to wear uniforms," Superintendent Debby Sanders said in the statement. "The dress code, which has been in place for over a decade, instills pride, discipline and levels the playing field for students to allow them to focus on learning."
According to the district, all logos must be smaller than 1 ½-inch by 1 ½ inches. Outerwear that has larger logos must be left in lockers during school hours.
Mr. Rolen said his daughters were "bummed out" by the controversy.
He said they had purchased the jackets with money they made by selling cakes in a jar.
"They wanted to use their own money to buy their winter coats," he explained. "They have a sense of pride in the military."
He said his daughters have decided they will continue to wear the Air Force jackets – even if it means getting suspended from school.
"I told the school that we're going to fight this," he said.
But for now the patriotic twins will not be wearing their Air Force jackets to class. But it's not because they're afraid of being punished. It's because the temperature in Aubrey is expected to be 90 degrees.