Sarah Ferguson -- Just an Idiot Adrift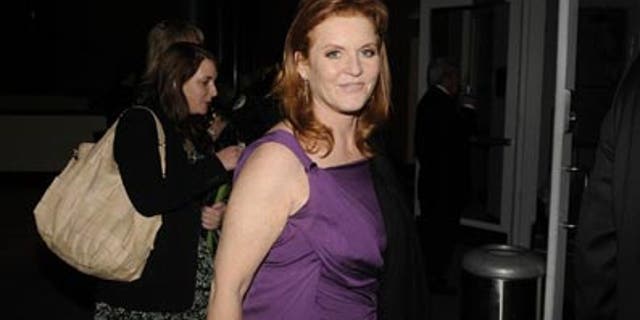 NEWYou can now listen to Fox News articles!
I can't cry "Disgrace!", just "Oh, the pity!" I really wanted this story to be an exaggeration or unfair entrapment, but it wasn't. Yesterday morning, courtesy or discourtesy of the News of the World's secret cameras we (and the poor old Queen) woke to news of the newspaper sting.
In an echo of the recent cash-for-influence trapping of MPs, the Duchess of York was filmed trying to sell access to her former husband, the Duke of York. The reporter posing as a rich businessman was not vetted; she asked for a confidentiality agreement, but carried on recklessly when he wouldn't sign it, trustfully asking him to keep the deal secret even from her own aides.
So now, online across the world, the duchess can be heard burbling absurdly: "I never talk about money ever, but since we've got business hats on, I'm going to . . .", gloating over bundles of notes, and negotiating half a million pounds for the Andrew introduction, "because really I think you two could really do some good business together". She does remember herself enough to insist touchingly that her children's father is "whiter than white" because he is "the Prince of England" and can't earn, but "look after me and he'll look after you." Rather less touchingly, apparently in a flat lie, she claims that he is aware of the deal: "And as Andrew said . . . Andrew will play as long as it's nothing to do with him." She asks for "a percentage" of any phantom deal on top of her half-million, remembers to stipulate a bit for her charities, and claims that she often hears through her husband of "viable projects" and investments. Yeah, right.
There will be much hostile talk of greed and sanctimonious headshaking over the "damage" to Britain's international trade reputation. But to me the main impression is sheer sadness at the progress through life of an exuberant, impetuous, dim, kind-hearted girl who in her 51st year should be safely stashed under some woodwormy beams in the shires, with an amiable lunkhead husband and a houseful of labradors, saddles and hilarious novelty ornaments, blamelessly raising money for the local hospice and cooking hearty lasagnes.
Sarah Ferguson was just not born to be looked at and judged by millions of strangers, or to racket around the world like Becky Sharp: to put it kindly, she's not very sharp at all. The News of the World undercover team — who say that the operation was launched because she was reputedly doing such deals with real businessmen — are not magical masters of the Dark Arts. The conversation as recorded is, to anybody who has done real business, implausibly vague, unbusinesslike and frankly unlikely. It reads like a dodgy bit of script from "Howards' Way" or "Footballers' Wives." It is ludicrous on a professional level, and downright tragic when you remember that this is a real family with real feelings and two humiliated daughters.
I liked Sarah Ferguson when I met her years ago: she had the unreflective charm of a red setter puppy. I also — and this regularly destroys my credibility with sneerier friends — rather like the Duke of York. We sat on a committee together for a few years, just after his divorce, and I respected the kindly, decent way that he spoke of his already adulterous wife and the pressures she suffered in the Royal Family. Their continuing friendship and co-parenting has been honourable; which makes it all the more agonisingly sad that she should be driven to monetise the relationship.
Libby Purves is a columnist for The Times (London). To continue reading her column, click here.
Fox Forum is on Twitter. Follow us @fxnopinion.