Salah Farah: A hero whose actions and words could help change the world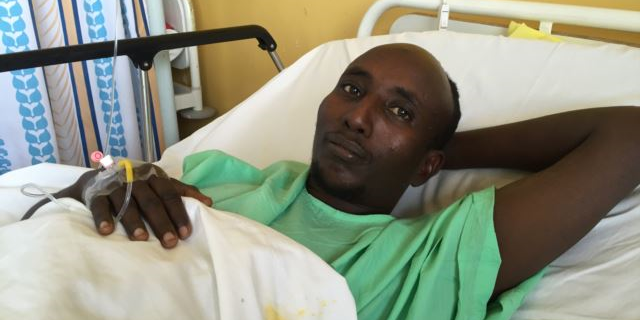 NEWYou can now listen to Fox News articles!
History will remember Tarek el-Tayeb Mohamed Bouaziz. He was an unknown Tunisian street vendor who set himself and the Arab World on fire, on December 2010, in an ultimate protest of harassment and humiliation inflicted by his own government. His name would soon be on the lips of surging masses onto the streets of the Middle East, launching the Arab Spring.
Tragically, the Arab Spring has morphed into a deep freeze of hopelessness and despair that has seen millions flee the Middle East for Europe and helped swell the ranks of ISIS.
Today, the unabating scourge of global Islamist extremism spurs the key question: "Where are the Muslim moderates?"
In fact, amidst the terror and fear, there are some rays of light and hope.
President Obama hit the right note in an inspiring speech during his first visit of his presidency to a mosque. He argued that "If we're serious about freedom of religion . . . we have to understand an attack on one faith is an attack on all our faiths."
The president had his critics. Some were unhappy it took seven years; others with his choice of venue -- a center tainted by its extremist connections. Still, Obama's pointed commitment to religious freedom resonates just as powerfully with Americans outside the mosque -- who daily read and worry about the slaughter of religious minorities around the world.
President Obama was correct in arguing that Americans' attitudes toward Muslims and Islam are too often linked to jihadist terror and extremism. But he could have assuaged some of the fear and mistrust by highlighting the likes of American Muslim reformers like Dr. Zuhdi Jasser who, after 9/11, founded the American Islamic Forum for Democracy with a clarion call for moderation and unflinching rejection of extremism in the name of Allah.
The president also could have highlighted the religious tolerance on display in at least one Muslim country. Most Americans never heard of Azerbaijan. It's a 95 percent Muslim country adjacent to Iran, where Christians pray in their churches, Jews have a school for hundreds of children, and Sunnis and Shiites share mosques.
About the time President Obama delivered his message, hundreds of Imams -- Sunni and Shiite -- from all over the Muslim world were making history as well. They were brought together under the sponsorship of the King of Morocco to explore guidelines about the treatment of others. Christian and Jewish observers joined them. Remarkably, the participants went beyond PC pablum and instead they issued the Marrakesh Declaration, a statement of principles and actions that embraces the right of religious minorities in Muslim countries to follow their consciences unmolested.
The declaration is far from perfect. It's not binding. It doesn't deal with the rights of Muslim minorities in countries controlled by Muslims of a different persuasion. Also of concern was that the declaration was modeled on the ancient Charter of Medina, a quasi-constitution that kept the peace between Mohammad and a number of Jewish and other tribes working with him. History shows that the charter did not offer much protection; several of the tribes were slaughtered a short while later. Clearly, the framers of the declaration felt that they needed the gravitas of founding Islamic practices reflected in the Charter of Medina to convince hundreds of millions of Muslims to embrace religious tolerance in 2016.
The Marrakesh Declaration is an impressive effort of authoritative insiders to reclaim the soul of Islam from dangerous fanatics.
How critical is the need for reformers to prevail within Islam was brought home by a little-noticed story of a Muslim-on-Muslim confrontation in Africa. When al-Shabaab terrorists recently ambushed a bus in Kenya, they demanded that the Christians and Muslim passengers separate. Somalia-based Al-Shabaab has a long record of slaughtering civilians who could not recite passages from the Koran. This time the terrorists were challenged by Muslim men on the bus who went out to argue with the terrorists and by Muslim women who gave their head scarves to Christian female passengers. "Kill us together, or leave us alone," they demanded.
This time, the terrorists backed off, but not before they murdered one Christian who tried to escape, and Salah Farah, a 34-year-old teacher, whom they shot multiple times and who later succumbed to his wounds. Before he died, Salah declared: "People should live peacefully together. We are brothers…Let us help one another and let us live together peacefully."
President Obama has strived to connect Americans with their communal instincts of inclusion. The Marrakesh religious scholars introduced a better conceptual framework for multi-faith tolerance. But the greatest hope comes from a Kenyan teacher. If only we could reverse engineer the decency of Salah Farah and his fellow Muslim passengers. What gave them the inner strength to do the right thing with no regard for personal safety? How did their understanding of Islam differ from the others?
If Salah's heroic sacrifice inspires Muslims, along with Christians, Jews and Hindus, the world will surely be a safer and better place.
Let's hope young people use social media to make Salah Farah a global household word and digitally embody Gandhi's paraphrase of the Hebrew Bible, "The human voice can never reach the distance that is covered by the still small voice of conscience."