Saints -- And Their City -- Win Big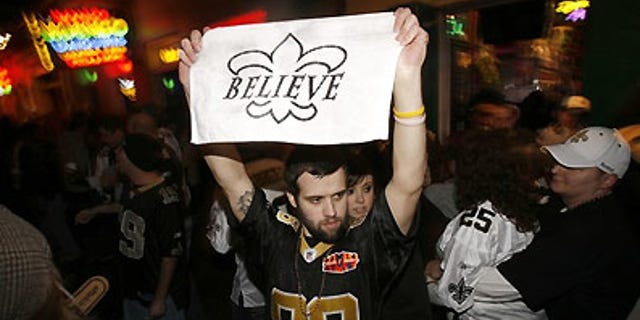 No team ever meant so much to a city. No city ever needed it more.
But the Saints and New Orleans didn't get here on the strength of one game, impressive though the 31-17 drubbing of Indianapolis was. It's been an almost five-year journey for the city and team. Both of them had to shake off terrible adversity. Both had to find fresh ways to succeed.
But they had a secret strength – each other – and their parallel journey was something to behold. A struggling city and a struggling team, pressing ahead together, the triumph and inspiration running both ways.
If you think the Saints are back, you should see New Orleans!
Coach Sean Payton arrived in the battered city for the first full season after the flood waters left. He inherited a team with a 3 and 13 record whose domed stadium was a national symbol of misery and hopelessness. The owner was saying he might be forced to relocate the team for good.
Payton took a chance on quarterback Drew Brees, a San Diego castoff with a shoulder injury. He grabbed Heisman winner Reggie Bush and other players with talent and heart. Together, they gave the Saints and New Orleans a reason to believe.
Tuesday night, Payton and his players will accept their city's highest honor, riding on floats in their own Mardi Gras parade. Huge throngs of grateful citizens shout and weep.
They'll be cheering for a football team. They'll be cheering for themselves.
Ellis Henican is a Newsday columnist and Fox News contributor.