RNC Chairwoman: Trump's historic first 100 days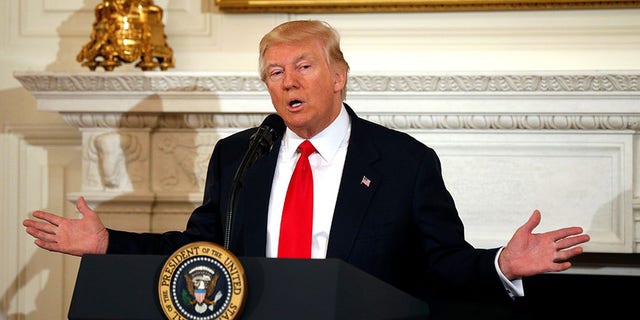 NEWYou can now listen to Fox News articles!
From the outset of the 2016 presidential campaign, Donald Trump promised to work on behalf of the American people to protect our interests both home and abroad.
His message of shaking up Washington resonated with millions of people across the country who have long since become disillusioned with the status quo.
In the final stretch of the campaign last year -- as millions of voters across the country were deciding with whom to entrust the future of our country – then candidate Trump got on stage in Gettysburg and presented a succinct plan, laying out his vision for a stronger, more prosperous America. A plan to lift the regulatory burden stifling economic growth, bolster job creation, restore confidence in our national security, preserve the integrity of the Supreme Court, hold Washington accountable to everyday Americans, and much more.
Since taking the oath of office — and in the months leading up to his inauguration — President Trump has worked tirelessly to make those promises a reality.
One of the primary reasons Americans across the country turned out for President Trump in record numbers was his promise to appoint a constitutional conservative to the Supreme Court. He delivered on that promise in full by nominating the widely praised, highly qualified Neil Gorsuch, and his confirmation to the Supreme Court just weeks ago cements the legacy of our nation's highest court for generations to come.
Another key pillar of his commitment to voters was the promise to put people back to work.
As a result of his outspoken commitment to job growth and the rollback of excessive regulations, Carrier saved hundreds of jobs from being torn from America's heartland and shipped to Mexico.
Not only is industry confidence in the business climate at some of the highest levels in decades, but small business owners are also the most optimistic they've been since before Barack Obama took office.
By nearly every measure confidence is soaring in the direction this administration is taking our economy. From energy producers, to the auto industry, to small businesses, this administration has aggressively slashed regulations that have harmed production and threatened to send jobs overseas. Creating an environment where these businesses can thrive reassures communities that their jobs will be protected, and more jobs will be available for their children's generation. Not to mention, cutting this red tape will save American families and businesses approximately $67 billion. This type of bold reform is desperately needed if our country is to remain competitive in modern markets.
In fact, just a week ago, the president signed an executive order that directs all the federal agencies to organize regulatory reform task forces to review regulations currently on the books to look for rules that can be repealed or scaled back. By directing the agencies to begin the process of removing nanny state regulations imposed by the Obama administration, President Trump is sending a clear message that preserving and creating American-made jobs are more important than preserving unnecessarily expensive and ineffective regulations.
Prior to this year, the Congressional Review Act had only been used once to successfully rollback regulations. Yet in the few short months President Trump has been in office, he and Republicans in Congress have passed more than a dozen pieces of legislation that undo the onerous regulations Obama pushed through at the end of his presidency.
President Trump's use of his executive powers has allowed him to deliver on the promises that voters across the country sent him to Washington to fulfill. Undoing the damage caused by the previous administration is the first step of many to putting our country back on the right track.
But he hasn't stopped there.
President Trump fulfilled his promise to reevaluate trade deals with other countries by withdrawing from the TransPacific Partnership.
The president made good on his promise to invest in infrastructure projects by reviving construction on the Keystone Pipeline and approving work on the Dakota Access Pipeline.
President Trump and Republicans have achieved all this and more despite being met with blind partisan obstructionism from the Democrats every step of the way.
Falling in lock step with Sens Schumer and Warren and Minority Leader Pelosi, Democrats on the Hill have time and again ignored what's best for their voters and attempted to block all progress. This type of political maneuvering is exactly why people across the country chose Donald Trump and Republicans to bring real change to Washington.
As the administration continues to press forward into the next 100 days, President Trump and his team are already working with Congress to fix our broken health care system and overhaul our burdensome tax code to deliver real relief to struggling middle class families. With such progress on the horizon, I look forward to the successes Republicans at all levels will be able to achieve in order to continue bringing prosperity to all Americans.
Ronna Romney McDaniel is chairwoman of the Republican National Committee.