Rep. Pittenger: Chinese bid for Chicago Stock Exchange must be fully investigated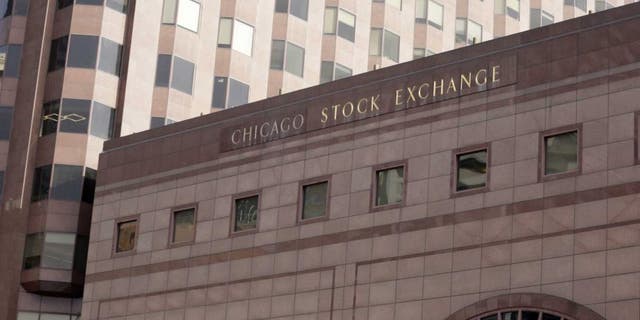 NEWYou can now listen to Fox News articles!
Recently, a Chinese firm, Chongqing Casin Enterprise Group (CCEG), announced its desire to purchase the Chicago Stock Exchange. In response, 45 of my colleagues in the House of Representatives joined me in writing the Committee on Foreign Investment in the United States (CFIUS) to request a rigorous investigation of this transaction.
Some might question why such a transaction should be reviewed by the committee charged with protecting America's security when foreign interests attempt acquisitions. To me, the integrity of America's financial system and the safety and security of our nation's economic assets raise significant national security issues. Not only is the economic strength of our country potentially at risk, but so is the economic security of our people. Indeed, the two go hand-in-hand.
America's national security may be increasingly at risk as sources for technology disperse across the globe. The question is not whether we should source technology offshore: we are all aware of our increasingly globalized economy, and in many ways that should be facilitated by government. However, we need to have confidence in the suppliers we use and the risks that exist.
Day after day, Americans read about new cyber-attacks and state-sponsored espionage attempts. Our federal government must do all it can to protect the safety and security of our networks.
America is one of the most open countries for foreign ownership. Last year, Chinese investment in the U.S. for the first time exceeded U.S. investment flows into China. Investments by China, or any other country, can be a good thing as long as we evaluate the assets that are being acquired and the potential risks that may exist. Each year, CFIUS evaluates dozens of transactions, the majority of which are approved without issue. However, some are simply withdrawn and a few are rejected because of potential risks to our national security. We should be open to foreign investment when it is in our nation's best interests.
Chinese investment often suffers from a lack of transparency. The intentions of their government and individual companies are opaque. China is guided by its Five Year Plans and policies articulated by the Chinese Communist Party and State Council. Proposed overseas investments by Chinese entities over a certain dollar threshold have to be filed with the government. The State Council has stated that it would no longer "review" those transactions, but the filing process makes clear that the government is monitoring.
Thoughtful observers of China would concur that an acquisition of a major U.S. asset by a Chinese firm would require Chinese government approval. Until China discloses more information, we should remain skeptical of their objectives.
Given the lack of transparency in China, we do not know the extent of state influence on this company. The Chinese government maintains a dominant role in many domestic market sectors. CCEG conducts business in many of these state-dominant markets which would likely require close ties to the state – particularly in the environmental protection areas which are state-sensitive.
Moreover, the chairman of CCEG, Shengju Lu, holds a seat on an important industry committee, overseen directly by the mayor of the Chongqing Municipality – implying a direct political connection. According to initial reports, CCEG's financial assets were originally owned by the Chinese government, and the company was created to absorb those state-controlled assets in 1997.
China has historically been the leading market and currency manipulator in the world. Given that the purchase of the Chicago Stock Exchange yields direct access to the $22 trillion American equity market, CFIUS must ensure that CCEG is truly a free market enterprise immune from state influence. Furthermore, state influence in this matter could allow the Chinese government access to vast amounts of financial data of individuals and institutions, as well as the ability to shut down or alter trading should there be any confrontation between our two countries.
Late last year, the Public Company Accounting Oversight Board, a Securities and Exchange Commission entity tasked with promoting our financial security, was unable to come to an agreement with China on financial accounting and transparency issues. With the current volatility in the nascent Chinese markets and the fact that they are still in their infancy, we risk significantly harming America's economic infrastructure if a thorough CFIUS review does not occur. Inherent in our consideration is the direct impact on our national security and the interests of the American people.
Lastly, CCEG's acquisition of the Chicago Stock Exchange could serve as a pipeline for other Chinese state-influenced firms to access American markets – particularly, firms that would otherwise have trouble expanding in the United States due to a variety of infringements and transgressions, including transparency, corruption, and security. For example, over the past decade, Chinese state-owned telecommunication companies have had a difficult time expanding due to widespread cybersecurity breaches. In 2012, the House Intelligence Committee conducted a review on Chinese state-owned telecommunication companies and urged both the government and private sector not to contract with those entities – a remarkable open-source conclusion given that committee's access to intelligence resources.
American businesses largely adhere to transparency, openness, and rule of law in the marketplace. We have civil laws to enforce compliance. As a Member of Congress who sits on the Financial Services Committee, I support those principles in our open and free markets. In China, however, transparency offenses extend to every aspect of the ubiquitous hand of its governance, including into its marketplace, military, maritime claims, space activities, human rights violations, foreign investment practices, law enforcement practices, currency treatment, and the treatment towards journalists and dissidents.
Severely lacking in their culture and government is a commitment to equity and justice. At present in China, there is a major campaign against government and industry corruption, with many high ranking officials being complicit of self-dealing violations.
Recognizing the volatile Chinese economy, widespread internal corruption, lack of transparency, state-dominance over domestic companies, and the evidence of ongoing cyber-attacks on U.S. industry, it is essential that CFIUS thoroughly review this purchase with broad considerations to ensure we do not provide the Chinese government access to manipulate American markets and place our own interests at significant risk.