President Obama is made to feel not so welcome in Orange County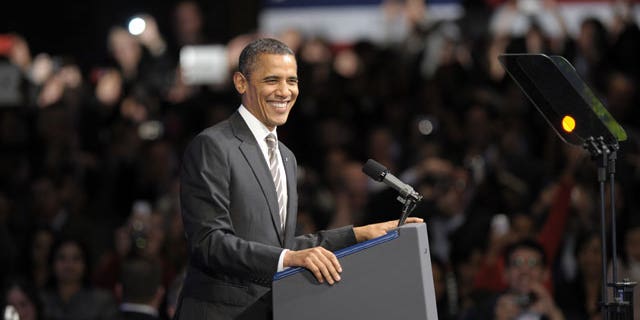 NEWYou can now listen to Fox News articles!
CORONA DEL MAR – Hundreds of protesters lined Pacific Coast Highway Thursday morning to greet President Obama who was visiting Newport Beach for a campaign fundraiser. Most of the attendees awaited the arrival of the president in protest though a number of pro-Obama supporters were sprinkled throughout the crowd.
This, Obama's first visit to Orange County since 2009, was characterized by several blocks of protesters wielding a variety signs reading "Catholics Say No To Obamacare," "Get Out Of My Way -- I am a Business Owner," "Evict Obama," "Enough is Enough," "End of an Error" and many others. One pro-Obama sign that stuck out in memory read "Thank You for Getting Osama," in reference to the administration's killing of former Al Qaeda terrorist leader Usama bin Laden last year.
Perhaps the most hard-hitting sign at the rally read: "Breakfast with Obama: $38,000. 4 Years Of Political Favors: Priceless."
Total monies raised from the fundraising stop have yet to be released but ticket costs to attend ranged from $2,500 to a whopping $38,500.
Attendees are not the only people paying for the president's visit, Newport Beach taxpayers will front the costs for extra police support and traffic control, among other things. Newport Beach City Manager David Kiff gave an early estimate of $20,000 in additional costs to the city but said he and his staff understand "that visits that are purely political in nature may have costs reimbursed." He said "we will examine our options there and submit what we think is fair."
President Obama's appearance, and the mixed reaction he received, illustrates a broader ideological divide not only in the Orange County community but perhaps nationally.
As one protester said "He was billed as the great 'uniter' but he has become the great divider." A few of the dueling protesters minced words, as to be expected.
Even in a Republican stronghold like Newport Beach though, the Democratic president had dedicated and boisterous support. A crowd of his supporters chanted "Four more years."
One anti-Obama protester said of the chanting supporters "they may be louder but there are way more of us," referring to the greater number of anti-Obama protesters.
Nonetheless, the president will likely raise a significant chunk of change for his reelection efforts in a typically red county and the presence of a noticeable number of pro-Obama supporters may illustrate the increased ranks of Democrats, progressives and their allies in the county.
The president's visit to Newport is a microcosm of what he will likely experience at similar stops throughout country, and also a glimpse into the political and ideological division his presidency elicits as well as the high emotions on various public policy issues going into this crucial election year.
Brian Calle is an Opinion Columnist and Senior Editorial Writer for the Orange County Register. More of his writing can be found at www.ocregister.com/opinion.